Enjoy wholesome and nutritious eats in Scotland's capital.
Throughout Edinburgh, there's a fantastic range of restaurants and cafés serving plates of nutritious, wholesome food that are both delicious and filling. Here are just a few of our healthy food favourites.
---
Healthy Food Favourites
1.
Hula Healthy Eatery Juice Bar
103-105 West Bow, Edinburgh, EH1 2JP  
Walking into Hula Healthy Eatery Juice Bar you feel like you should be donning your shorts and t-shirt! These tropical style juice bars (located at the Grassmarket and Fountainbridge) are decorated with bright floral wallpaper and wooden floors. The enticement starts straight away with a chalkboard full of their popular fresh juices and smoothies.
Try their delicious acai bowls, served in coconut shells. These beautifully composed bowls are filled with nutritional delights that are sure to set you up for the day. Pair that with their Ginger Jack Juice with added energy shot, guaranteed to give you that extra morning zing.
---
2.
Bowls
13 Forrest Road, Edinburgh, EH1 2QH
Open for both dine-in and takeaway, Bowls serve handcrafted poke bowls and salad bowls packed with nutrient-rich ingredients and perfectly complimented by worldwide flavours.
If you're looking for a change from the usual lunchtime sandwich, this is where to go.
---
3.
Seb's Urban Jungle
187-189 Leith Walk, Edinburgh, EH6 8NX
Part plant shop, part gift shop and part café, Seb's Urban Jungle is a delightful foray into the world of plants.
Not only can visitors to this green oasis pick up a new houseplant, pots and accessories, but you can also satisfy your hunger in their Brunch Room with filling dishes such as avocado and feta sourdough toast.
---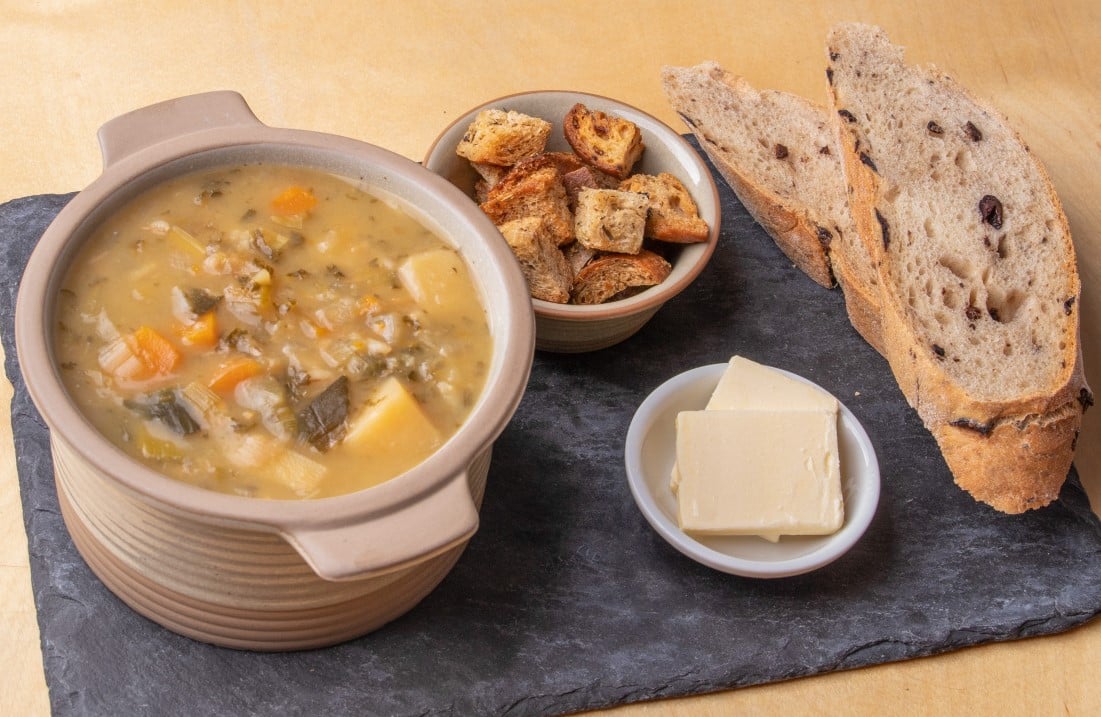 4.
Union of Genius
8 Forrest Road, Edinburgh, EH1 2QN
If you love soup, this is the place to go. The folks at Union of Genius have a tasty and adventurous menu that changes daily depending on what ingredients are in season. Diners can expect gluten-free, vegetarian and vegan options, alongside freshly baked bread.
Can't decide what to have? Order a "soup flight" which allows you try three of their soup flavours. Or why not get a big helping served in one of their bread bowls? You can eat the last drop out of the bowl meaning zero waste!  
---
5.
The Pantry
1 North West Circus Place, Edinburgh, EH3 6ST 
The Pantry is a rustic-style place tucked away in Stockbridge with a strong focus on organically sourced ingredients.
They are famed for their all-day brunch menu which is packed with a variety of sweet and savoury healthy options. We recommend Sunshine on Stockbridge – a sumptuous plate of slow-roasted tomatoes, spiced sweet potato, roasted aubergine, poached eggs and fresh chilli.
---
6.
The Edinburgh Larder
15 Blackfriars Street, Edinburgh, EH1 1NB
Often described as a hidden gem – it's worth taking a sidestep off the Royal Mile and paying a visit to The Edinburgh Larder.
Open for breakfast and lunch, the larder comprises two cafe's – Edinburgh Larder Café and The Little Larder, the latter of which is walk-in only. Both serve a lovely selection of wholesome dishes using the finest locally sourced seasonal food. Why set yourself up for the day with a bowl of creamy oat milk porridge which comes with spiced stewed apples, sultanas and toasted hazelnuts.
---
7.
Tupiniquim
Green Police Box, Lauriston Place, Edinburgh, EH1 9AU 
Walking along Middle Meadow Walk, you may be drawn to the little Police Box on the corner with a lovely aroma of crepes – which also happen to be very delicious and healthy!
Tupiniquim use their own special blend of gluten-free flour to produce a range of sweet and savoury crepes. Why not try the butternut squash, spinach and sundried tomato, or banana, cinnamon, pecans and brown sugar. Yum!
---
8.
Urban Angel
121 Hanover Street, Edinburgh, EH2 1DJ 
Pop down to Urban Angel's bright basement café on Hanover Street where you can get brunch with gluten-free options and healthy choices. Be transported to the Middle East with their authentic falafel sandwich, or for a sweet and healthy boost, the raw cacao smoothie is a fantastic choice.
---
Looking for more suggestions on where to satisfy your taste buds?
From afternoon tea to fine dining, eat in out in style in Edinburgh.
---
Comfort Food

Feed your heart and soul at these comfort food hot-spots in Edinburgh. When the nights are…

Afternoon Tea

Luxurious, elegant surroundings or a cosy and cheerful atmosphere? We have sipped, supped and savoured to bring…

Cafes and Coffee Shops

Whether you're a tea jenny or a coffee addict there are plenty of great cafes and coffee…

Scottish Food and Drink in Edinburgh

Treat yourself to the very best of local food and drink at our favourite Scottish bars and restaurants.

Around the World

With lots of fantastic restaurants serving up international cuisine in Edinburgh, you can eat your way around…

Fine Dining in Edinburgh

Treat yourself at some of the finest restaurants in the country in Edinburgh.

Bars and pubs in Edinburgh

Whatever your favourite tipple you can be guaranteed a warm Scottish welcome in Edinburgh's bars and pubs.

Vegetarian and Vegan

If you're looking for vegetarian and vegan places to eat in Edinburgh, you won't be disappointed. Scotland's…

Bakeries and Delicatessens

Read on for our pick of some of the best bakeries and delicatessens in Edinburgh.