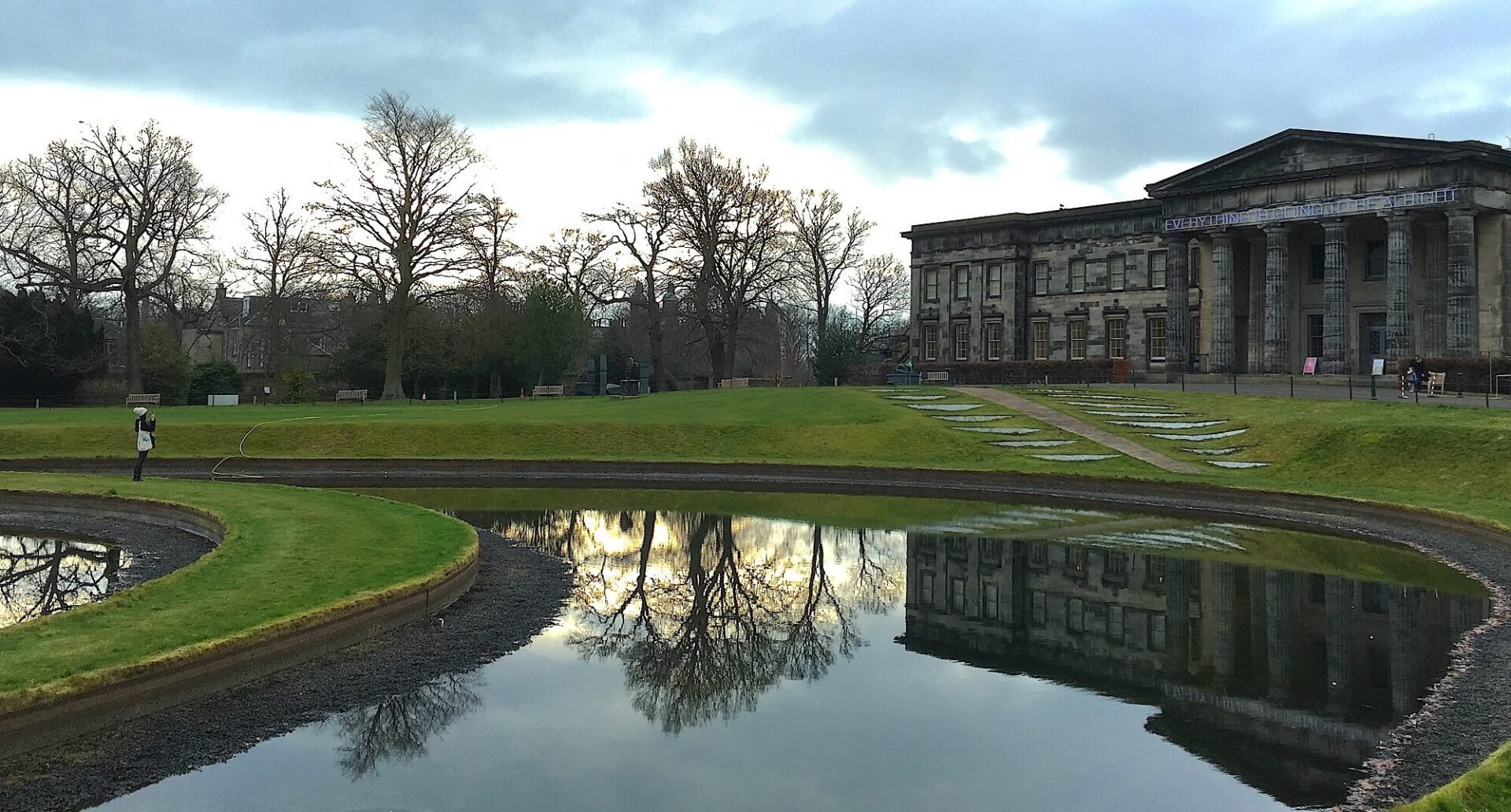 Explore the many art galleries in Edinburgh for a great day out.
Edinburgh really does have a thriving art scene offering some of the best and most unique galleries showcasing the works of both established and up-and-coming artists. Read on to discover some of the top art gallery spaces in the city.
---
Arts & Culture Favourites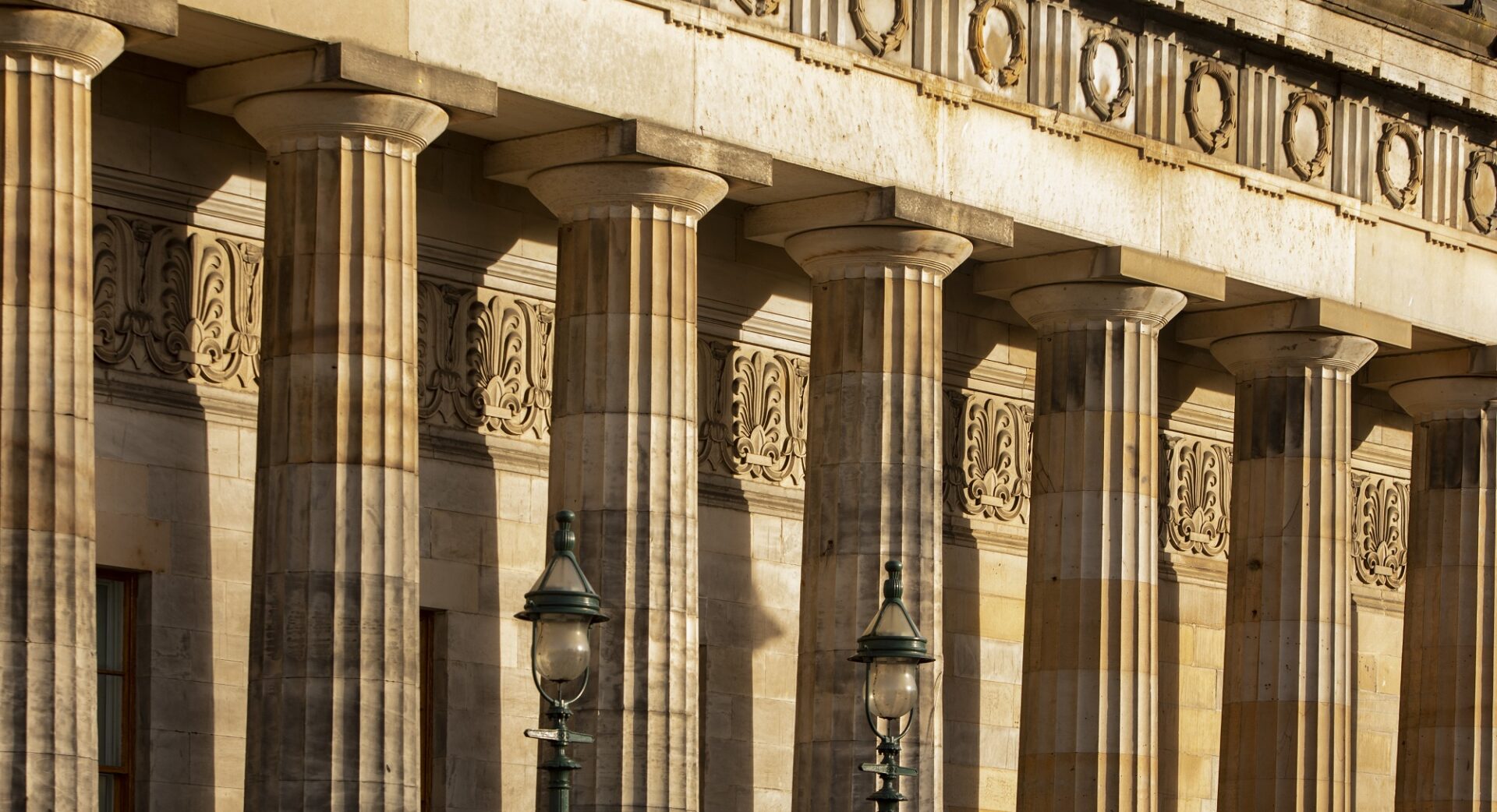 1.
The Scottish National Gallery
Situated right in the heart of the city centre on The Mound, The Scottish National Gallery houses Scotland's national collection of fine art from the early Renaissance to the early 20th century.
Spend an hour strolling around this peaceful setting and you'll find masterpieces from Raphael, Velázquez and Vermeer to Monet, Cézanne and Van Gogh. The most comprehensive part of the collection covers the history of Scottish painting – including Ramsay, Raeburn and Wilkie. Works on show include Raeburn's much loved The Reverend Robert Walker Skating on Duddingston Loch (c.1795), or as it has become known, The Skating Minister.
Admission is free (charges may apply to special exhibitions)
When hunger strikes, choose from either The Scottish Café and Restaurant where you'll find an all-day menu of Scottish classic dishes alongside incredible views across Princes Street Gardens, or Café Espresso for a tempting range of freshly baked scones and cakes.
---
Image Credit Visitscotland Kenny Lam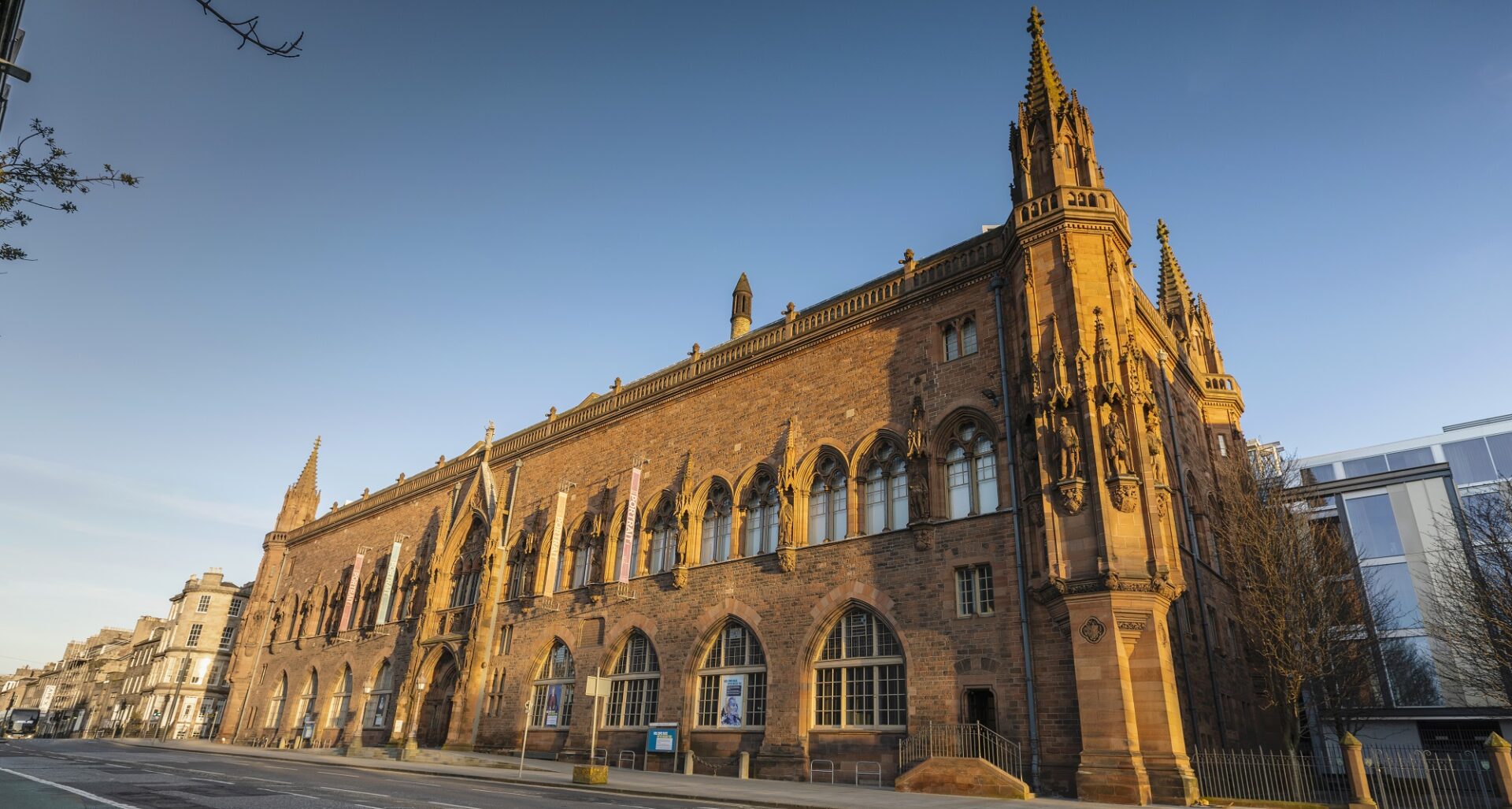 2.
Scottish National Portrait Gallery
1 Queen Street, Edinburgh, EH2 1JD
Located on Queen Street, The Scottish National Portrait Gallery dedicates itself to some of the best portrait artworks in the world though a wealth of imagery encompassing painting, photography, sculpture and film.
Designed by Sir Robert Rowand Anderson as a shrine for Scotland's heroes and heroines, it opened to the public in 1889 as the world's first purpose-built portrait gallery.
Visit here to come face to face with the people who shaped Scotland's past, present and future, from Mary, Queen of Scots and Bonnie Prince Charlie to contemporary figures such as actors Karen Gillan and Alan Cumming and legendary footballer, Alex Ferguson.
Admission is free (charges may apply to special exhibitions)
---
Image Credit: Visitscotland Kenny Lam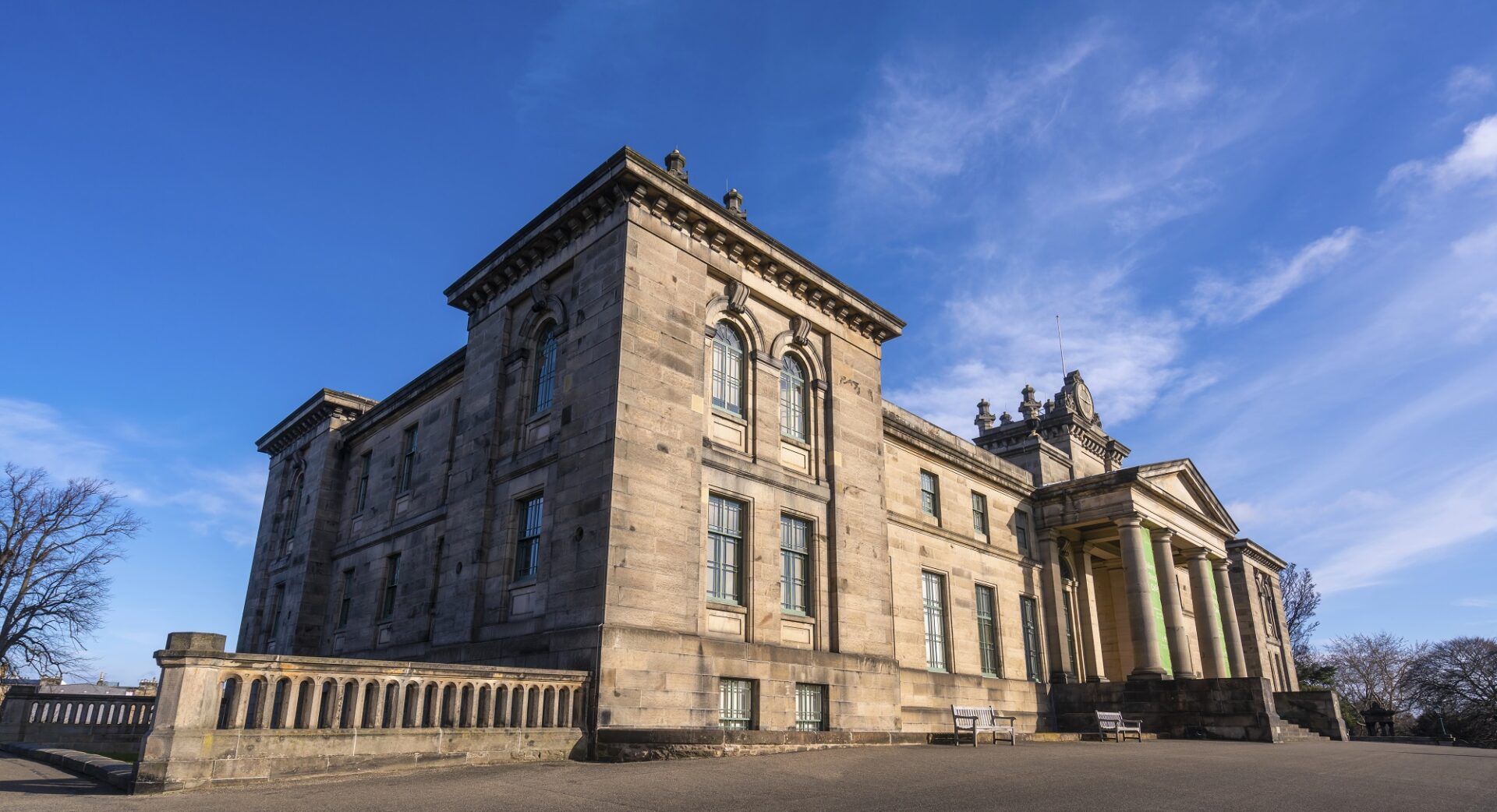 3.
Scottish National Gallery of Modern Art
73 and 75 Belford Road, Edinburgh, EH4 3DR
Discover a world-class collection of cutting edge art at The Scottish National Gallery of Modern Art.
Home to some of the finest treasures of 20th century art, the gallery's Modern One has a world-famous collection of Surrealism and Dada, with works by artists such as Matisse, Picasso, Vuillard and Dix, as well as an outstanding selection of paintings by Scottish artists including Peploe and Fergusson. While outside, enjoy a collection of sculptures from leading artists such as Miró, Moore and Hepworth.
The galleriy is on the route of the picturesque Water of Leith Walkway – why not include a visit on your next walk?
Admission is free (charges may apply to special exhibitions)
---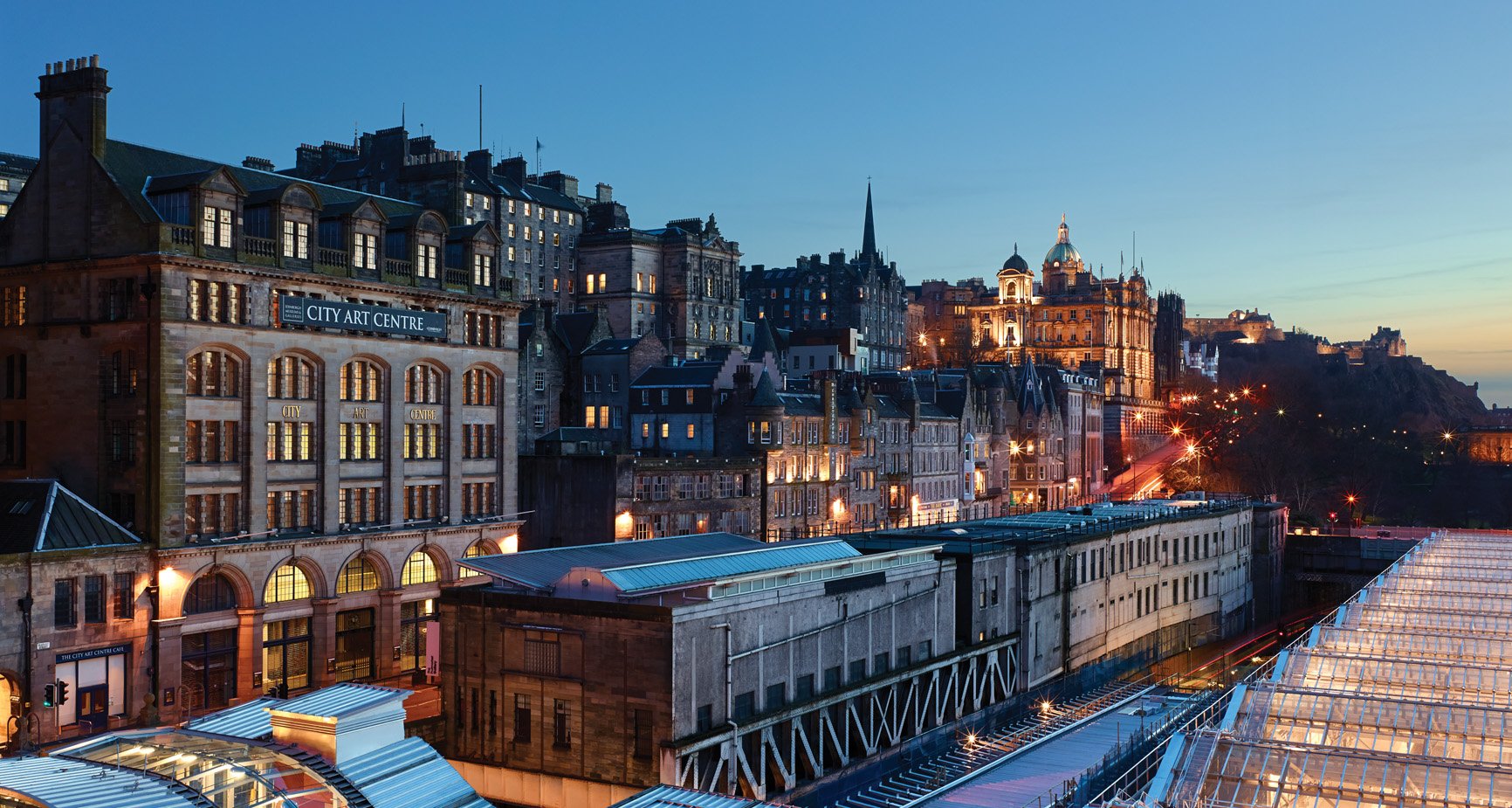 4.
City Art Centre
2 Market Street, Edinburgh, EH1 1DE
Championing historic and contemporary Scottish visual and applied arts, the City Art Centre is both home to the city's collection of Scottish art, and one of the UK's leading temporary exhibition spaces.
Located in the centre of the city, and beside Waverley Train Station, visitors can enjoy a richly diverse programme of changing exhibitions, which include historic and modern Scottish paintings and photography, as well as contemporary arts and crafts
Top tip: make sure you make it up to the higher level floors to get some fantastic views of the New Town.
An escalator and lift provide easy access to all six floors. Assistance dogs are welcome and wheelchairs are available.
2 minutes from Princes Street, the Royal Mile and North Bridge, whether you're in the city for lunch or shopping, why not stop by to enjoy their outstanding collection.
Admission is free (charges may apply to special exhibitions)
---
5.
The Fruitmarket Gallery
45 Market Street, Edinburgh, EH1 1DF
Originally built as a fruit and vegetable market in 1938, The Fruitmarket Gallery has been operating as a space for presenting art since 1974.
A mix of art gallery, bookshop and a café, the gallery now aims to promote both established and leading artists, as well as seek out new and emerging talents. Since 2003 the gallery has presented solo exhibitions of work by internationally significant artists such as Louise Bourgeois, Janet Cardiff, Roman Signer and Fred Tomaselli. They have also created high profile opportunities for developing Scottish artists, including Nathan Coley, Louise Hopkins, Toby Paterson and Tony Swain, ensuring an international platform for home grown talent.
Conveniently located next to Waverley Train Station, be sure to make time to explore their changing exhibitions.
---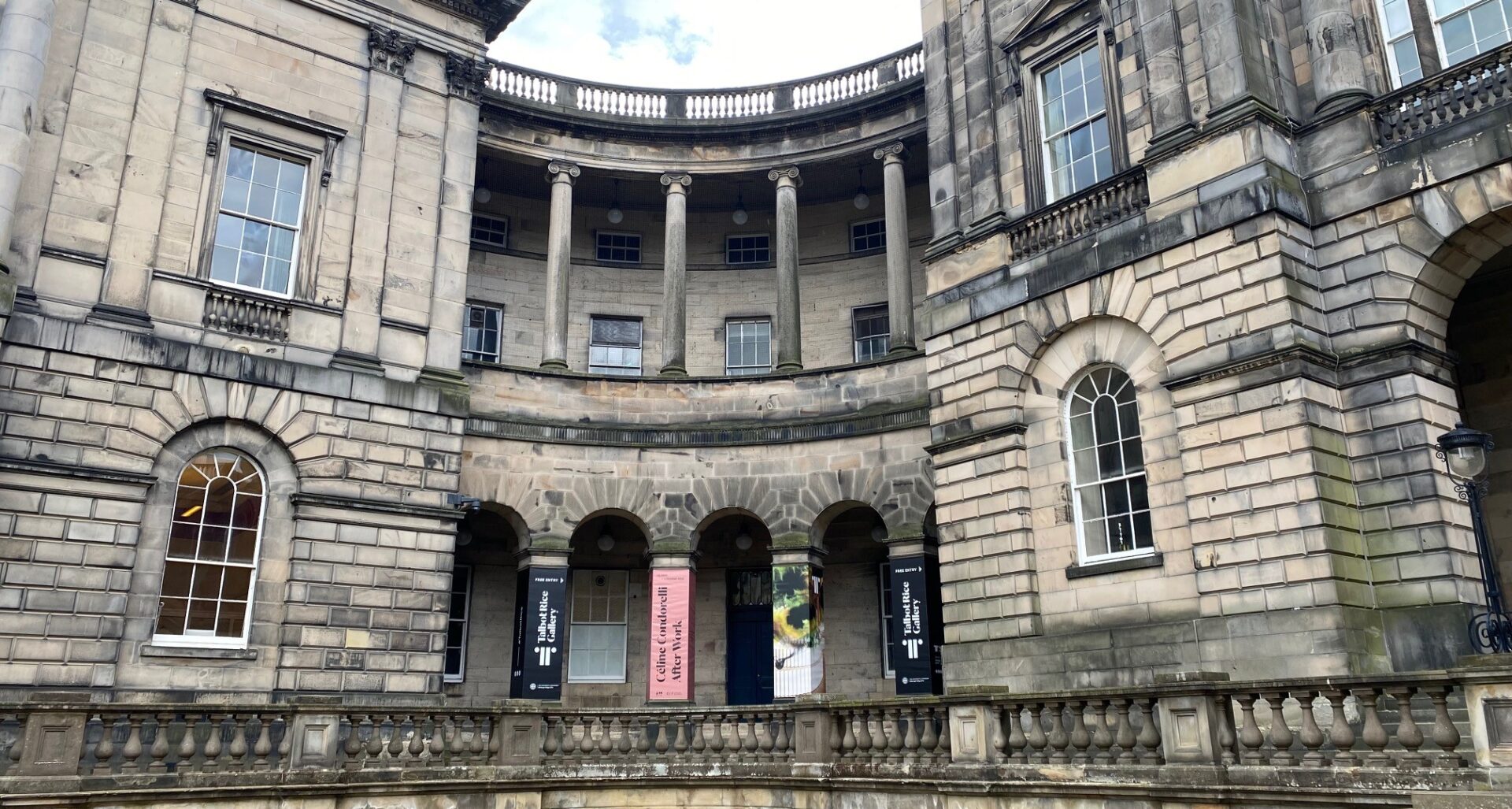 6.
The Talbot Rice Gallery
Old College, South Bridge, Edinburgh, EH8 9YL
The public art gallery of the University of Edinburgh, The Talbot Rice Gallery is situated in the heart of the University's historic Old College and is one of Scotland's leading contemporary art galleries.
Comprising three distinct exhibition spaces, including the contemporary white cube and the neoclassical Georgian space, the building began life as the home of the university's Museum of Natural History. Today, it is dedicated to exploring how the University can contribute to contemporary art production now, and into the future.
As well as featuring a range of solo exhibitions, the gallery also works closely with students of Edinburgh College of Art throughout the year. Their Outreach and Widening Participation programme also aims to bring a love and appreciation of art to many different community groups.
---
Image Credit: Visitscotland Kenny Lam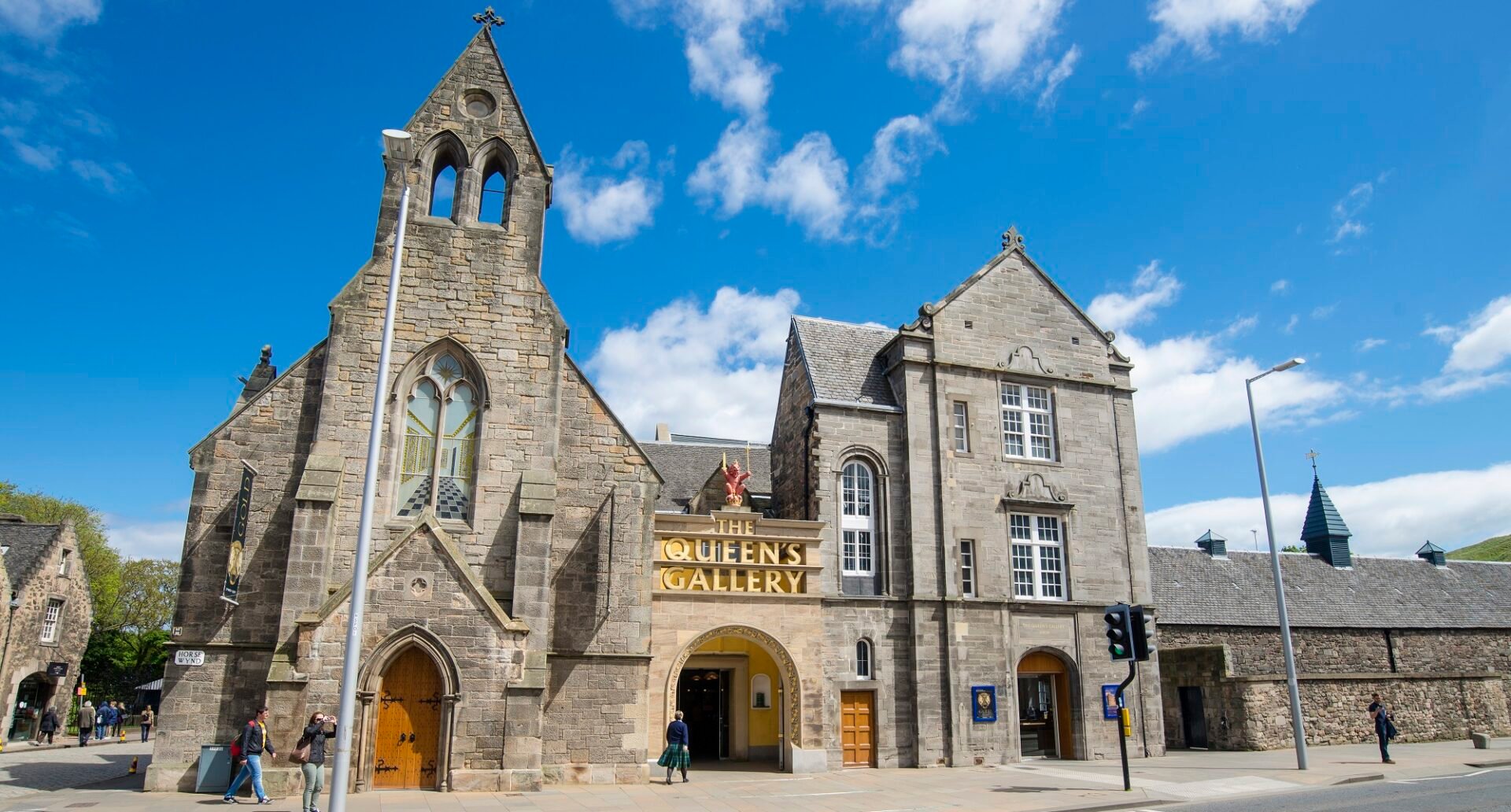 7.
The Queens Gallery, Palace of Holyroodhouse
If you like art but find conventional art galleries too big and daunting, then The Queen's Gallery, Palace of Holyroodhouse is the answer, as it hosts small intimate exhibitions as part of the Royal Collection Trust.
Located at the bottom of Edinburgh's historic Royal Mile in the shadow of Arthur's Seat, why not make a day of it? – Pack a picnic and enjoy panoramic views of the city from this ancient hill fort, which is around 2000 years old.
---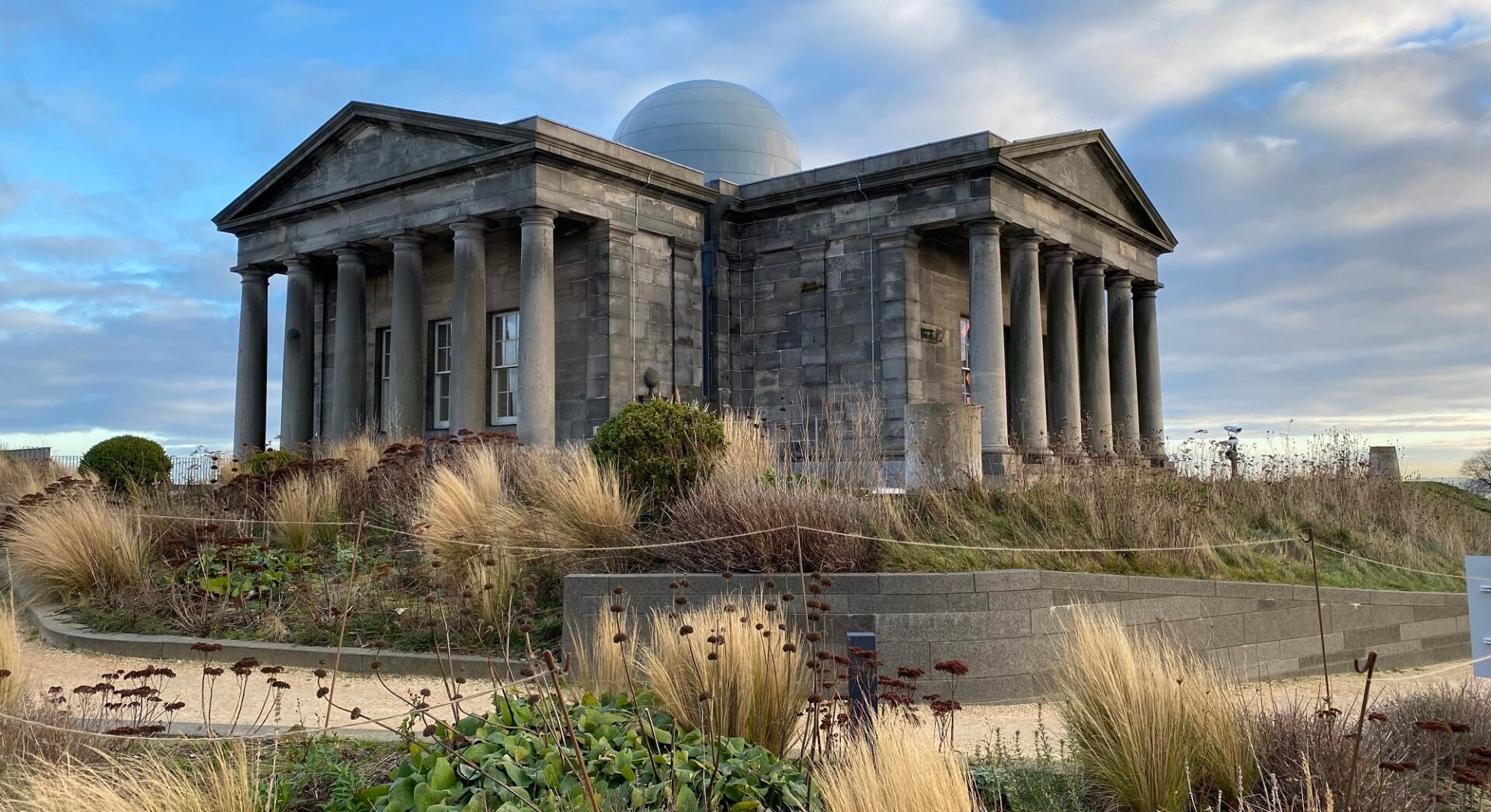 8.
Collective
City Observatory, 38 Calton Hill, Edinburgh, EH7 5AA
Collective's mission is to bring people together around new art.
Established in 1984, Collective has long supported new work by artists who are at a pivotal stage in their development. In November 2018, they opened their new home on Calton Hill, featuring the restored City Observatory, City Dome, and a purpose-built exhibition space.
Their programme of exhibitions, walks, and events presents contemporary art in all its diversity, providing artists with the opportunity to make new work, and audiences the chance to see it here first.
When here, be sure to take time to take in the stunning views from Calton Hill, as well as the collection of historic monuments, including the National Monument which was inspired by the Parthenon in Athens.
---
Image Credit: Mike Wilkinson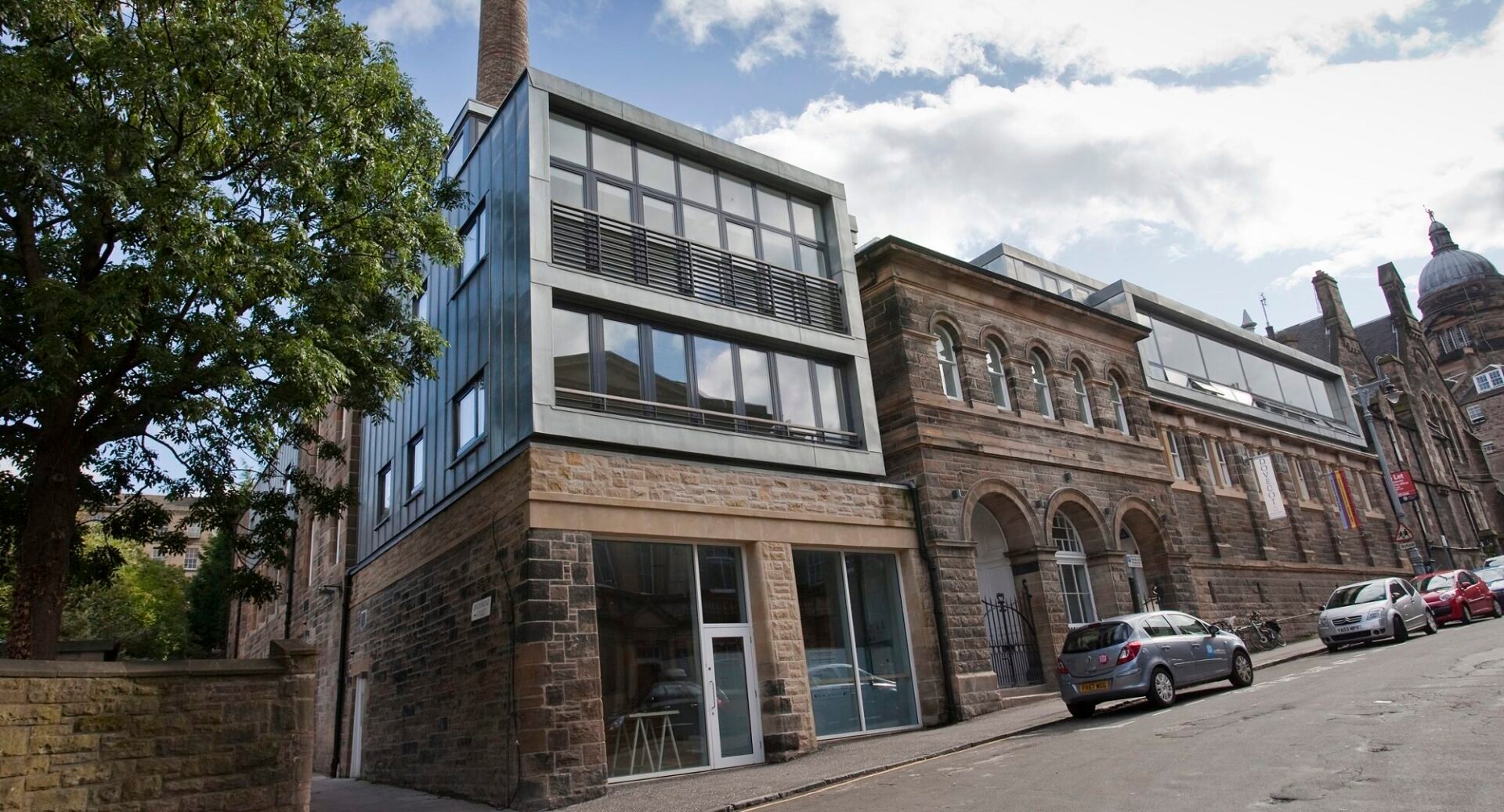 9.
Dovecot Studios
10 Infirmary Street, Edinburgh, EH1 1LT
A world-renowned tapestry studio, Dovecot Studios is a landmark centre for contemporary art, craft design and textiles, and the only operating tapestry studio in Scotland. Established in 1912, Dovecot continues a century-long heritage of collaboration with international artists to make exceptional handwoven tapestries.
The building in which Dovecot Studios now lives was built in 1885 as Edinburgh's first public baths. In 2008 Dovecot moved in, transforming the Ladies Baths into an event space and the former swimming pool into the tapestry studio.
Throughout the year you'll find an exciting programme of events hosted here, from embroidery and tapestry workshops to exhibition tours and talks. If you're looking for a unique gift or something to brighten your home, be sure to visit their shop for a wide range of ceramics, textiles and jewellery.
Admission is free (charges may apply to special exhibitions)
---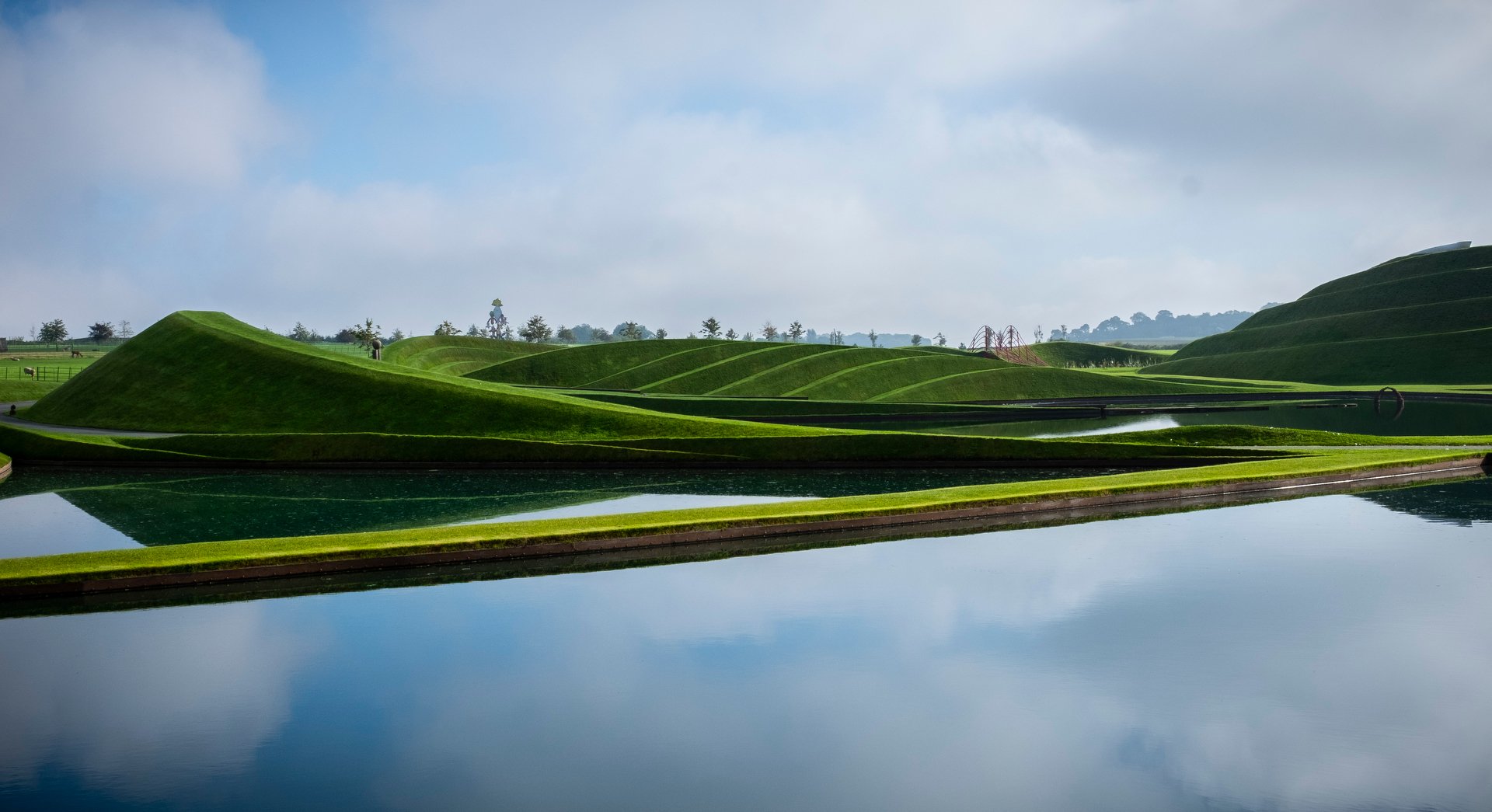 With no set routes, the park is a whimsical collaboration between the artists and the landscape, with all works personal to Jupiter. The result is a journey where artists are given the freedom to express themselves in the landscape, and the visitors are left to engage with their artwork.
If travelling by bus, Lothian Country service X27 runs between Edinburgh and Bathgate, while First Bus operates a number x23 service between Edinburgh and Livingston.
---
Events and Festivals?
Looking for more things to to do in Edinburgh? Here are some inspirational ideas.
---
Castles and Historical Places

Make sure you check out these top castles and monuments when you're in the city.

Markets

Edinburgh markets feature all year round in Scotland's capital city.

Itineraries

Our handy itineraries will make sure that you get the most out of Edinburgh.

Tours

Edinburgh offers a fantastic range of tours to acquaint, educate, entertain and terrorise, all in equal measures.

Top attractions

From museums with world-renowned collections, to tours exploring the city's ancient past, there's a wealth of attractions for all the family to enjoy in Edinburgh.

Hidden Gems

Our hidden gems reveal Edinburgh's best spots to eat, drink, shop and visit.

City Passes

See the city for less with one of these value-for-money city passes.

Shopping in Edinburgh

Luxury brands, high street stores and beautiful boutiques, we have it covered. Shopping in Edinburgh is a fantastic experience catering to all tastes, styles and budgets.

Night Time Activities

Edinburgh's nightlife sparkles with a full schedule of things to see and do as the clock approaches midnight – and beyond.

Museums

Edinburgh is full of fascinating museums that cover every area of interest that you could possibly imagine.

Live Music

Next time you're looking for some live music entertainment, be sure to check out Edinburgh.