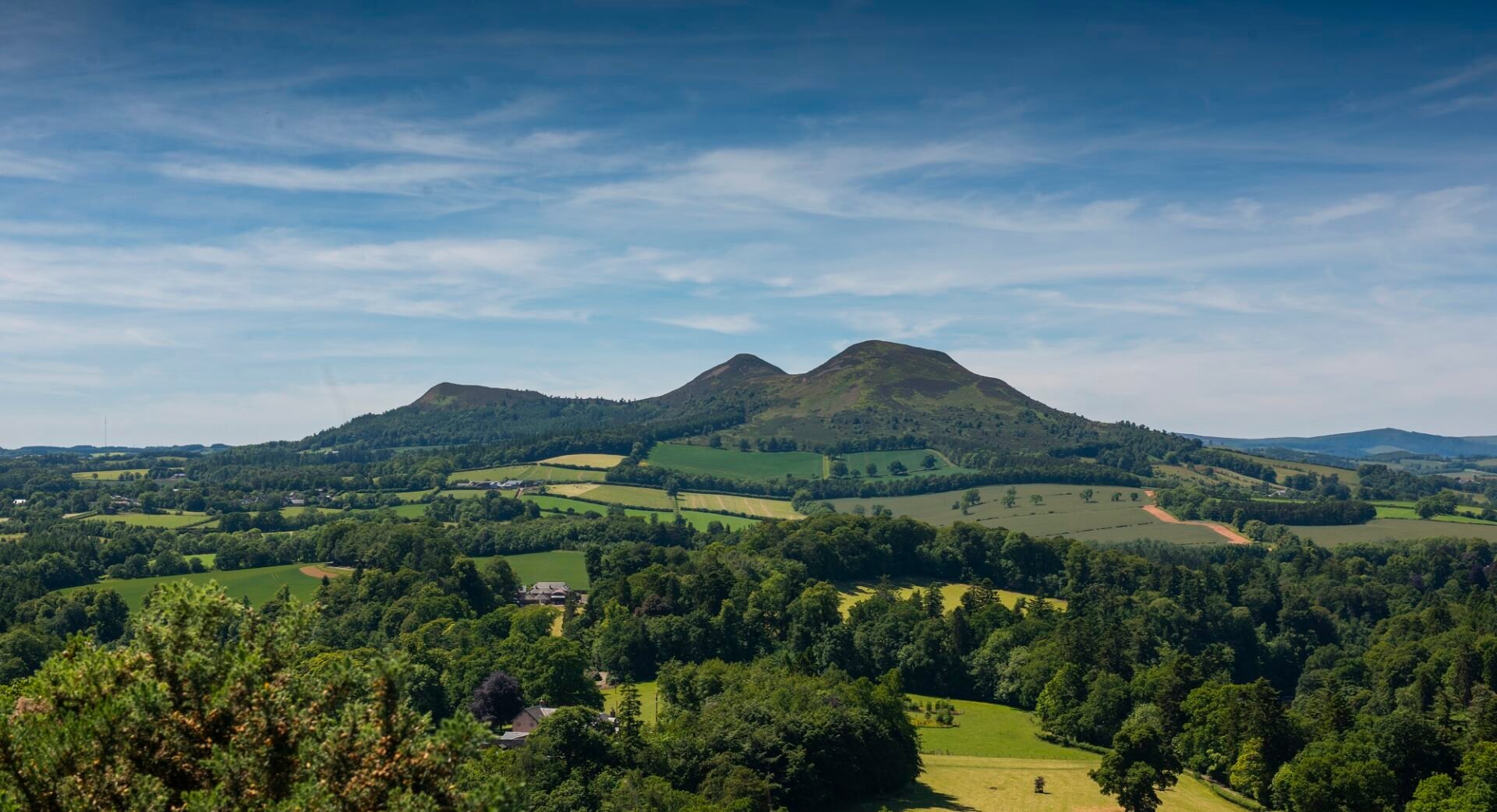 Rolling hills, winding rivers and farmland as far as the eye can see – the Scottish Borders are picture-perfect. The reach of the region is too vast to be rushed, so we've picked some of the best spots to enjoy on a day-trip from Edinburgh.
Top reasons to visit the Scottish Borders
Choose from rolling green hills, riverside trails or rugged cliffs – either way, you'll discover stunning views.

Take a step back in time and explore the home of one of Scotland's most famous writers.

Explore the region from two wheels – saddle up and discover family-friendly routes, gravel biking and award-winning mountain biking.
---
Melrose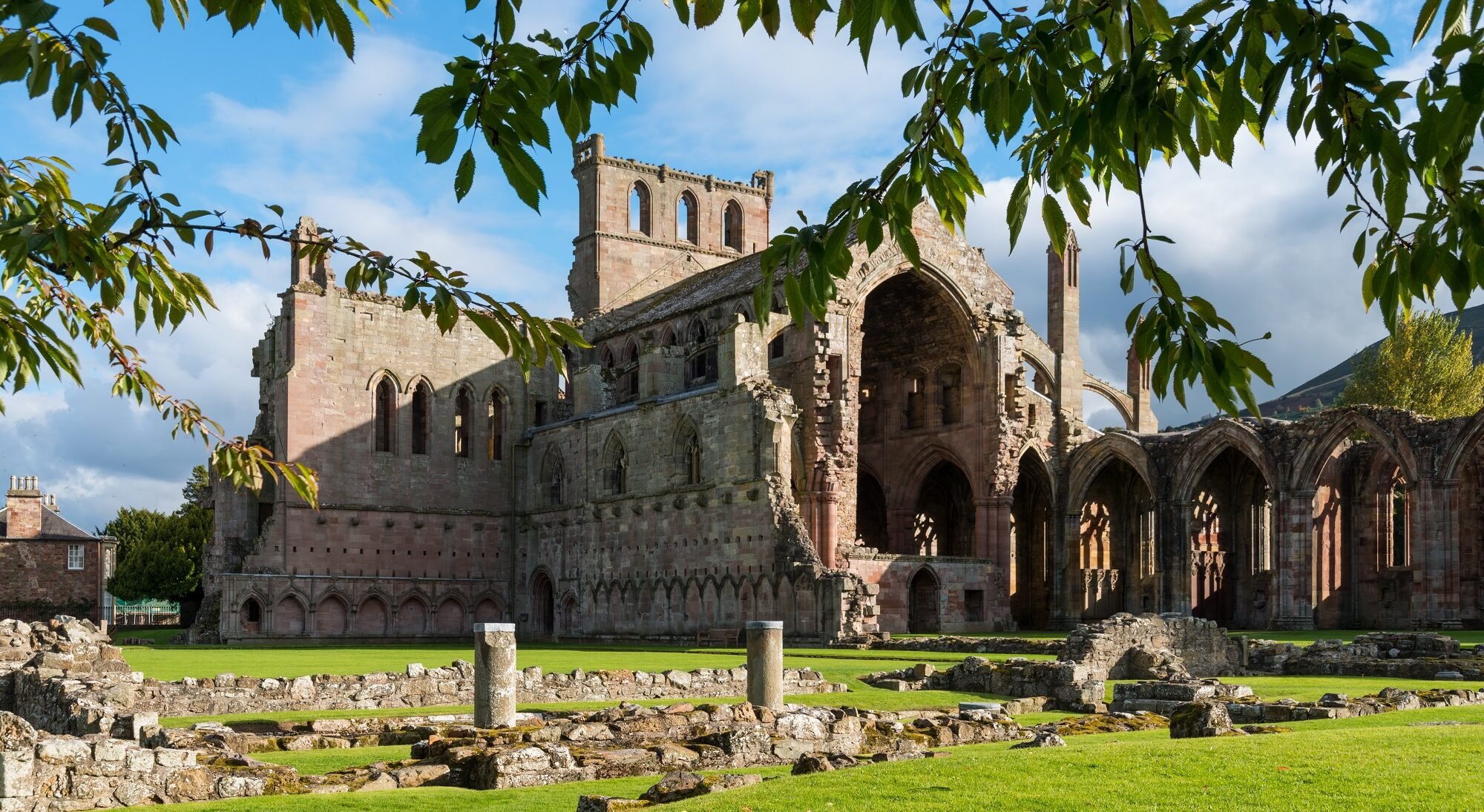 Nestled under the iconic triple peaks of the Eildon Hills is Melrose, a charming Borders town with an impressive history.
The most popular attraction is Melrose Abbey – the ruins of this Cistercian abbey date from 1136, and it's believed to be the resting place of Robert the Bruce's heart. There are some incredible architectural details too – look out for the sculpture of the bagpipe-playing Melrose pig. (See website for current opening hours and access).
Even longer ago – as far back as AD79 – Melrose was one of the largest Roman sites north of Hadrian's Wall. Many treasures have been excavated in this area over the last century and are now displayed at the Trimontium Museum at The Three Hills Roman Heritage Centre.
Just a few miles west of Melrose is Abbotsford House – the stunning home of Sir Walter Scott, one of Scotland's most famous writers. You can spend hours marvelling at the lush rooms in the grand house and roaming the extensive gardens.
The town is also home to the annual Borders Book Festival, which is held over several days in June. 2023 marks the 20th anniversary of the festival.
If you want to stretch your legs, follow the Borders Abbey Way along the River Tweed to Dryburgh Abbey, or climb the Eildons for remarkable views across the Borders.
Getting there from Edinburgh: Get the train to Tweedbank – this takes under an hour and there's usually a train every hour. From Tweedbank it's a 30 minute walk or a short taxi ride into Melrose. Alternatively, you can get the bus which will take around two hours with one change – plan your journey with Borders Buses.
---
Peebles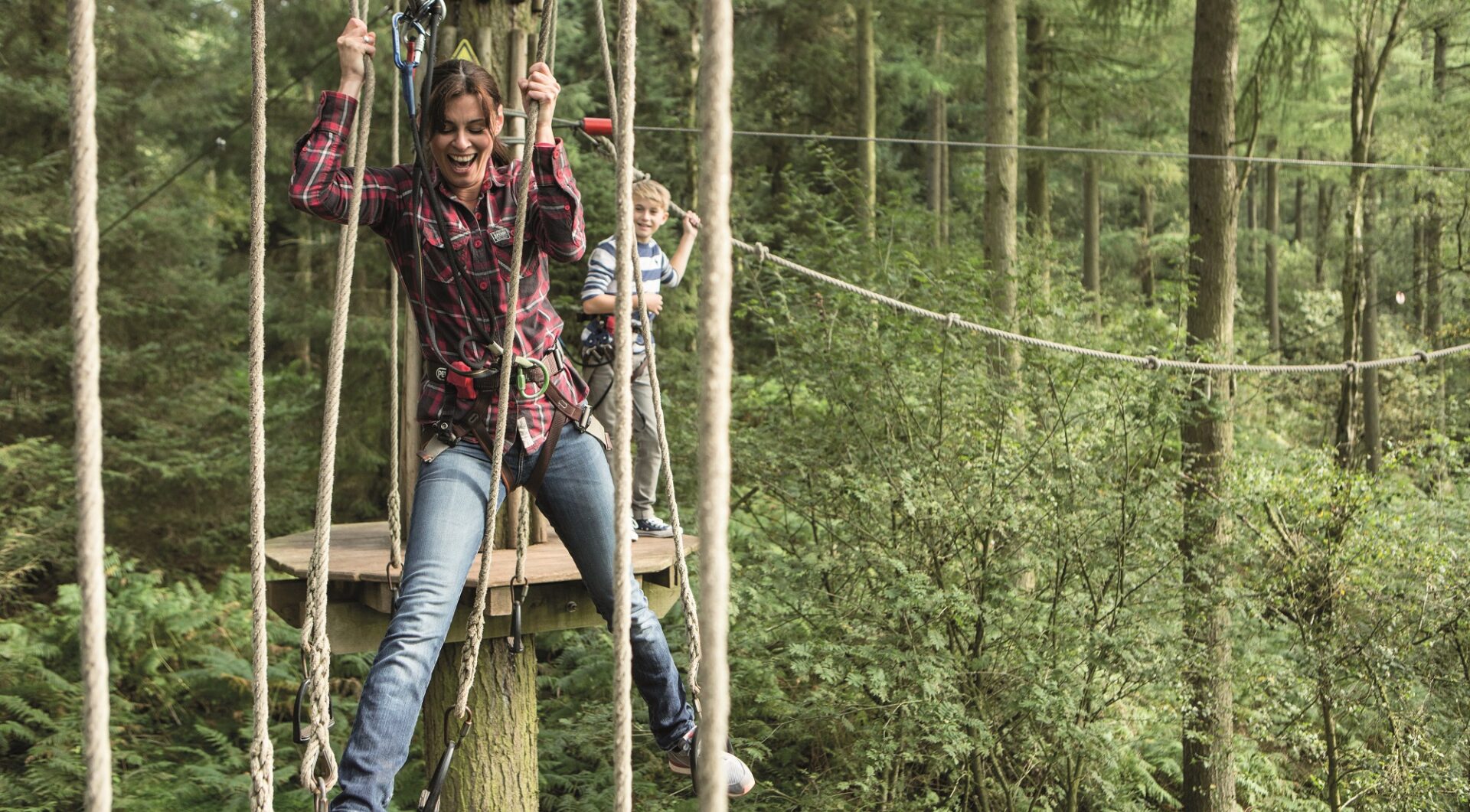 Just over 20 miles outside Edinburgh, the peaceful town of Peebles sits on the banks of the River Tweed. Great green spaces and sports facilities make it a popular day trip for those looking to enjoy the great outdoors.
Several scenic walking and cycling routes lead along the river to Neidpath Castle, along former railway tracks and up the local hills for outstanding views across the Tweed Valley. The area is a great spot for cyclists too, with everything from family-friendly routes to gravel biking and award-winning mountain biking at Glentress. You can hire bikes with Bspoke Cycles.
For a high-octane family day out, head for Go Ape Adventure Forest in Glentress Forest, where you can try everything from ziplines and Segways, to treetop adventures and axe throwing.
If you prefer a slower pace, try Peebles Library Museum and Gallery – a charming 16th century building which hosts a changing programme of exhibitions. And for something completely different, visit Peebles Hydro Hotel's Gin School to brew your own gin, with a unique blend of botanicals.
Getting there from Edinburgh: Buses run every 30 minutes from Waterloo Place in Edinburgh and will get you to Peebles in around 80 minutes – plan your journey with Borders Buses.
---
Eyemouth and the Berwickshire Coast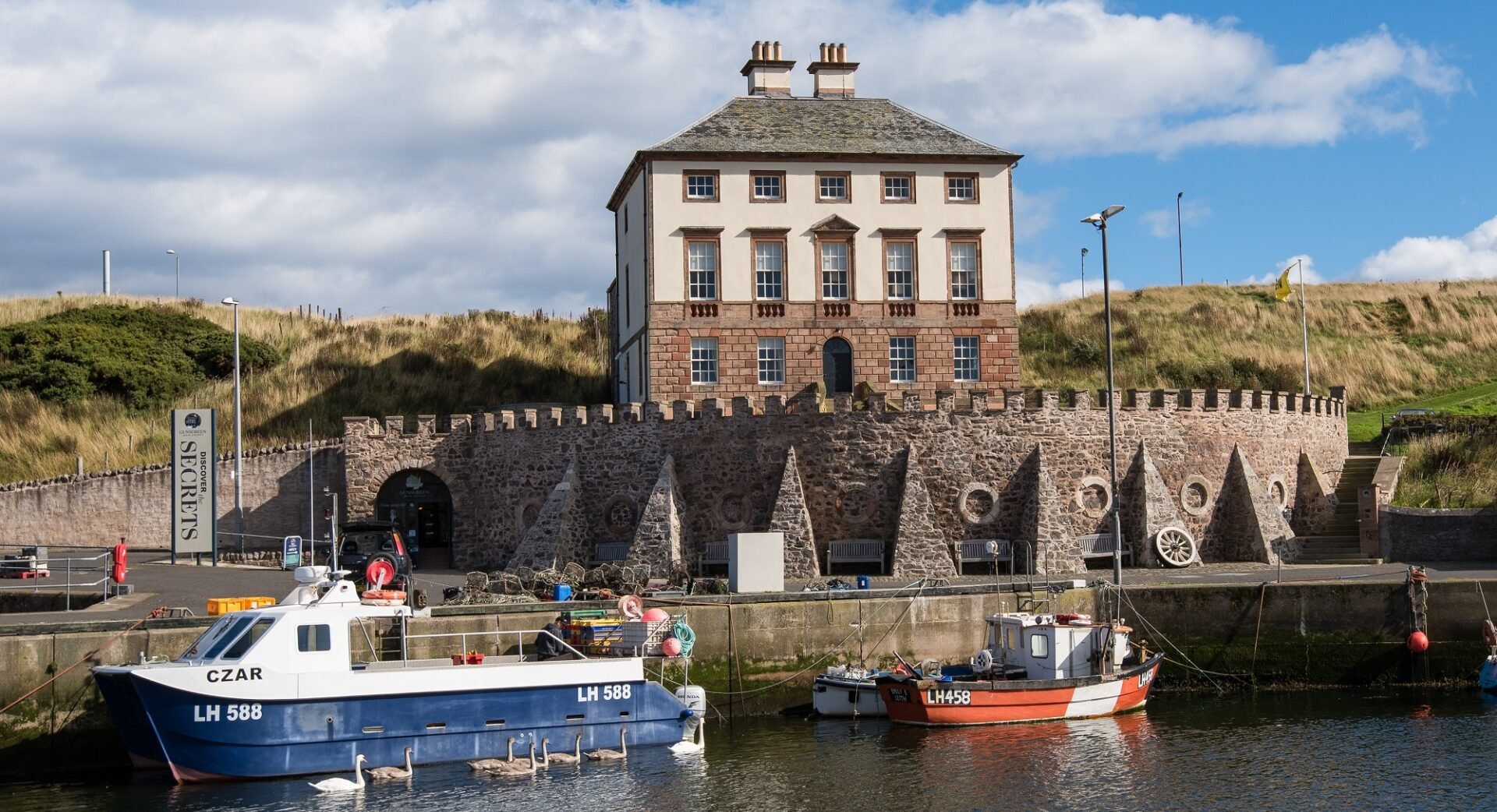 Rugged cliffs, quiet beaches, fishing boats bobbing around the harbour – the historic town of Eyemouth provides a great change of pace from the city.
If you're going to hire a car and explore the countryside, this is a prime spot to set the GPS for. You can plot a stunning route along the coast or loop a circular back inland through rolling Berwickshire landscape.
Full of narrow winds and underground tunnels, the town was once a major smuggling centre for alcohol, tea and tobacco. Hear the stories at Gunsgreen House museum, a mansion that was once a hotbed of illicit trade.
The coastal views are the real draw in this part of the Borders, and they don't come much better than those along the Berwickshire Coastal Path. The route passes through Eyemouth on the Berwick to St Abbs section, with plenty of great spots for bird watching, fishing and diving.
Getting there from Edinburgh: If you're going by public transport, catch the train over the Scottish Border to Berwick-upon-Tweed then take the bus back over the Border to Eyemouth – the journey takes around 90 minutes.
---
Kelso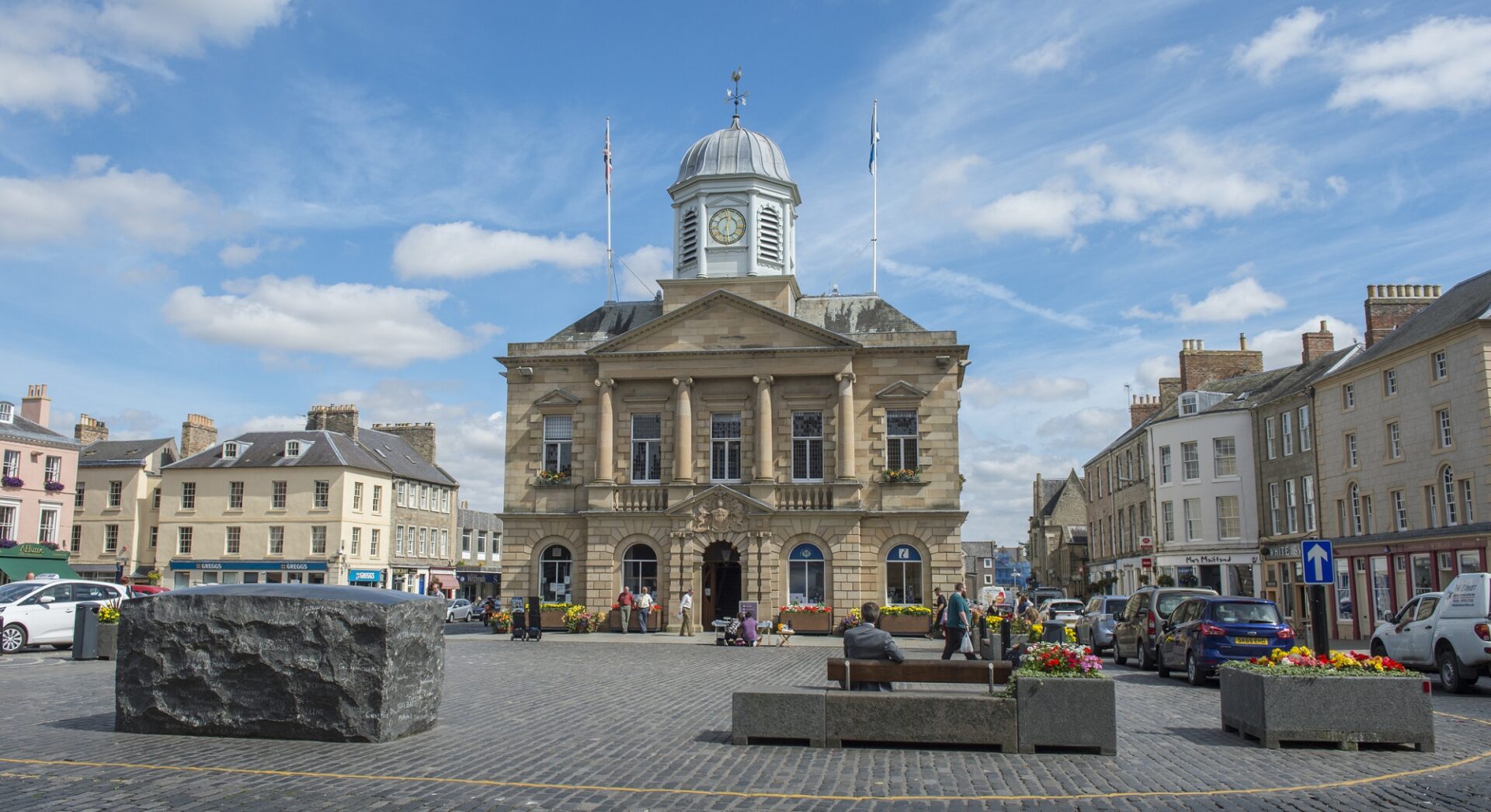 Border towns don't come much more picturesque than Kelso. Settled between the rivers Tweed and Teviot, it's a popular destination for fishers. Traditionally a market town, there is still plenty of shopping as the town square (the largest in Scotland no less) is lined with independent stores selling souvenirs and local crafts.
There's history to be explored too: the ruins of Kelso Abbey date back to the 12th century with some stunning examples of monastic architecture to be spotted. (Check the website for current opening hours and access).
You can also wander the grounds and gardens of Floors Castle, the largest inhabited castle in Scotland and home of the 11th Duke of Roxburghe. Inside you'll find fine art, porcelain and newly restored tapestries. But it's the beautiful gardens set among woodlands and large flowerbeds that will have you reaching for your camera.
Getting there from Edinburgh: The easiest route to Kelso is to jump on the Borders Railway line that goes to Tweedbank. From there, grab the bus to Kelso. The full journey should take less than 2 hours.
---
Selkirk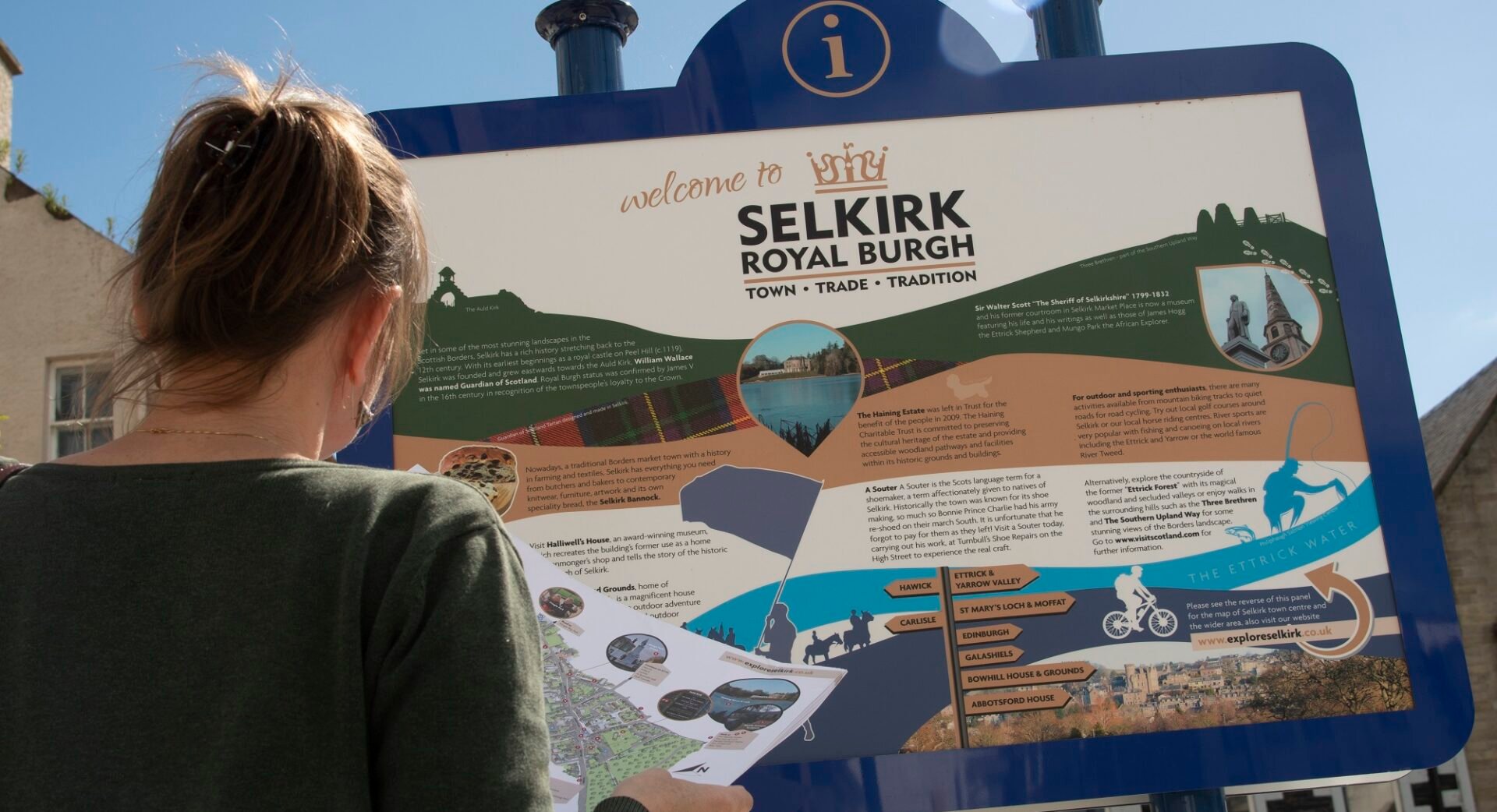 One of the oldest Royal Burghs in Scotland, Selkirk was one of the earliest settlements in the Scottish Borders – there is history around every corner.
Sir Walter Scott's Courtroom is where the great writer sat as Sheriff of Selkirkshire for almost 30 years. The building has a 100-foot spire that stands in the Market Place, next to an imposing statue of the man himself. Step into the courtroom to hear stories of his time in the town.
For more tales of Selkirk past, seek out Halliwell's House Museum – an 18th century house nestled down a narrow, cobbled lane. It features a full reconstruction of an ironmonger's shop, packed with items from centuries past. There's more traditional craftsmanship on show at Lochcarron Visitor Centre, where you can see an authentic weaving mill producing fabrics for some of the world's most premium fashion brands.
Getting there from Edinburgh: Take the train on the Borders Railway to Galashiels and then hop on the bus to Selkirk from there. The full journey takes around 90 minutes.
---
Plan your trip to the Scottish Borders
For more information, visit the Scotland Starts Here website and follow and tag them on Facebook @ScotlandStartsHere, Twitter @herescotland and Instagram @discoversouthscotland. #ScotlandStartsHere #SeeSouthScotland
---
The Royal Mile

Based in the Old Town and within a World Heritage site, the area is culturally and historically important to the city and jam packed with things to see and do.

Grassmarket

Nestled in the heart of Edinburgh's historic Old Town, with stunning views of Edinburgh Castle, the Grassmarket is one of the most picturesque and lively areas of the city.

New Town

New Town offers residents an exciting fusion of shopping, dining and architectural splendour.

West End

Tucked away just behind Shandwick Place, the West End Village is one of Edinburgh's hidden gems.

Stockbridge

With cobbled streets, Georgian architecture, green parks and gardens and mix of shops and restaurants, Stockbridge is one of the city's most popular neighbourhoods.

Southside

Lively neighbourhood filled with museums, theatres and music venues.

Tollcross

A stone's throw from the city centre, Tollcross is a buzzing neighbourhood with connections to the West End, Grassmarket, Fountainpark and Bruntsfield.

Bruntsfield and Morningside

A paradise of charming cafes, specialist food retailers and charity shops full of vintage and designer fashions.

Gorgie & Dalry

A great destination for a wee day out with the family, or a pitstop to grab a delicious takeaway or a sit-in dessert.

Leith

As far as iconic areas go, they don't come more legendary than Leith.

Portobello

Explore miles of award-winning sandy beach, ice cream parlours, arcades and beach-side cafes and bars.

Corstorphine

Corstorphine is a great place to stay with hotels, pubs and restaurants to cater to a range of tastes and budgets.

South Queensferry

Head to South Queensferry for the very best views of the River Forth.

East Lothian

Discover vast beaches, captivating wildlife and award-winning attractions in East Lothian.

West Lothian

To the west of the city you'll find a region rich in heritage, expansive green spaces, and sights so special you'll recognise them from TV and film.

Midlothian

Midlothian is an area of both natural and industrial heritage. Discover everything from stunning scenery and parklands to historic landmarks and famous filming locations.

The Kingdom of Fife

A short journey over the Forth Bridge into Fife, you'll find quaint fishing villages, rich history, an unforgettable coastline and Scotland's newest city.