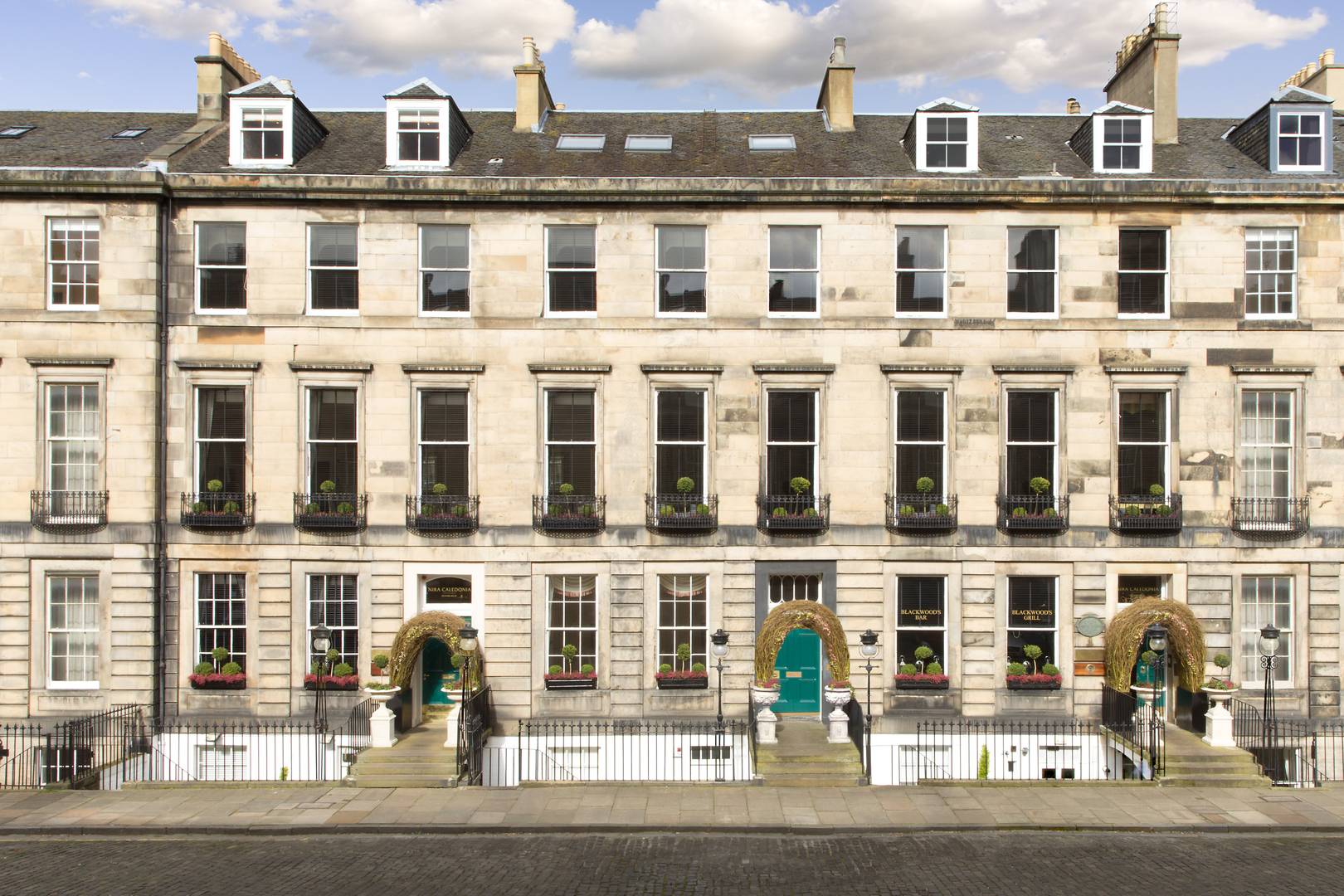 Favourite
Nira Caledonia is a unique boutique hotel located in the heart of Edinburgh. We combine Georgian splendour with 21st-century comfort.
About
---
Being the former home of literary figure John Wilson, Nira Caledonia was built in 1823 by renowned Scottish architect William Playfair in the heart of Edinburgh. These beautiful Georgian Townhouses stick to their heritage by offering embellished interiors in all 27 rooms that whisper luxury by paying homage to traditional Scottish architecture, such as detailed cornices, traditional sash windows, wooden flooring, spiral staircases and embossed tartan patterns. The hotel has no lift or air-conditioning to preserve these grade-A Georgian townhouses' delicate structure and historical heritage and is also a proud member of Small Luxury Hotels (SLH)
This boutique hotel is perfectly located, sharing sides with New Town, a UNESCO World Heritage site, and the beautiful village of Stockbridge, a picturesque quiet locale tucked away from the bustling city. Stockbridge has a historic village feel, elevated by the weekly farmers' market offering jewellery, crafts, and local fresh food, cosy independent boutiques, antique shops, bakeries, and bookstores. In contrast, New Town shows the lively side of Edinburgh, equipped with elegantly terraced houses, luxury boutiques, international brands, and delicious delis. This gives an option for the guests to be in a tranquil space where they can soak up the peace and quietness of Stockbridge or explore the bustling princess streets of Newtown for a city lifestyle. Just around the corner is the Water of Leith, a river streaming through the city offering the perfect place for a morning leisure walk - taking the guest from the lush Royal Botanic Garden up to the docks to visit the prestige Royal Yacht Britannia. Instagrammable locations such as Circus Lane and Dean's Village are also in the vicinity of the hotel, pleasing photography enthusiasts and tourists.
Visitors are also invited to relax and indulge in Scottish delicacies provided by the in-house restaurant, Blackwoods - named after the famous 19th-century magazine of John Wilson and the charcoal-cooked delicacies menu. Blackwoods uses the Josper grill to enhance the charcoal grill, and its burning embers at 600 degrees give the dish a unique caramelised smoky flavour. Keeping food miles to a minimum, they offer succulent Scottish dishes with a continental twist. Each ingredient is chosen carefully by tracing its provenance to obtain fresh, seasonal supplies from local vendors. Nira Caledonia, in partnership with Adelphi Distillery, also created a Scottish-brewed Whiskey tasting experience – providing guests with exclusively selected and bottled vintage amber malt whiskey, limited to only 24 bottles.
Video
---
Video Unavailable
Enable cookies to see it
Our web listings are provided by third party operators and not by Forever Edinburgh. Forever Edinburgh accept no responsibility for mistakes or misrepresented information contained in the business listings. Forever Edinburgh are not responsible for loss or damage caused by reliance placed on third party listings. These listings are for your information only and not endorsed by Forever Edinburgh.
Additional Information
---
Key Features
Wifi
Features
Dietary Options
Vegetarian Meals available
Nearby to Nira Caledonia
---
Approximate duration and distances shown are from Nira Caledonia.