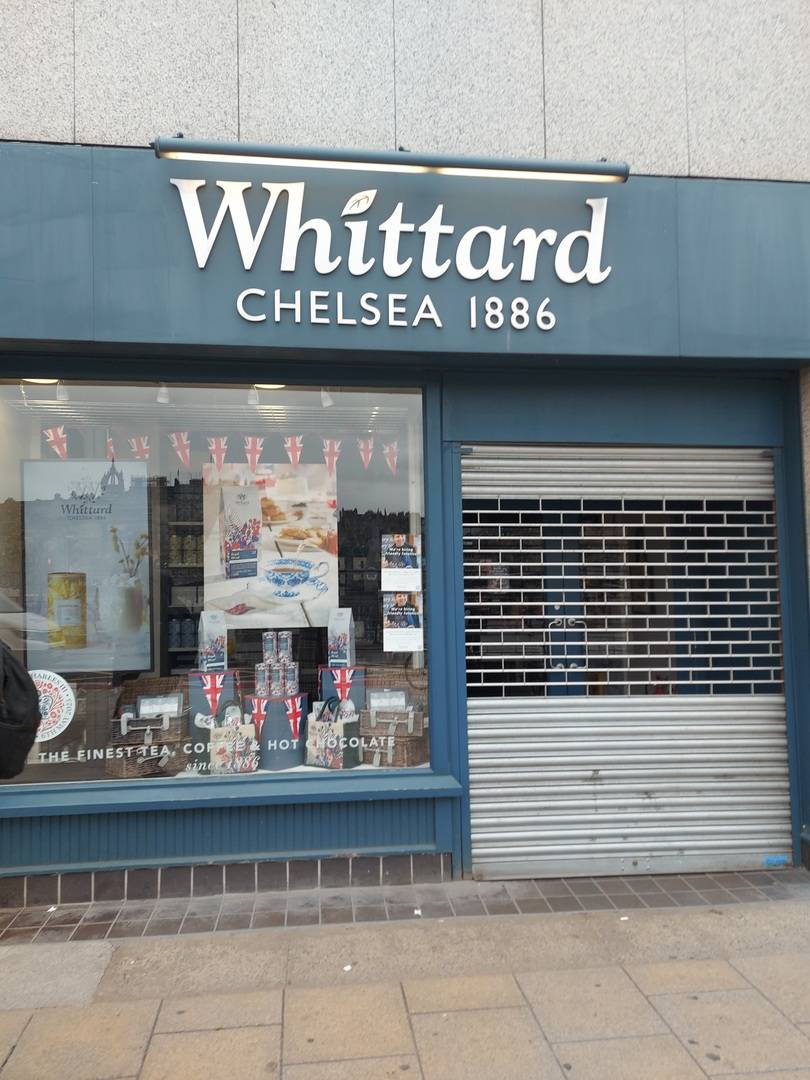 Whittard of Chelsea
New Town
Favourite
Take some time away from the real world and lose yourself in a space filled with luxurious leaf teas, aromatic coffees and creative hot chocolates.
Walter Whittard was never the sort to compromise. At the age of 17 he quit the family leather business out of frustration with his father's way of running things, and took a job with a tea trader in London's bustling city centre. Eight years later – aged just 25 – he opened his own shop in bustling Fleet Street, with a simple philosophy: to "buy the best".
In those early days the walls would have been lined with huge tea caddies, and filled with the scent of roasting coffee. Walter insisted on blending his tea and roasting his coffee on site; he also had a keen eye for a marketing opportunity, and targeted the nearby law courts by describing his tea as "The Barrister's Refresher".
After decades of successfully trading from its iconic, post-war Chelsea home, W.H. Whittard & Co. became Whittard of Chelsea, associating itself with the well-established heart of its business. A nod to the future while staying true to its heritage, it marked a new era for Whittard. Ever since, Chelsea has played an integral part of our brand identity for almost 50 years.
As the new millennium brought promise of new beginnings, we were celebrating a new beginning of our own: our dazzling new flagship store in Covent Garden. Filled with loose leaf tea, aromatic coffee and creative hot chocolate, it was an instant hit with Londoners and day-trippers – visit today and you'll find a treasure trove of wonders to discover. We have continued this ethos in our stores across the country, including our store on Princes street, Edinburgh.
It's been a long, varied and exciting history for Whittard of Chelsea. We've been through World Wars, incredible discoveries, tragedies and successes. But if there's one thing that's kept us going, it's the attitude of our founder.
Walter was a tradition-breaker with no time for compromise: he was never afraid to try something new, and he always stuck to his philosophy of "buying the best". Today, we push boundaries with our unique, innovative blends and scour the world for the best single origin varieties, from the very best tea to our limited edition coffees. We're proud to hang Walter's name above our door – and we think he'd be proud too.
So take some time away from the real world and lose yourself in a space filled with luxurious leaf teas, aromatic coffees and creative hot chocolates. Led by our friendly in-store experts, there to make your experience one worth remembering. Why not try one of our tastings on offer. Our team will be happy to brew you a sample of one of our delicious teas.
Key Information
---
Opening Times
Mon
Tue
Wed
Thu
Fri
Sat
Sun
Our web listings are provided by third party operators and not by Forever Edinburgh. Forever Edinburgh accept no responsibility for mistakes or misrepresented information contained in the business listings. Forever Edinburgh are not responsible for loss or damage caused by reliance placed on third party listings. These listings are for your information only and not endorsed by Forever Edinburgh.
Nearby to Whittard of Chelsea
---
Approximate duration and distances shown are from Whittard of Chelsea.