Edinburgh may be well known for whisky, but there's another drink speeding up the ranks and snapping at its heels - Gin.
Did you know - Scotland's love affair with gin can be traced back to the 1700s and is largely associated with Leith.
Today, the spirit is fast becoming one of our city's favourite tipples, and over the past couple of years gin bars have been popping up all over Edinburgh. You certainly won't struggle to find a good gin bar in the city - here are some of our favourites:
1. 56 North
Perfect for
Those wanting to understand more about gin
No matter what level of 'gin connoisseur' you are, 56 North will have something for you. Even though the range of over 350 gins might seem intimidating at first, the friendly and knowledgeable staff will be able to talk you through their selection and recommend something based on your tastes.
If you're keen to develop your gin knowledge, then why not try one of their tasting masterclasses, including Scottish gin and cheeses, where you'll be taken through a journey of how gin is made, how to pair with great mixers and how to garnish your drinks.
The team have also started their own distillery in the bar, creating South Loch Gin. Covering botanicals, distilling, equipment and bottling, The Distillery Tasting & Cocktail Masterclass is ideal for anyone wanting to understand more about production as well as see a working gin still up close.
---
2. Panda and Sons
Perfect for
A classic gin experience with a vintage twist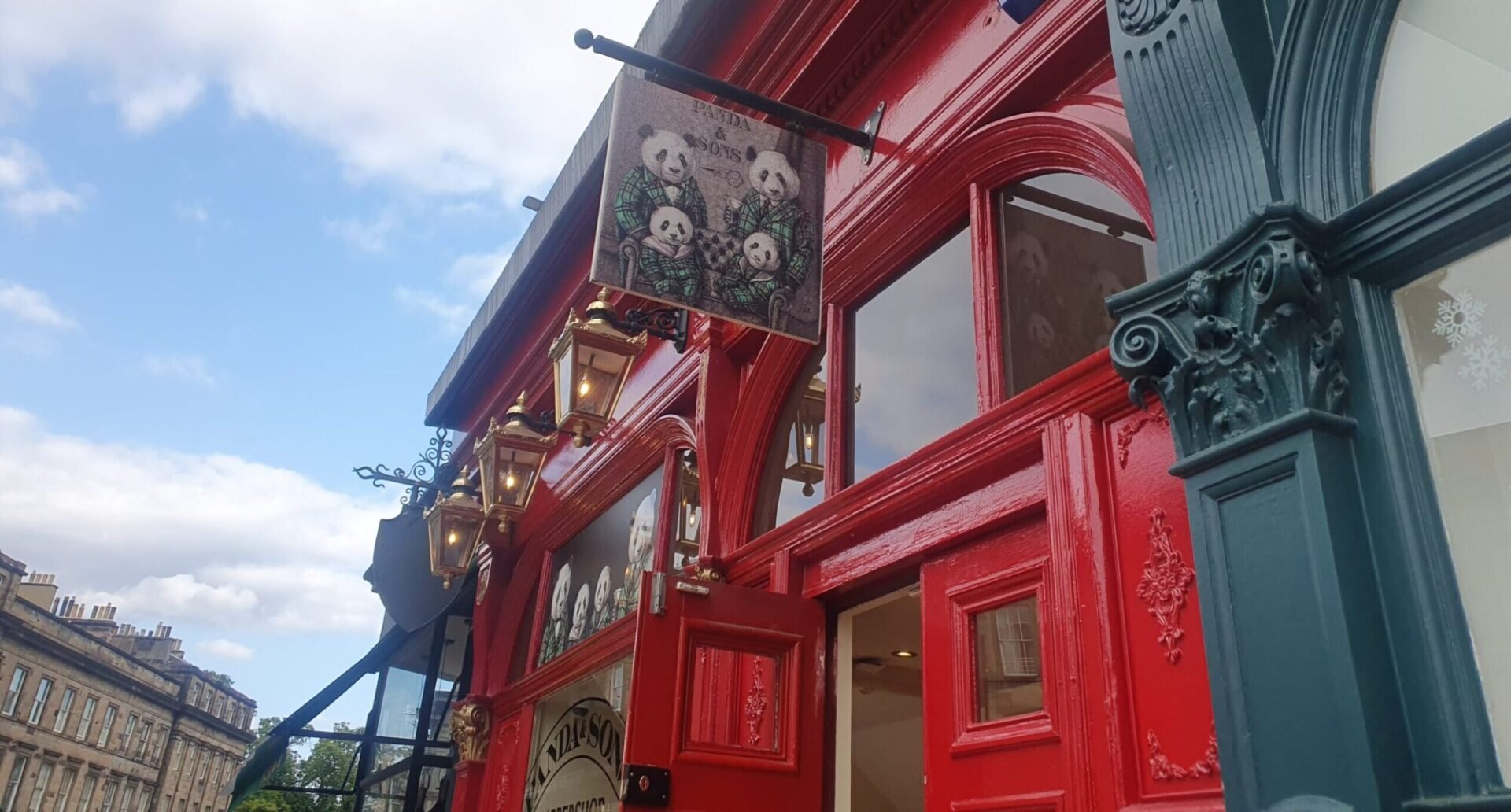 Panda & Sons fuses the feel of a vintage barbershop with the atmosphere of a classic prohibition-era speakeasy. A well-stocked range of gins means you'll have plenty of reasons to come back and find a new favourite each time.
This eclectic bar revels in being ever so slightly under the radar, located on the corner of Queen Street and neatly tucked between an estate agent and newsagent with the frontage disguised as an old-fashioned barbershop. The search is worth it for the atmosphere alone – though the gin is an ample reward too.
---
3. The Royal Dick
Perfect for
A quirky atmosphere to enjoy a drink
This bar, nestled away in the belly of Summerhall, may not have the largest selection of gins from the bars in this list, but it is probably the only one with gin on tap.
Situated next door to the Pickering's Distillery, The Royal Dick is in the fortunate position that enables gin to be piped in directly from the source.
If you fancy having a look around the distillery for yourself, you can book yourself in for a guided tour which are available by appointment.
Once a small animal hospital of the Dick Vet School, the bar's unusual setting makes for a quirky atmosphere to enjoy a drink, with a mixture of fittings from its previous life and contemporary design.
---
4. Heads and Tales
Perfect for
Taking a closer peek at how gin is made!
If the Royal Dick puts you in the mood for nosing around more gin distilleries, then be sure to pay Heads and Tales a visit. This bar is also located where the famous Edinburgh Gin is made and takes advantage of that with a clever interior design, meaning patrons can watch the spirit being distilled as they drink it!
You can either choose to relax in one of the many cosy cubbyholes in the bar, or if you prefer to be a little more hands-on, you can have a bash at making your very own gin creation either with Head and Tales special "Gin it yourself" four step cocktail system or by distilling some of your very own Edinburgh Gin next door.
---
5. One Square Bar & Brasserie
Perfect for
Sampling their bespoke gin, One Square Gin.
Located on a gorgeous terrace on Festival Square, One Square Bar & Brasserie at the Sheraton Grand Hotel and Spa Edinburgh is the perfect place to enjoy a G&T while watching the world go by.
With an impressive collection of over 100 premium gins, the bar and restaurant also has its own bespoke gin, One Square Gin, made at the Summerhall distillery in partnership with Pickering's Gin. You can either try it as part of the usual gin and tonic or in one of their special cocktails created to compliment the flavours of the gin perfectly. Try the One Square Gin Fizz with fresh lime juice, elderflower syrup, mint leaves and soda water, or Genie in a Bottle with lemon juice, gomme syrup, fresh muddled ginger, almond cordial and cranberry juice. Perfect for sipping on a lazy summer afternoon.
If you fancy batching your very own miniature One Square Gin and taking it home as a souvenir, be sure to book their Ginnasium Gin Tasting Experience.
---
6. Juniper
Perfect for
Classic recipes alongside exciting new creations.
With a name like "Juniper" you know that gin lovers will not be disappointed with this place! This stylish bar has a fantastic gin cocktail offering and a view to die for.
Juniper offer a wide range of gins, many of which are from local distilleries and are specially selected for their exceptional taste, aroma and quality.
Their cocktails are blended by expert mixologists and include both new daring creations as well as old favourites. If you want to be a bit adventurous, try their cocktail tasting menu, all while admiring the stunning panoramic views of Princes Street and the Gardens. You've got to be quick though; those coveted window seats get snapped up fast!
---
7. The Jolly Botanist
Perfect for
Unique décor to admire whilst sipping on your G&T.
With an inventive old Victorian style interior, with oddities such as old taps, top hats and pressure gauges hidden around every corner, together with over 60 brands of gin on offer, The Jolly Botanist is a firm favourite with gin fans.
While you are working through all the gins on offer, why not try their food menu which has a range of dishes from sea bass to macaroni cheese.
---
Have we sparked your appetite for Edinburgh's bar and restaurant scene?
---
Favourite