Fancy getting active while exploring the city's stunning landscape? Edinburgh parkrun could be right up your street!
What is parkrun?
parkrun is a fun, free community event where participants are encouraged to walk, run or jog 5K each weekend.
From improving fitness levels and mental wellbeing to making new friends and enjoying the great outdoors, there are several benefits from taking part. Whether attending for the first time or a seasoned runner, you'll find a supportive and inspiring community where taking part for your own enjoyment is the main factor. There are no time limits, so events are open to all levels and abilities.
How to register
You can sign up for free. Once registered, you will receive a barcode, which can be used to take part in any parkrun event. By registering you also receive a wide range of useful data from the event – from number of participants to age grade percentage.
Other ways to get involved
While running or walking the course are the main ways to get involved, the success of each event relies on the help of volunteers. Roles vary from scanning participant's barcodes and collating results to providing directions. Find out more about volunteering.
Benefits
While keeping physically fit is the obvious benefit, mental wellbeing can be massively improved from undertaking exercise as part of a community with a shared goal/aim.
parkrun is also a great way to complete the Couch to 5K Programme as the professionally measured course means you can track your results.
For more experienced runners, parkrun is an ideal way to keep track of progress. The large amount of data available includes your run history from each event.
---
Parkrun routes in Edinburgh
Whether you want coastal views or panoramic hillside vistas, there are several routes in Edinburgh where you can enjoy the city's scenery while enjoying the parkrun experience:
1. Edinburgh parkrun
Famous For
Views across the River Forth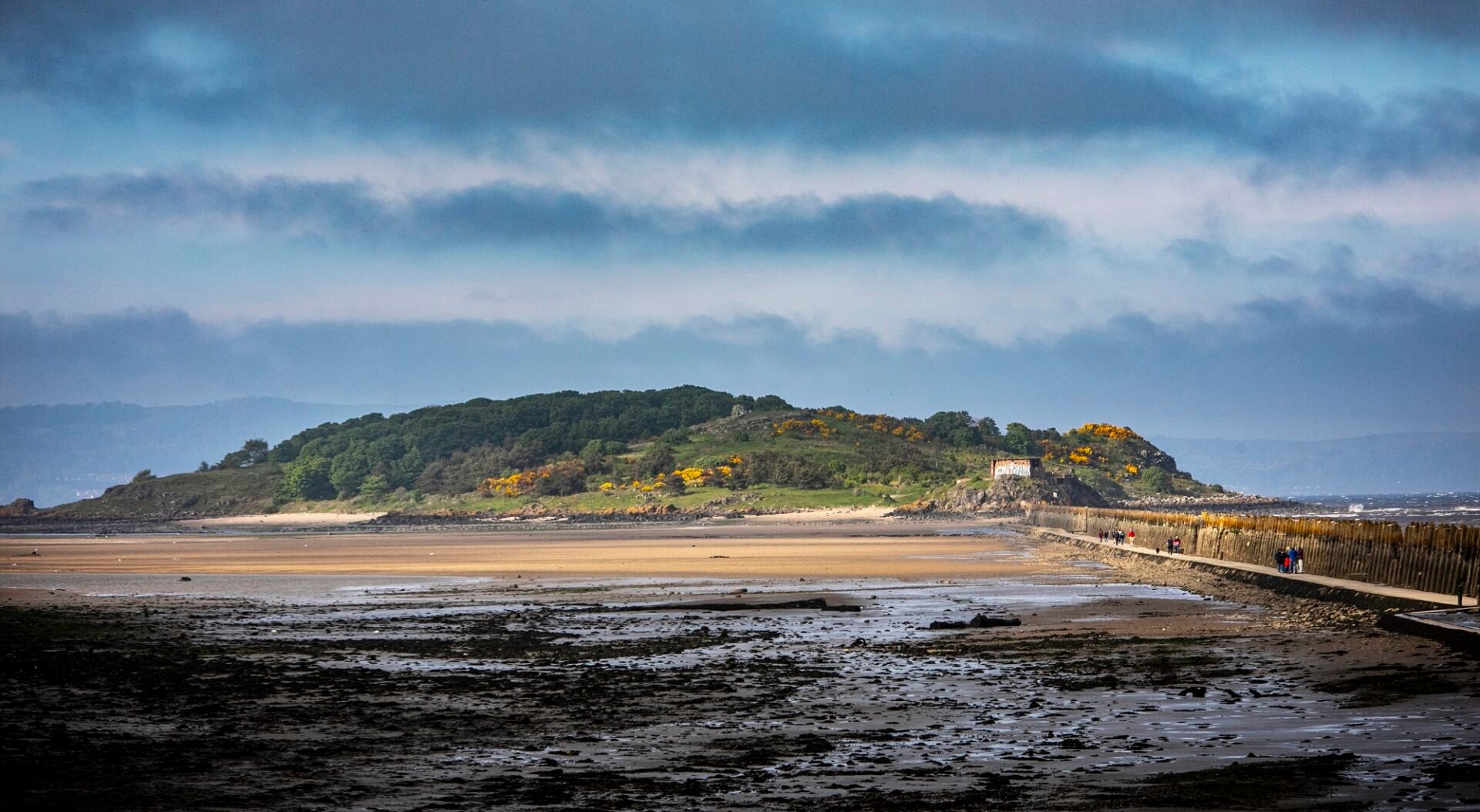 Edinburgh parkrun starts near the walkway to Cramond Island and heads east along the promenade. Participants are rewarded with amazing views of the River Forth looking across to Fife and further down the coast. The course has a turn at the half-way point, heading back towards the finish. This is one of the city's flattest routes, which bodes well for fast times.
Getting here: Join the route by catching Lothian Buses service 41 to the corner of Whitehouse Road and Cramond Glebe Road, then walk 10 mins to the start line.
This route is located near Davidson Mains and Cramond village which offer a couple of places to rest weary legs and re-fuel, including Sprinkles Café and Cramond Bistro. A short walk in the other direction are the neighbourhoods of Granton and Newhaven with their seaside views and delicious seafood restaurants, and Inverleith, home of the Royal Botanic Garden Edinburgh, one of the world's leading botanic gardens.
---
2. Portobello parkrun
Famous For
Beautiful park surroundings and the opportunity to spot a variety of wildfowl
Portobello parkrun takes place at the scenic Figgate Park. Consisting of 3-laps, this clockwise course offers a great opportunity to take in the beauty of the park and it's large wildfowl population.
Getting here: Lothian Buses services 5, 15, 26, 42, 104 and 49 run a regular service to Portobello. It is then a 5 minute walk to Figgate Park.
When finished, why not pop along to nearby Portobello where you'll find a variety of cafes and restaurants to suit all tastes and budgets. We recommend The Beach House Café where the mouth-watering dishes are the perfect match for the waterside views. Or for lunch on the go, head to Bross Bagels for Montreal-style bagels stuffed with an array of tasty fillings, followed by a luxurious gelato from Oscar's Gelato.
---
3. Holyrood parkrun
Famous For
Panoramic views of the city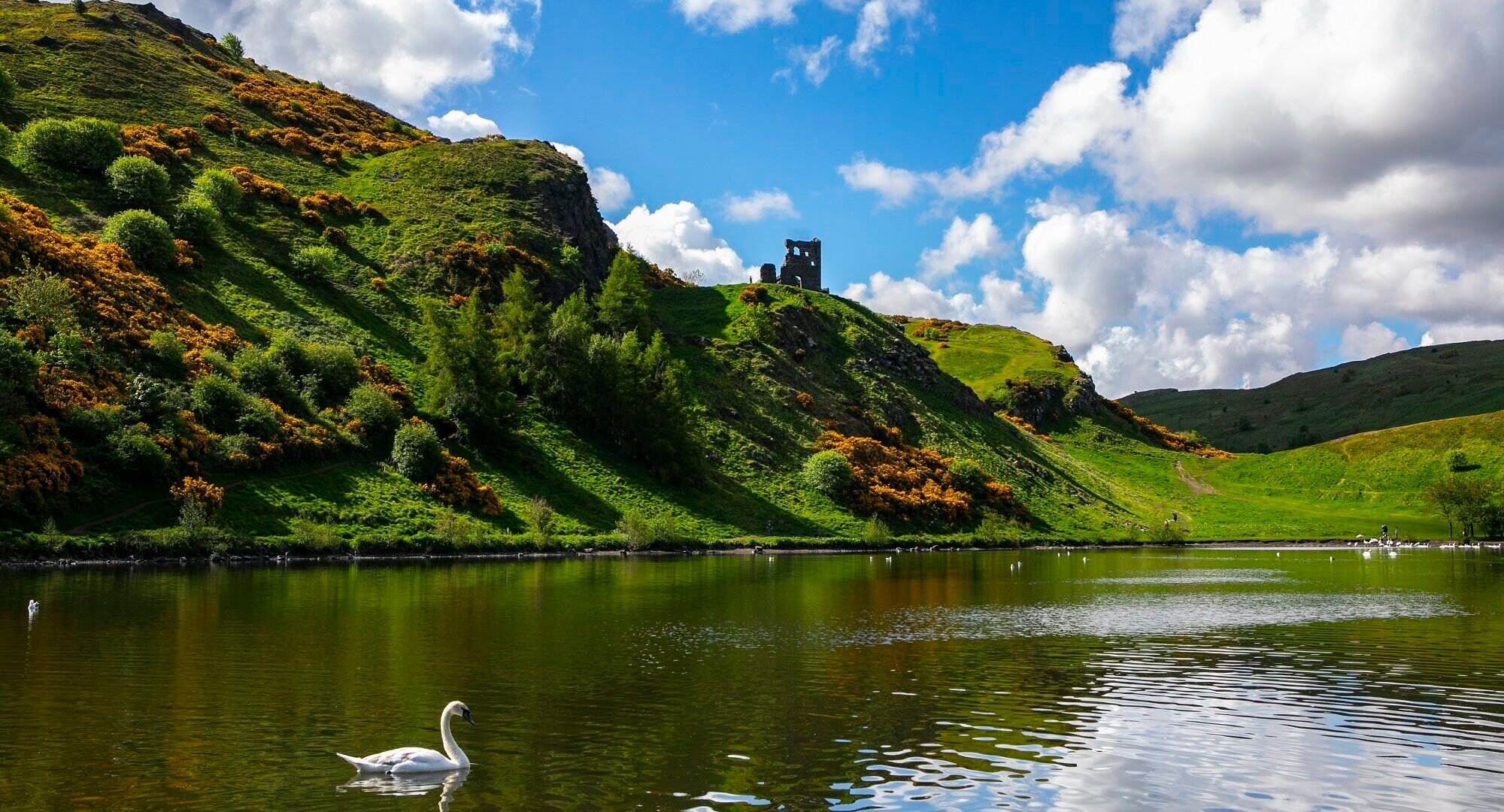 Holyrood parkrun takes place around Holyrood Park. Starting next to St Margaret's Loch, take an ascent up the iconic Arthur's Seat, finishing near where you started. After the first climb you reach Dunsapie Loch with its beautiful views along the east coast. Turn the corner and you'll come to Duddingston Loch with breath-taking views out towards the south of the city, down to Midlothian and beyond. The magnificent Edinburgh Castle, can be seen in the distance, while to the west are the Pentland Hills and the neighbourhood of Corstorphine. This course is admittedly the hilliest, although is well worth it for the views.
Getting here: Lothian Buses run regular services to Meadowbank Stadium, which is a 10 minute walk from the start of the route. Services include: 4, 5, 26, 44, 45, 104, 113, 124, and 256.
There are several bars, cafes and neighbourhoods to choose from in this bustling part of the city if you're in need of a post-run breather. For comforting food in a relaxed atmosphere, the Sheep Heid Inn is a great choice – it's also one of Edinburgh's oldest bars. Head up the historic Royal Mile and there's somewhere for all tastes. For a cuppa in an quirky tearoom, head to Clarinda's Tearoom, while both Wedgwood the Restaurant and Monteiths serve beautifully presented dishes made with fresh seasonal produce. Royal Mile Tavern and Tolbooth Tavern are great shouts if you're seeking a bar bursting with charm and character.
---
4. Oriam parkrun
Famous For
A quiet route through gardens and Herriot-Watt University grounds
Located six miles from the city centre, Oriam parkrun takes place at Oriam, Scotland Sports Performance Centre at Heriot-Watt University. This route takes in the gardens and trails of the university grounds.
Afterwards, you're just a short walk from the neighbourhood of Currie, where there are various places to eat and drink. Choose to dine inside the recently refurbished Balerno Inn or go al-fresco in one of their heated bothys. Riccarton Inn is a great place for a cosy afternoon thanks to their two roaring coal fires and Carlyle's has a wide selection of sweet treats, including waffles and cakes galore. Or why not stop by Balerno Farmer's Market for some fresh seasonal produce to create a delicious post-run dinner at home. If you've still got energy to burn, the picturesque Water of Leith Walkway can be reached from Lanark Road in Balerno and Currie. This glorious green space is home to a wide range of wildlife and is a tranquil place for a walk, run or jog.
---
All parkruns in Edinburgh start at 9:30am sharp. Please remember – while enjoying whichever run you are taking part in, adhere to all safety instructions and advice from course marshalls.
So, what are you waiting for – limber up, decide which route to follow and discover a fun, free and new way to discover Edinburgh!
---
Favourite