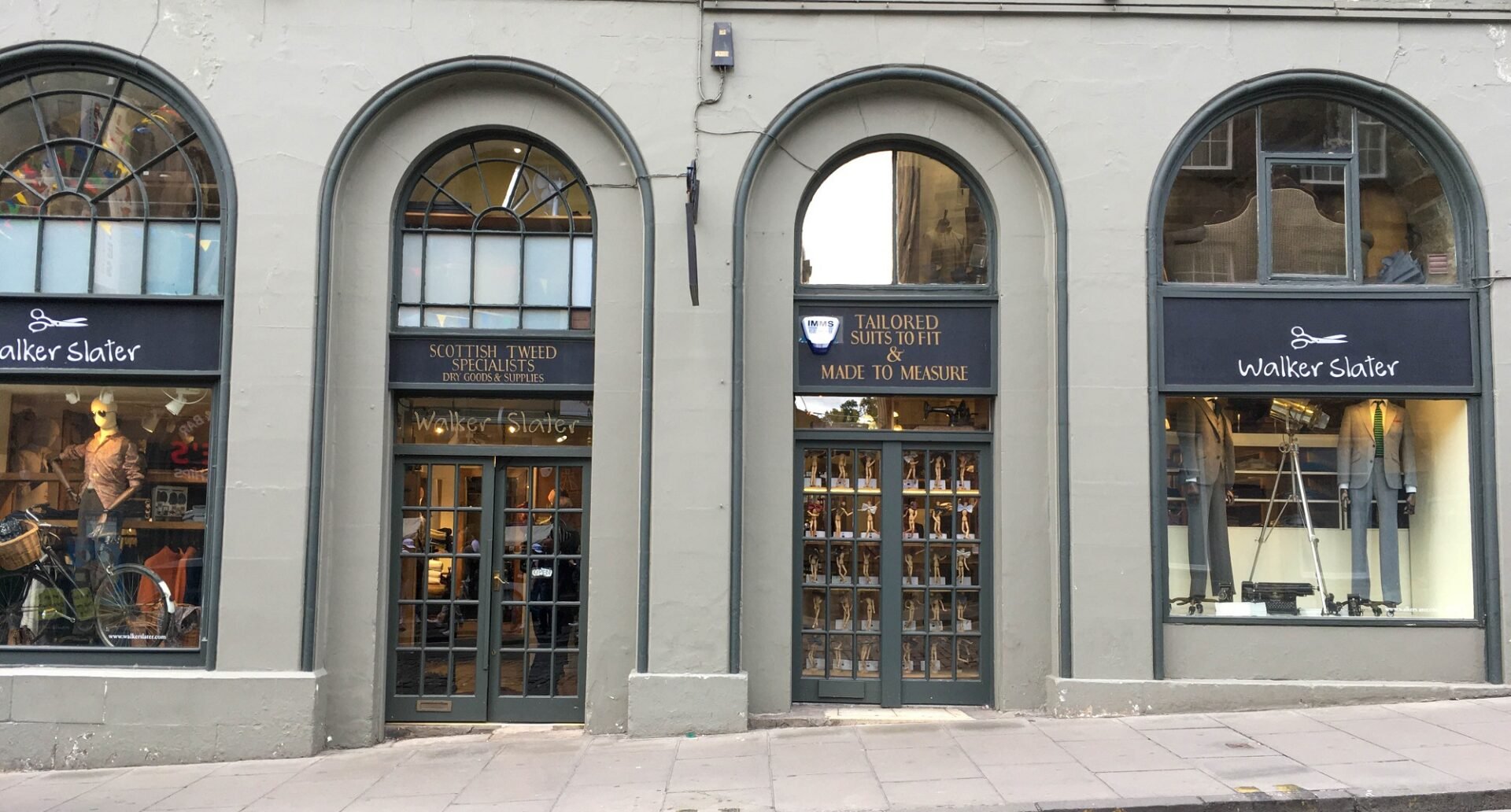 Shopping in Edinburgh's Grassmarket
A wander through these cobbled streets should be included in any trip to Edinburgh. Whether you're looking for retro clothing, beautiful handmade hats, antique books or magical merchandise, you'll discover a wealth of gems in the Grassmarket's ancient streets.
Food and drink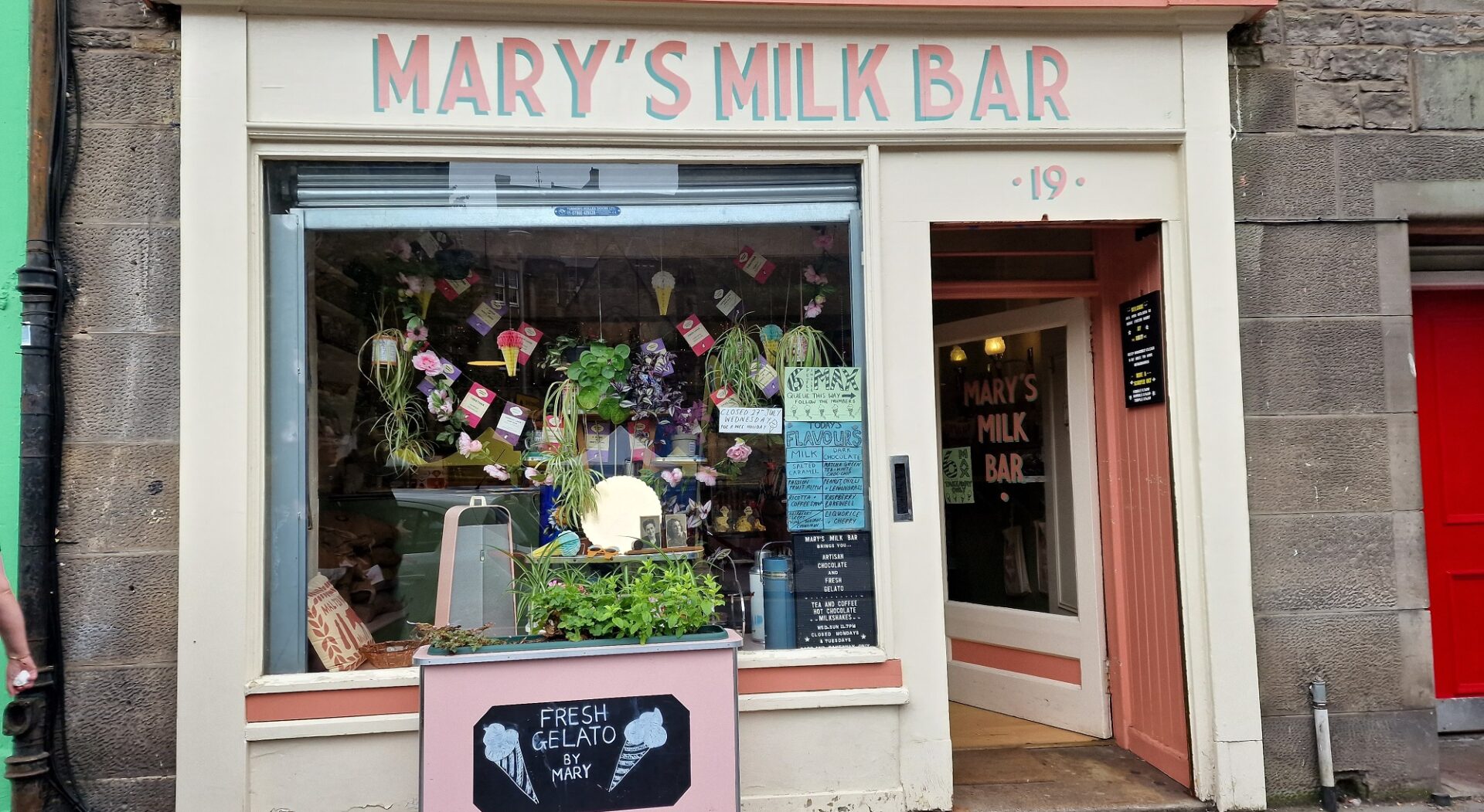 While there's not a large number of food and drink shops in the neighbourhood, there are some true gems that should not be missed.
If you love all kinds of cheese, a trip to I J Mellis should be included on your shopping trip. They have several shops throughout the city, including one on the Grassmarket's Victoria Street, which is where you'll also find The Whisky Shop and its range of over 400 whiskies, which include rare and limited edition bottles.
If sweet treats are more up your street, be sure to leave a space in your day to visit Mary's Milk Bar. This retro ice cream parlour serves up the most delicious range of gelato, made fresh every day. And while you can still get the classic flavours, if you fancy being a bit more adventurous they also serve exciting flavours such as peanut, chilli and coconut, and rosemary and orange. Located in a former police box, Over Langshaw Farmhouse Ice Cream may be small, but their fruity seasonal sorbets are pretty mighty. If you need a coffee hit, they also serve Affogatos – your choice of ice cream with a shot of espresso. Remember the sweets you loved as a child – lucky tatties, sour plooms, cola cubes, cherry lips? Step through the doors of Bains Retro Sweets for a sweet trip down memory lane and take home a bag of your favourite childhood sweets.
---
Boutique fashion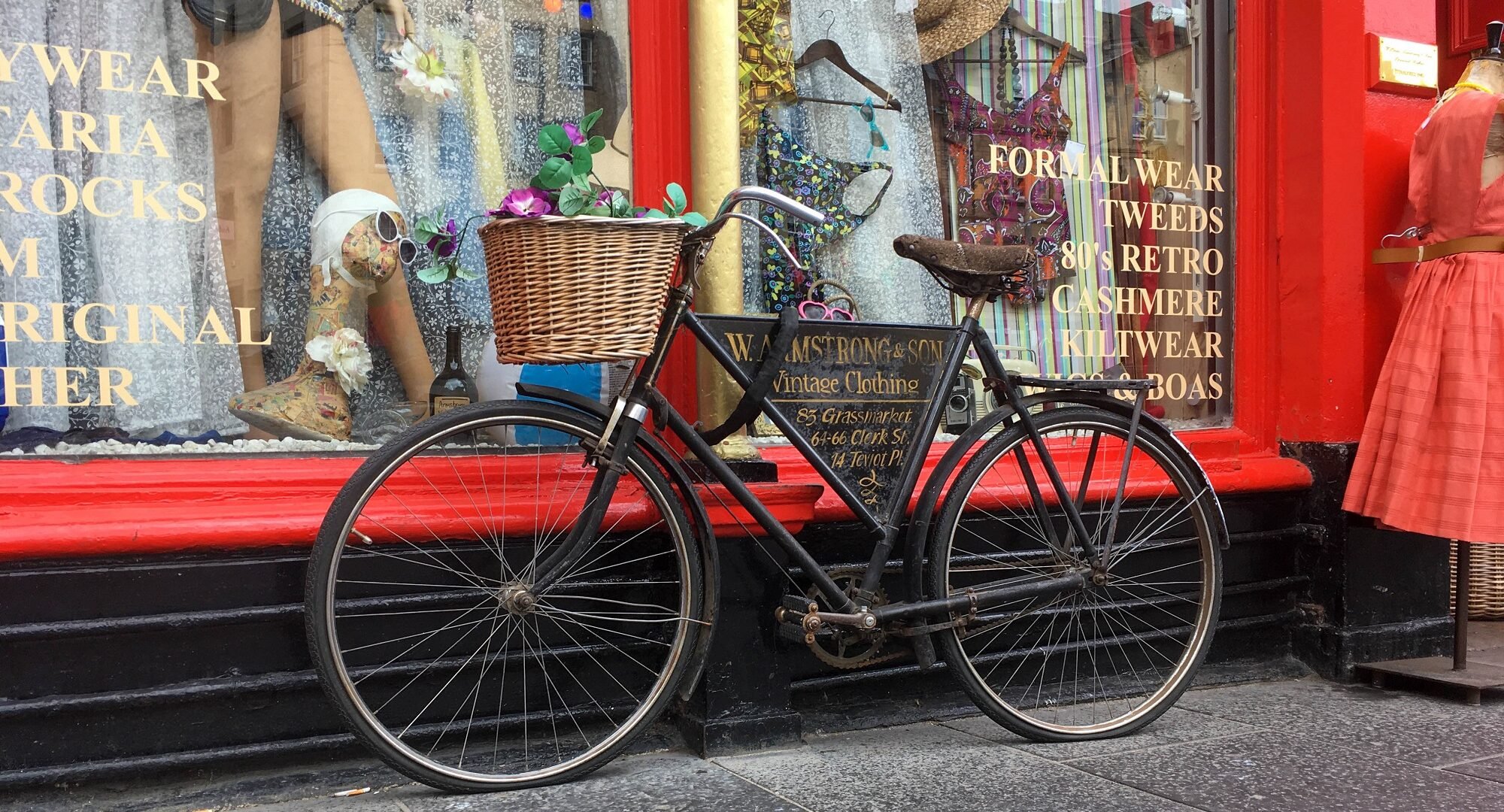 With one menswear and one ladieswear shop, Walker Slater stocks an extensive range of smartly tailored tweed suits, coats and accessories. If you need something equally cosy but a little less formal, Bill Baber Knitwear and Hawico both have a range of locally made designer knitwear.
While for modern fashions and cool accessories for women, men and children, head to Swish. If vintage threads are more your style, W. Armstrong & Son is filled to the brim with all kinds of cool retro clothing and accessories. Godiva Boutique also carries a selection of vintage clothes, along with pieces from Scottish designers, jewellery and homeware. If it's colourful 1980s and 1990s clothing you're looking for, Little Blue Door has a great selection.
To accessorise your new outfits, Fabhatrix has some of the most fantastic millinery in the city, or pop into Clarksons of Edinburgh for a unique range of contemporary and Celtic jewellery. Purple Glamour has an exciting range of quirky and costume jewellery if you're looking for something more unusual.
---
Books, crafts and gifts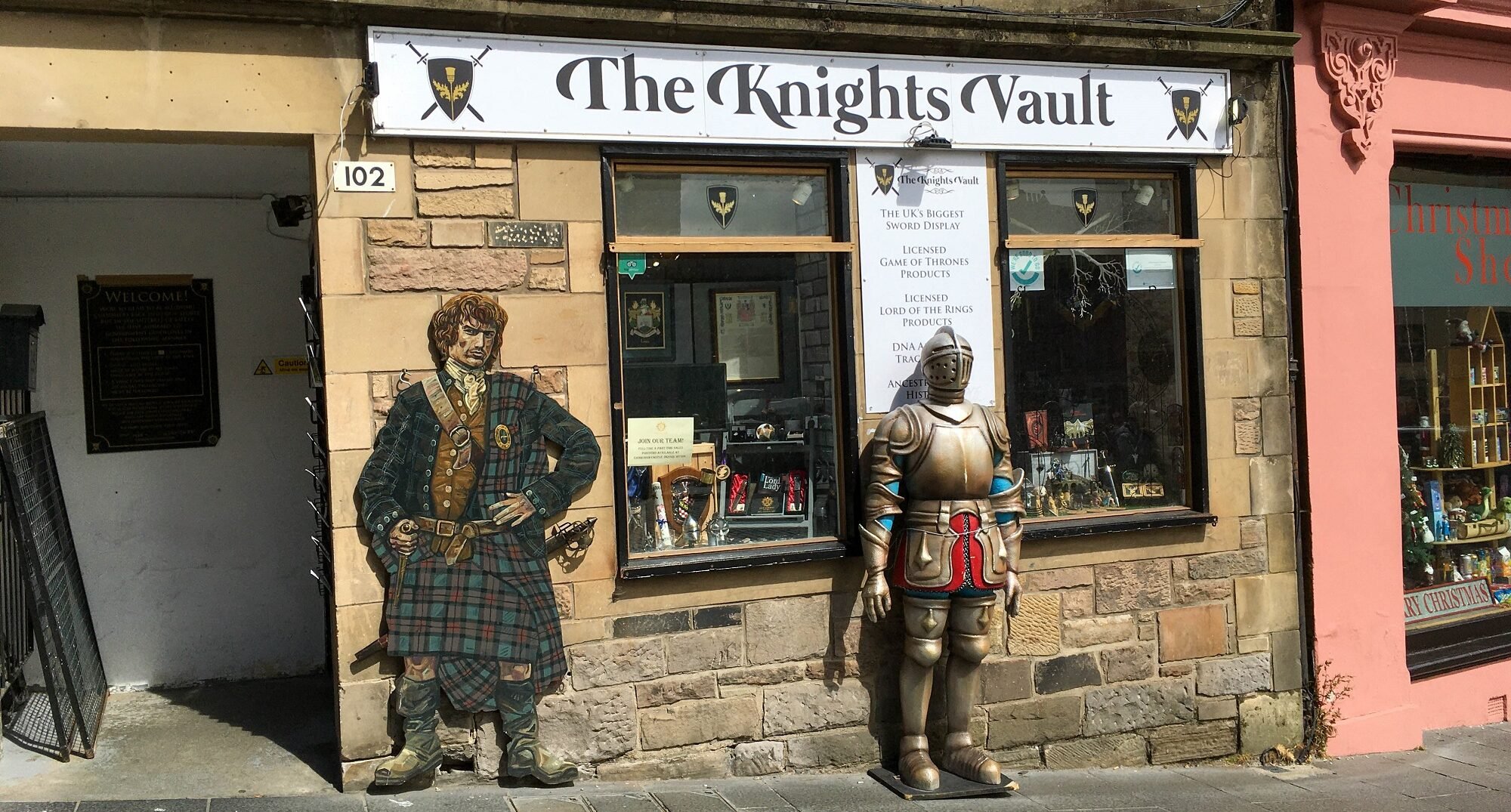 Magical gifts, antique books and swords – find them all here.
Armchair Books is perhaps one of Edinburgh's most photogenic second-hand book shops. This tiny shop on West Port is filled to the brim with novels, poetry and non-fiction and is a great place to stop for a browse. Nearby, Edinburgh Books is another long-time local favourite, with loads of stock and a basement full of sheet music. John Kay's on Victoria Street specialises more in antique books and other collectors' items, as well as a range of literary themed gifts, while at Transreal Fiction it's all about science fiction and fantasy titles.
With its winding cobbles and brightly coloured shops, it's easy to see why many people think the Grassmarket's Victoria Street is reminiscent of Diagon Alley, the magical shopping thoroughfare in the Harry Potter books. It's here that you'll find Museum Context (with another shop on Cockburn Street), a spellbinding shop with a large variety of Harry Potter themed memorabilia, including officially licensed Gryffindor Quidditch jumpers and replica Marauders' maps. More magical merchandise is available at The Enchanted Galaxy, an exciting store selling all things Harry Potter, as well as Marvel, DC Comics, Star Wars, Game of Thrones and more.
The Grassmarket is also home to Scotland's leading licensed sword seller. Cross over the threshold of The Knights Vault and you'll find handmade swords, armour and helmets. They are also the only shop in the UK licensed to reproduce swords from the popular TV series, Outlander. If you're looking to take home something that is not only a bit unusual, but also has an astonishing history, Mr Wood's Fossils have an unrivalled selection of fossils, minerals, meteorites and jewellery.
Since 1840 Greyfriars Art Shop has been supplying Edinburgh's artists and craftspeople with all the tricks of the trade. Stop by here for an extensive selection of artists' oil colours, watercolours, gouache, canvases, brushes and more.
---
Homewares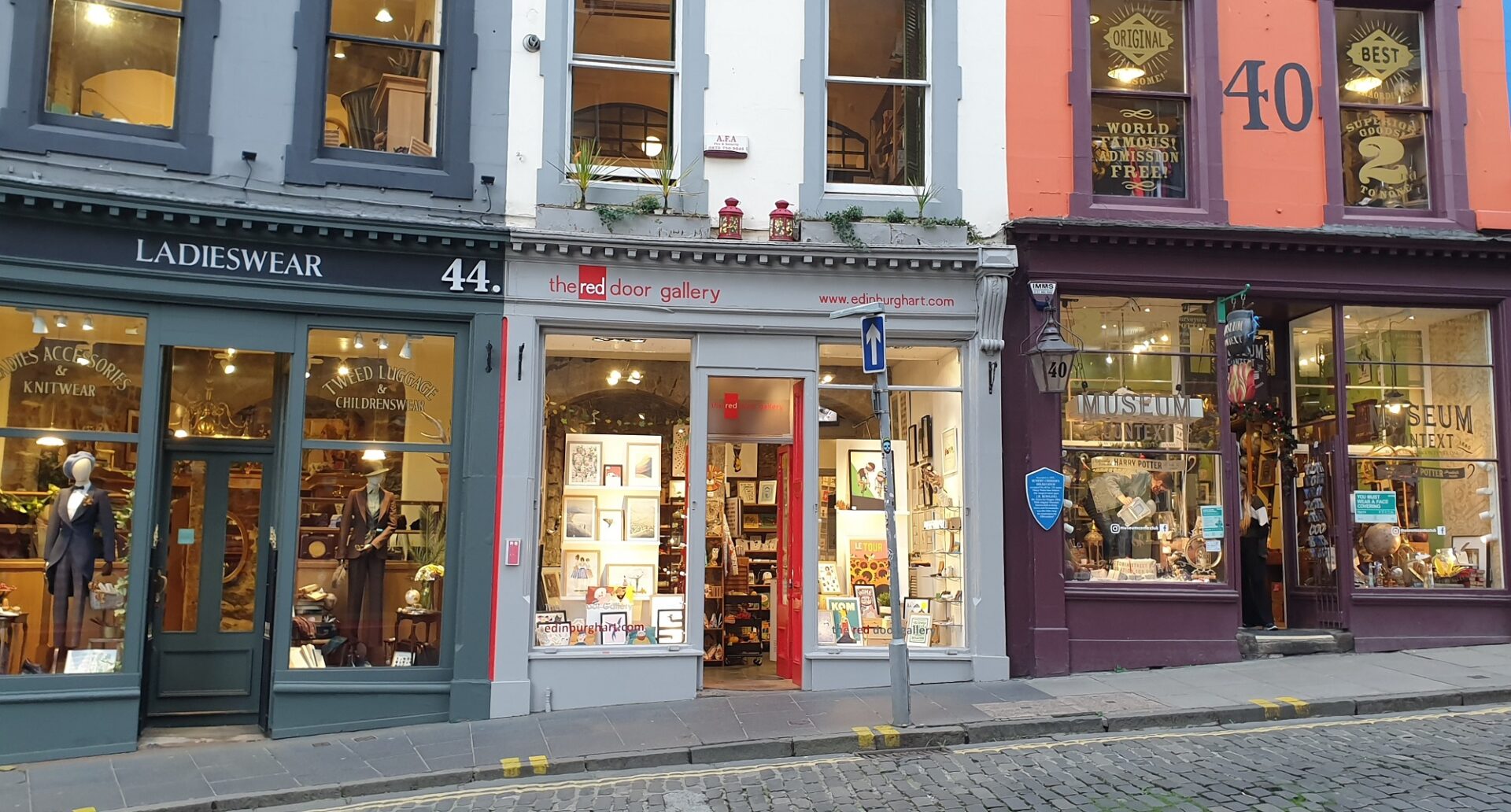 Add some colour and serenity to your home.
The Red Door Gallery is a lovely shop to browse. An independent art gallery which has been on Victoria Street for over 18 years, they have limited edition prints, art cards and all kinds of gifts and homewares. Or bring the gorgeous scents of Scots pine, bluebells and machair flowers into your home with a candle from Isle of Skye Candles.
---
Discover all shops in the Grassmarket
Explore retro clothing, beautiful handmade hats, antique books or magical merchandise in the Grassmarket's shops.
---
Food and drink in Edinburgh's Grassmarket

Casual and formal, Scottish and international, sweet and healthy - there are more restaurants, cafes and bars in the Grassmarket than you can shake a stick at!

Things to do in Edinburgh's Grassmarket

Lined with buzzing bars, restaurants with worldwide flavours, delicious coffee shops and electric shops, the area's winding streets are a delight to explore at your leisure.

Accommodation in Edinburgh's Grassmarket

From family-friendly to budget-friendly, there's a variety of choice in this part of the city.