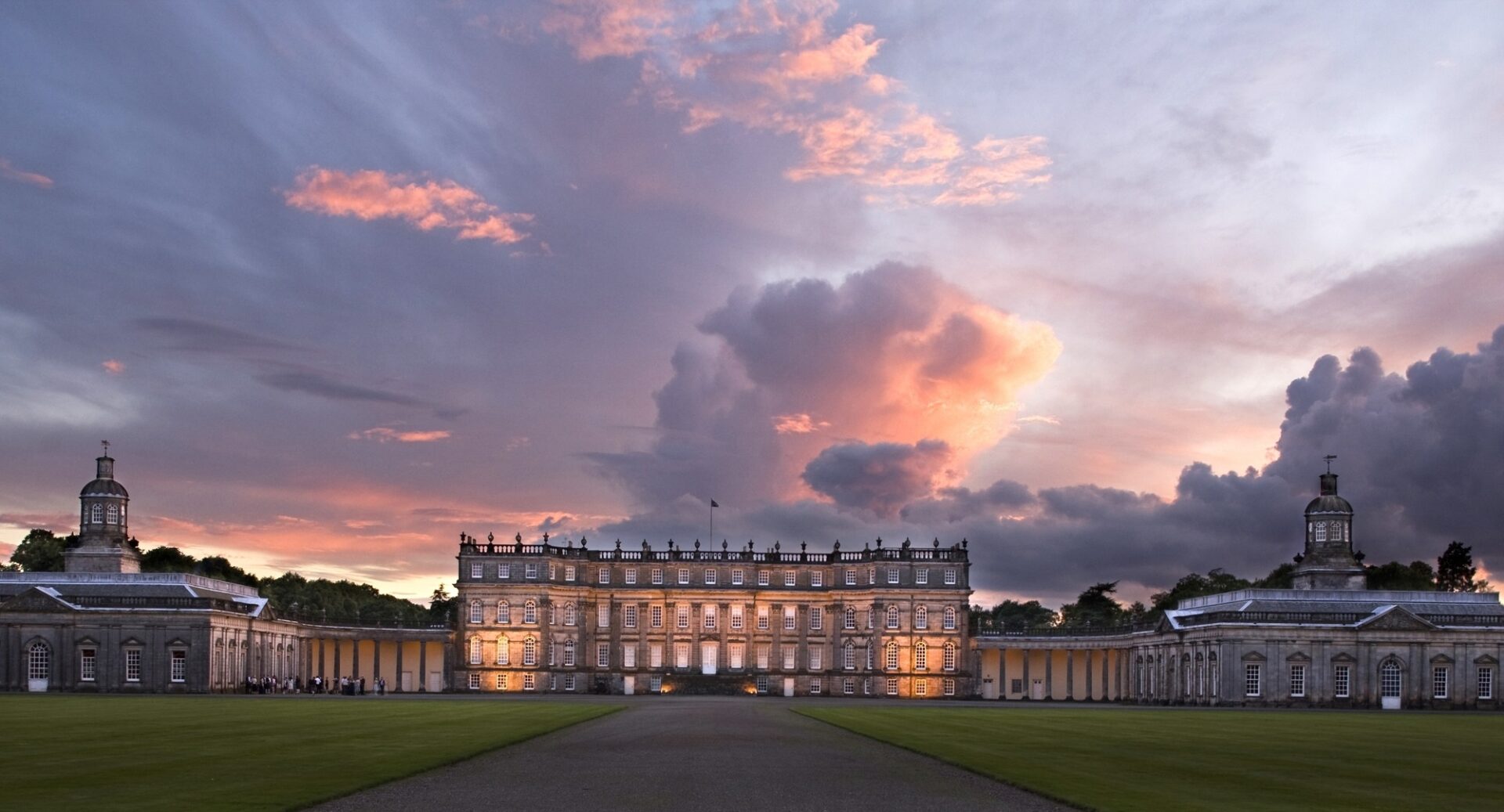 Things to do in South Queensferry
Whether you want to experience the area's wildlife, visit a stately home, or even take a 'loony dook', South Queensferry is packed with family-friendly fun all year round.
Take a tour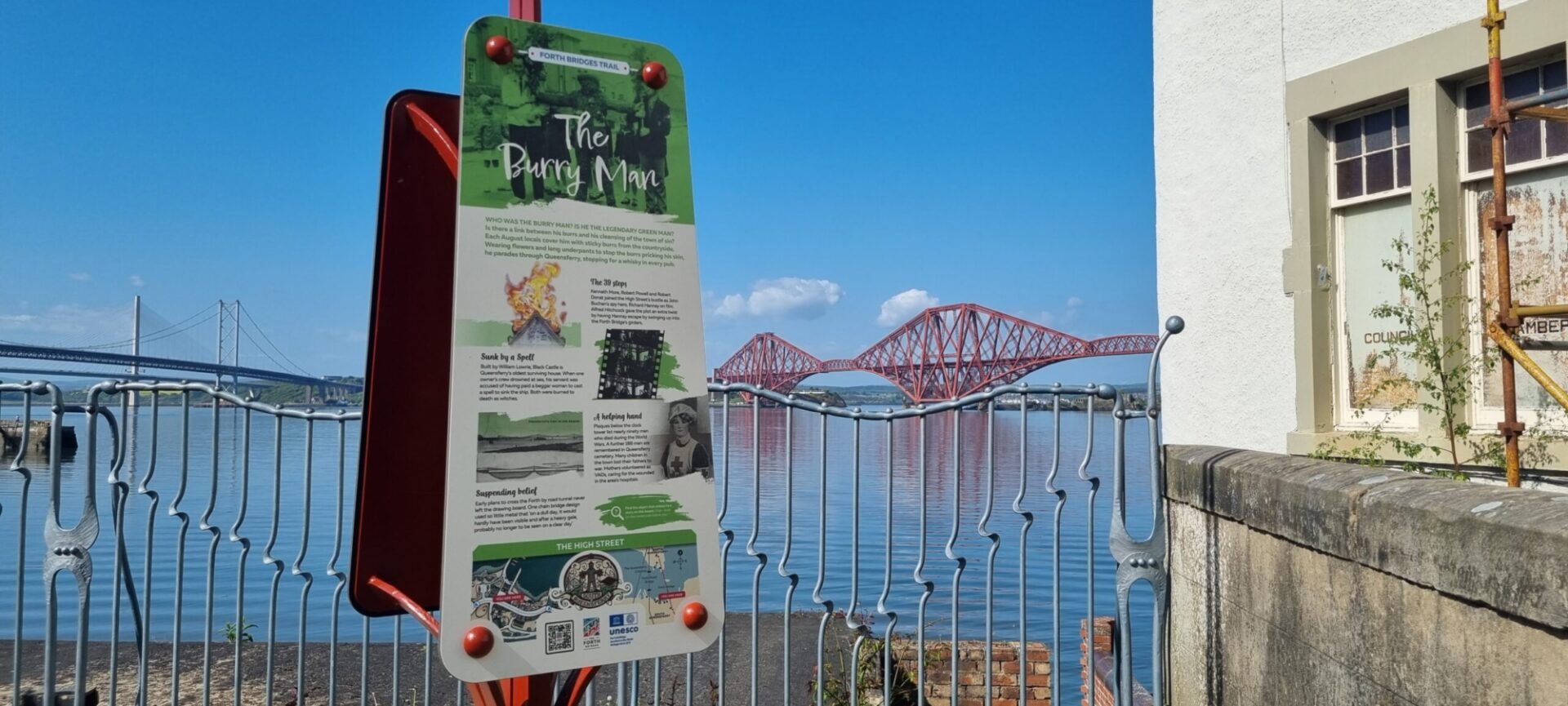 From marine wildlife to locally made chocolate, find your perfect guided tour….
One of South Queensferry's newest attractions is the Forth Bridges Trail. Approximately 5 miles long, with multiple starting points to choose from, it not only offers breathtaking views of the impressive Forth Bridges, but showcases the stunning nature, wildlife and history of the area.
A great way to experience the full majesty of the bridges and see a wide variety of marine wildlife is by taking a boat tour. Forth Boat Tours offer a variety of cruises including the Inchcolm Island Cruise, which lands on Inchcolm Island (home to both a 12th century abbey and the fascinating remnants of Second World War defences), and the Blackness Castle Cruise which provides great views of the castle that featured in the Outlander TV series. Or if you fancy a bit more adrenaline, Maid of the Forth's exhilarating Seafari Three Bridges & Three Islands Trip takes place on a 12-seat rib boat. If you want to explore a little further afield, Edinburgh Boat Charters is based at Port Edgar Marina and stops at Scottish east coast ports such as Arbroath, Pittenweem and Montrose.
For a tour that combines bus and boat, Edinburgh Bus Tour's Three Bridges Bus and Boat Tour is a half-day tour with a guided bus tour and a 90 minute cruise. Simply catch the bus from Waterloo Place, sit back, relax and enjoy Edinburgh and South Queensferry from a whole new perspective.
If you prefer staying on dry land, Walking Tours in Scotland offer tours during the summer months where you'll learn more about the history, heritage and people of this coastal town. Or why not join Forth Bridges Tours to learn more about South Queensferry's fascinating historical sites.
Fancy yourself as a bit of a sleuth? The South Queensferry Treasure Trail is a fun and imaginative self-guided 1.5 mile trail that is suitable for ages 6 years+. Can you crack the clues and solve the mystery?
Or for something sweeter, why not book a place on The COCO Chocolate School. The 2 hour session starts with an introduction to cocoa and the history of chocolate and then the fun really begins. Learn how to hand-temper and make moulded and fruit-filled chocolates. Tasting throughout the session is encouraged and everyone goes home with a selection of chocolates!
---
Visit a historic house
Lovers of stately homes are spoilt for choice, with both Hopetoun House and Dalmeny House on the outskirts of South Queensferry. Both have majestic grounds, remarkable interiors and stunning collections. Home to the 7th Earl and Countess of Rosebery, Dalmeny House is open for tours by appointment. Hopetoun House run a large number of events throughout the year, from ranger-led ground walks to an annual Christmas Shopping Fair.
---
Family fun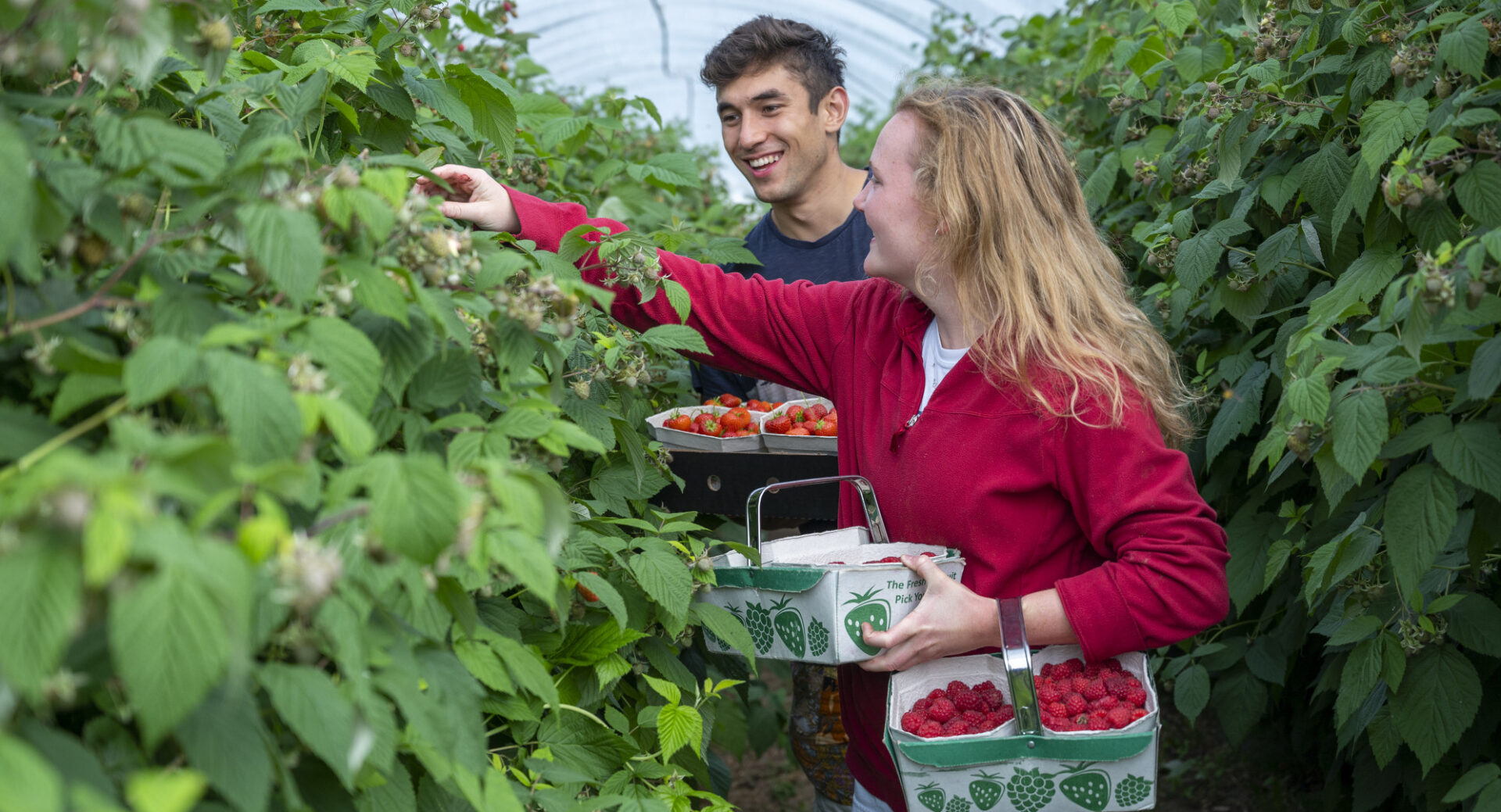 On your way home, make sure you stop at Craigies Farm Shop, Deli and Café. Fruit and veg, dairy, butchery, bakery and more can be bought here, where locally grown food is at the forefront. Fancy picking your own? Strawberries, raspberries, cherries, currants, blackcurrants and gooseberries can be picked in the summer months, while in the autumn there's plentiful supplies of apples and pumpkins.
If you fancy getting crafty, Honey Pot Creative Café have the perfect solution – classes for all ages and abilities are available in ceramic and canvas painting as well as clay modelling and glass-fusing. And after all your hard work, you can relax in their café.
Located beside the Bridges, Port Edgar Watersports are Scotland's number one watersports centre and it's easy to see why. Whether you're a beginner or have some experience under your belt, their classes in sailing, canoeing, sea kayaking, stand-up paddleboarding, windsurfing and powerboating are a great way to learn how to feel safe on the water. Both adult and children's classes are available.
Sparkling in the sunlight is the South Queensferry Mosaic Mural. Created by the local residents, this bright pop of colour is made from broken tiles, glass and pebbles, all of which were found on the shore. Representing scenes from South Queensferry's heritage, see if you can spot the Ferry Fair's Burry Man, Queen Margaret crossing the Forth and the 18th century Tollbooth.
---
Festivals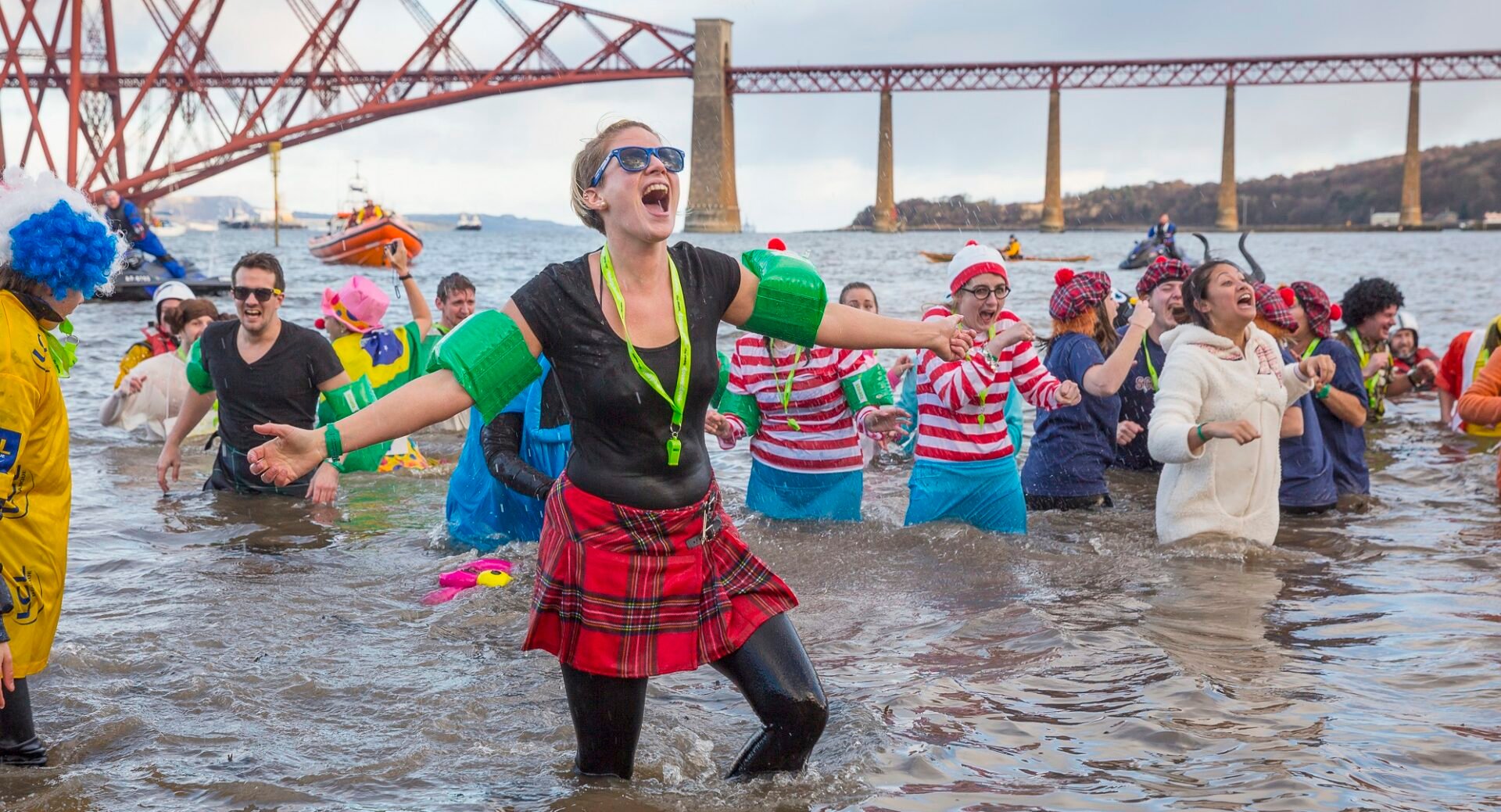 Taking place every August, The Ferry Fair is the town's much-loved annual week-long event. Featuring processions along the High Street, the formal crowning of the Ferry Fair Queen, classic cars, floats, dancing and the Burryman, it should be on everyone's bucket list.
Another annual highlight on the South Queensferry calendar is The Loony Dook. Taking place on New Year's Day, up to 1,000 people in fancy dress throw themselves into the freezing water of the Firth of Forth. The tradition dates to 1987 as a somewhat extreme attempt by a group of locals to find a hangover cure. The event has now grown in popularity and today attracts participants from all over the world. This is one tradition that is definitely one for the hardiest, or looniest, of folk!
---
Discover all things to do in South Queensferry
Enjoy family-friendly fun all year round, from the area's wildlife, stately homes to the 'loony dook'.
---
Shopping in South Queensferry

Brightly coloured shop fronts line South Queensferry's cobbled streets and it's here that you'll find a delightful range of independent shops and boutiques.

Food and drink in South Queensferry

From restaurants with stunning waterside views to family friendly cosy cafes, all kinds of tasty treats await in South Queensferry.

Accommodation in South Queensferry

With everything from a traditional Scottish inn to a chic boutique hotel, you'll find the perfect place to lay your head in South Queensferry.

Getting to South Queensferry

A short distance from Edinburgh city centre, South Queensferry can be reached by public transport.