Starting from Balerno, running through the city and finishing at the outflow into the Firth of Forth at Leith, the Water of Leith Walkway offers a variety of idyllic walking spots along its 13 mile route.
Offering a totally different side of Edinburgh, it's a lovely, peaceful area to escape from the city hubbub.
Tip 1: Stop for a refreshment at The Water of Leith Visitor Centre, and learn more about the dramas of river life and how to protect it.

Tip 2: Take your four-legged friends with you. There are many swimming spots along the route for dogs to take a dip.

Tip 3: Take your binoculars and keep an eye out for some of Edinburgh's local wildlife.
An urban haven
In the late 19th century, this area was at the centre of Edinburgh's industrial heritage – its close proximity to water made it an ideal location to power the nearby paper, fabric and flour mills. Today, however the river is a much calmer scene. It has been designated as an Urban Wildlife Site and is home to a wide diversity of plants and animals from wild garlic and orchids to brown trout, heron, kingfisher and otter, all of which can be explored on foot or bike. If you're lucky, you may even spot a roe deer or badger.
This urban haven is a popular year-round haunt for both residents and visitors. In the spring, plants and flowers burst into life, while in the autumn, crisp brown leaves blanket the area. Make sure you have your camera at the ready as you never know what you might discover…
Operating since 1988, The Water of Leith Conservation Trust work tirelessly to protect and enhance the river by promoting education and recreation, as well as working with volunteers and community groups to deliver around 240 river clean-ups each year. Find out how you can support their work
The route
The route travels through many areas of interest including the Union Canal, Saughton Winter Gardens, Murrayfield Stadium, the Scottish National Gallery of Modern Art, Royal Botanic Garden Edinburgh, as well as the neighbourhoods of Colinton Village, Stockbridge and Leith.
The walkway, which is suitable for cycling and accessible in part by wheelchairs and even by horseback, is well signposted and a map is available from the Visitor Centre. A basic map of the route can also be downloaded here
---
Route highlights
As you make your way along the walkway, be sure to keep an eye open for our suggested highlights:
Dean Village
Famous for
Being one of Edinburgh's most Instagrammable locations. #ForeverEdinburgh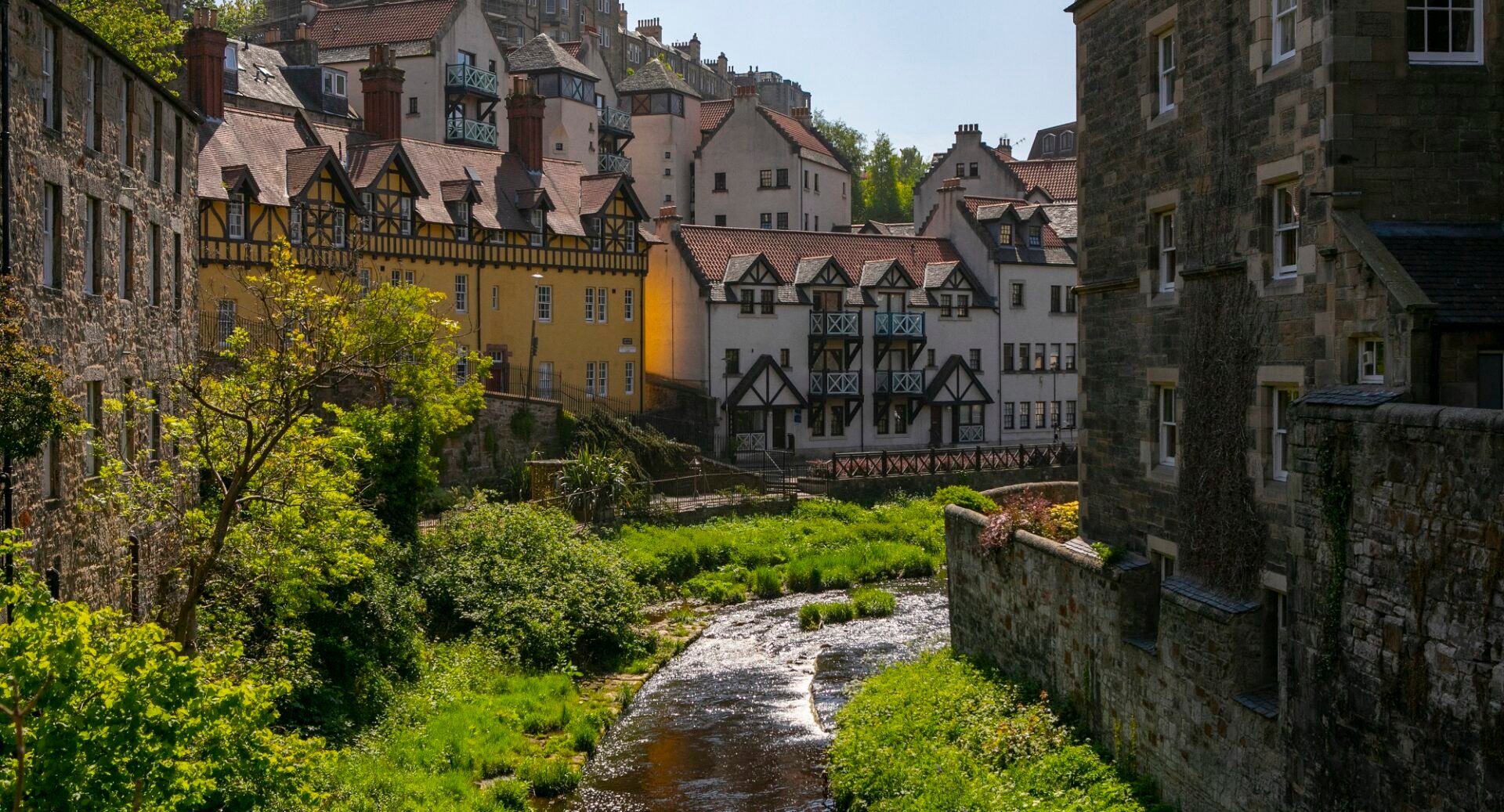 One of the most popular spots is around Dean Village, a former water milling community which still has many of its stunning 19th century buildings. Surrounded by trees with the Water of Leith running through its heart, it's hard to believe this tranquil and restful area is only minutes from the city centre.
---
St Bernard's Well
Famous for
Its picturesque location and beautiful neo-classical architecture. It is a popular spot for residents and visitors who enjoy tranquil surroundings.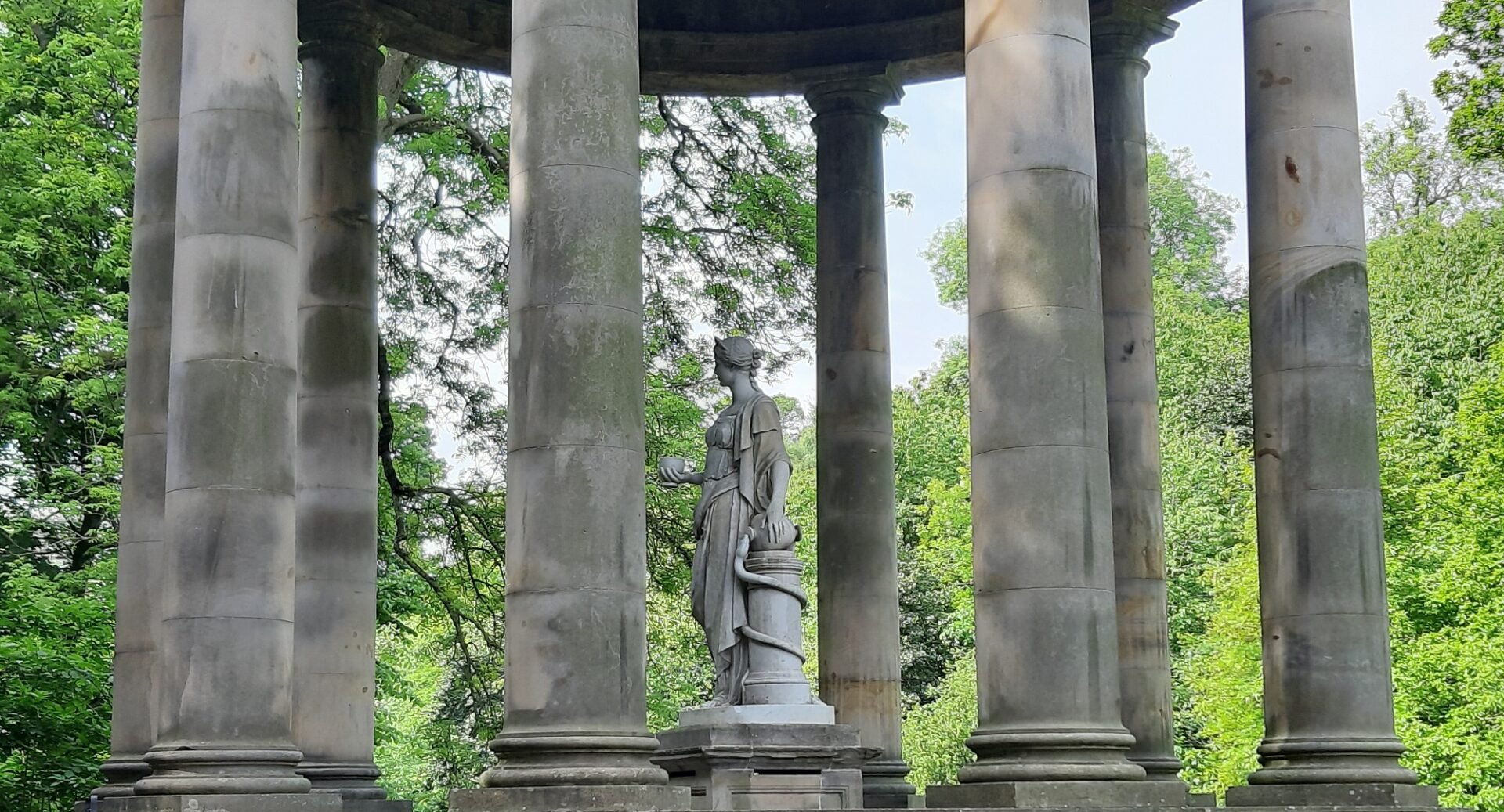 Found near Dean Village, St. Bernard's Well was discovered in 1760 and quickly became a visitor attraction as locals believed that 'taking the waters' in this natural spring was thought to have restorative, if not actual healing, powers.
This neo-classical temple was designed by the Scottish artist Alexander Nasmyth in 1789, complete with Doric columns and a dome topped with a golden pineapple. The figurine inside the structure is a depiction of Hygieia, the Greek goddess of health.
---
Antony Gormley Statues
Perfect For
Photo opportunities and sparking creative inspiration.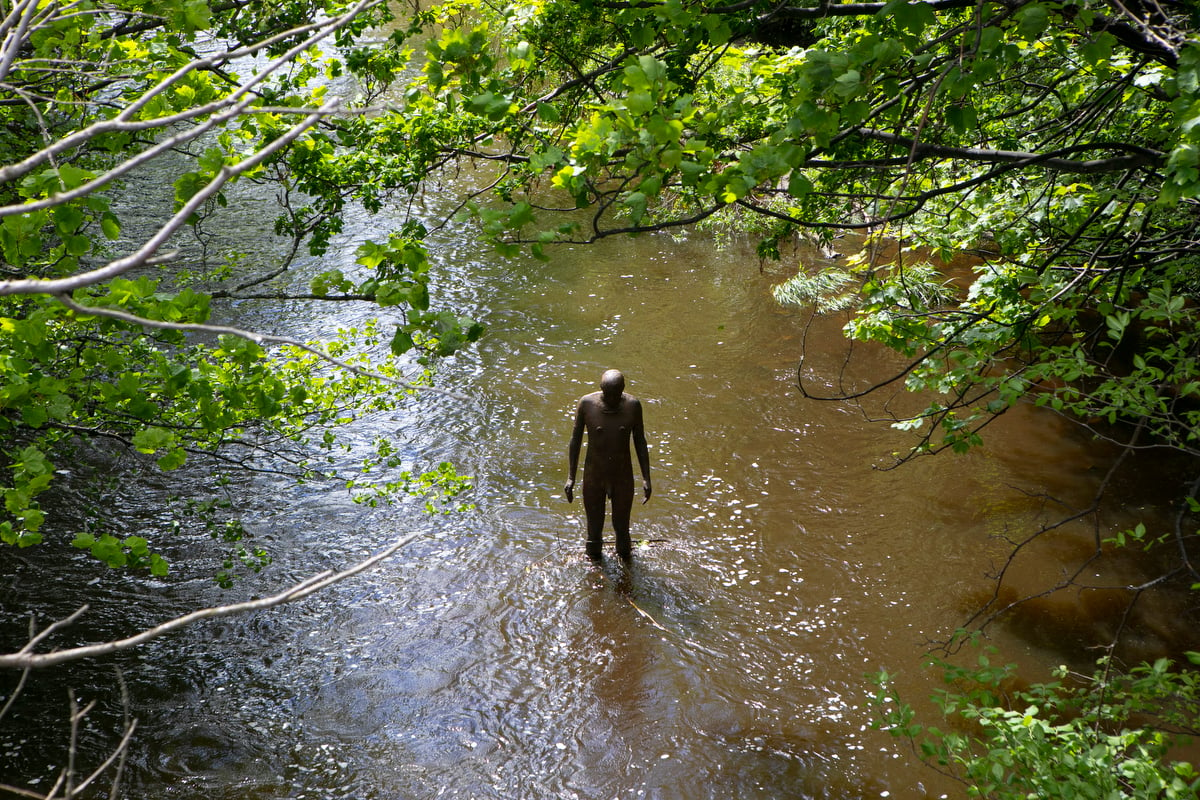 Don't be alarmed if you see a man standing in the water – it's one of celebrated artist and sculptor Antony Gormley's Standing Man statues. Forming part of his 6 TIMES artwork, the first of these towering figures can be found outside the Scottish National Gallery of Modern Art. You can then follow the trail through the walkway, before culminating at the shore in Leith.
---
Colinton Tunnel
Famous for
Its vibrant and ever-changing, brightly coloured, street art murals.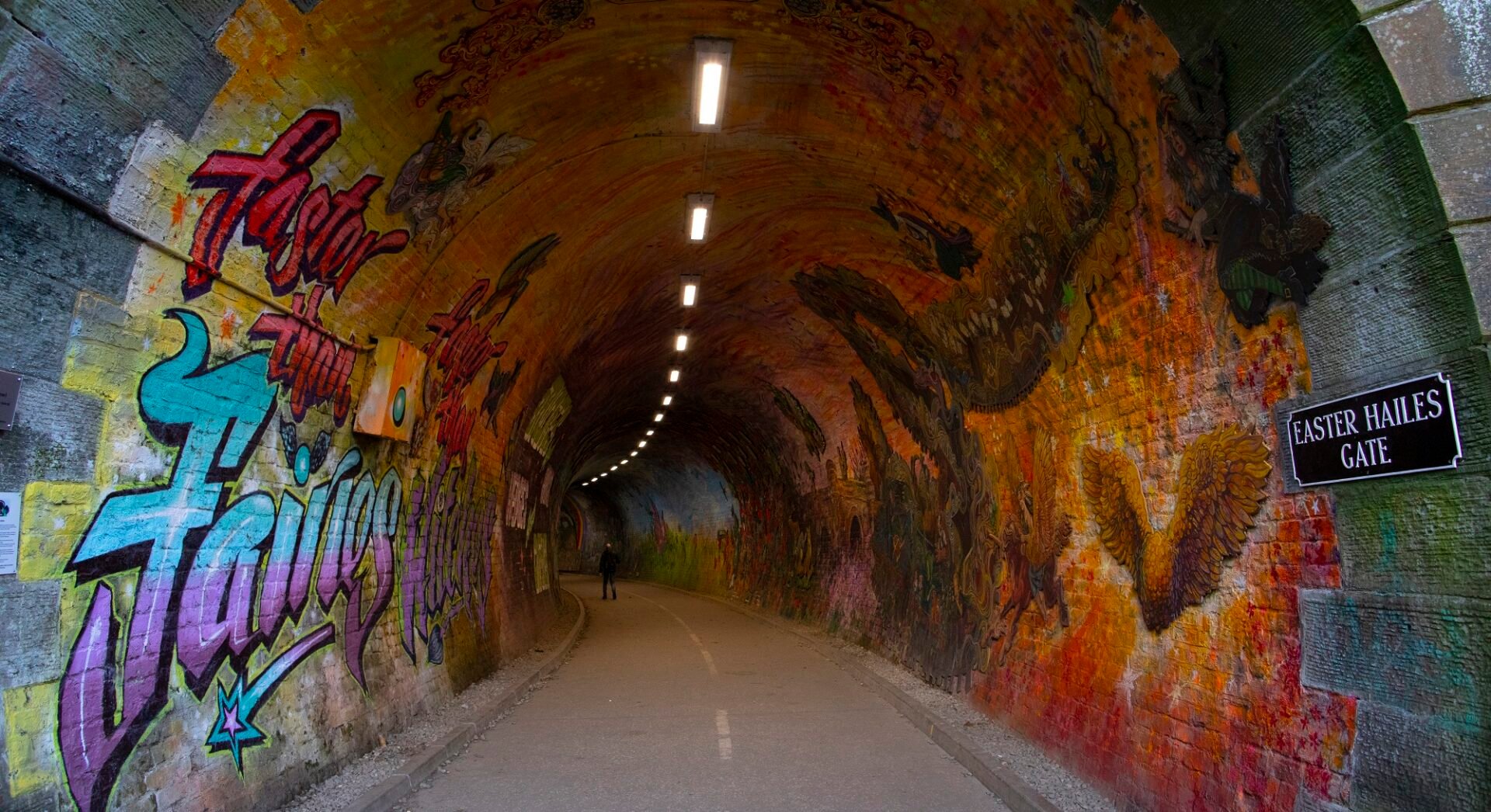 In what was once an old railway tunnel, artist Chris Rutterford has transformed Colinton Tunnel into the biggest mural of its kind in Scotland.
Celebrating local history and heritage, this once dark and gloomy space is now bright and cheerful, with illustrations from Edinburgh author & poet, Robert Louis Stevenson's From a Railway Carriage.
---
The Water of Leith Visitor Centre
Perfect For
Refreshments, toilet break, and entertaining the kids with three interactive water installations. Dogs welcome.
Located halfway along the walkway at the Lanark Road, The Water of Leith Visitor Centre has an interactive exhibition where you explore further the heritage and wildlife of the river, as well as a gift shop and café – perfect for refuelling before you start the next section of the walkway.
---
Discover our guide to Edinburgh's day trips
Make the most of the great outdoors in Edinburgh's surrounding countryside
---
Favourite