Summer is that time of year when you want to gather your mates and snag the ideal table in the sun. With so many bars and pubs in Edinburgh that have beautiful outdoor surroundings, you don't need to go far to find that perfect spot to spend a sunny afternoon.
Read on to find out about a handful of our favourites
Top Tip 1: Bring your sunscreen.

Top Tip 2: Book in advance to secure your spot.

Top Tip 3: Enjoy some tasty food while enjoying one of Edinburgh's beautiful beer gardens.
The Cumberland Bar
Perfect For
Heading deeper into Edinburgh's New Town to enjoy a traditional pub favoured by the locals.
Nestled in the Georgian splendour of the New Town, The Cumberland Bar is a quiet spot often favoured by residents. Their leafy beer garden is an excellent place to spend the longer summer evenings with a cold beer in hand.
The bar serves a wide range of beers and ales including a variety of Scottish-made brands. They also have a great food menu so why not make a day of it with lunch or dinner alfresco – their Cumberland Bar Beef Burger and traditional Sunday Roast are local favourites.
---
Cold Town House
Famous for
Its beautiful rooftop bar with Castle views, in-house brewery, and craft beers.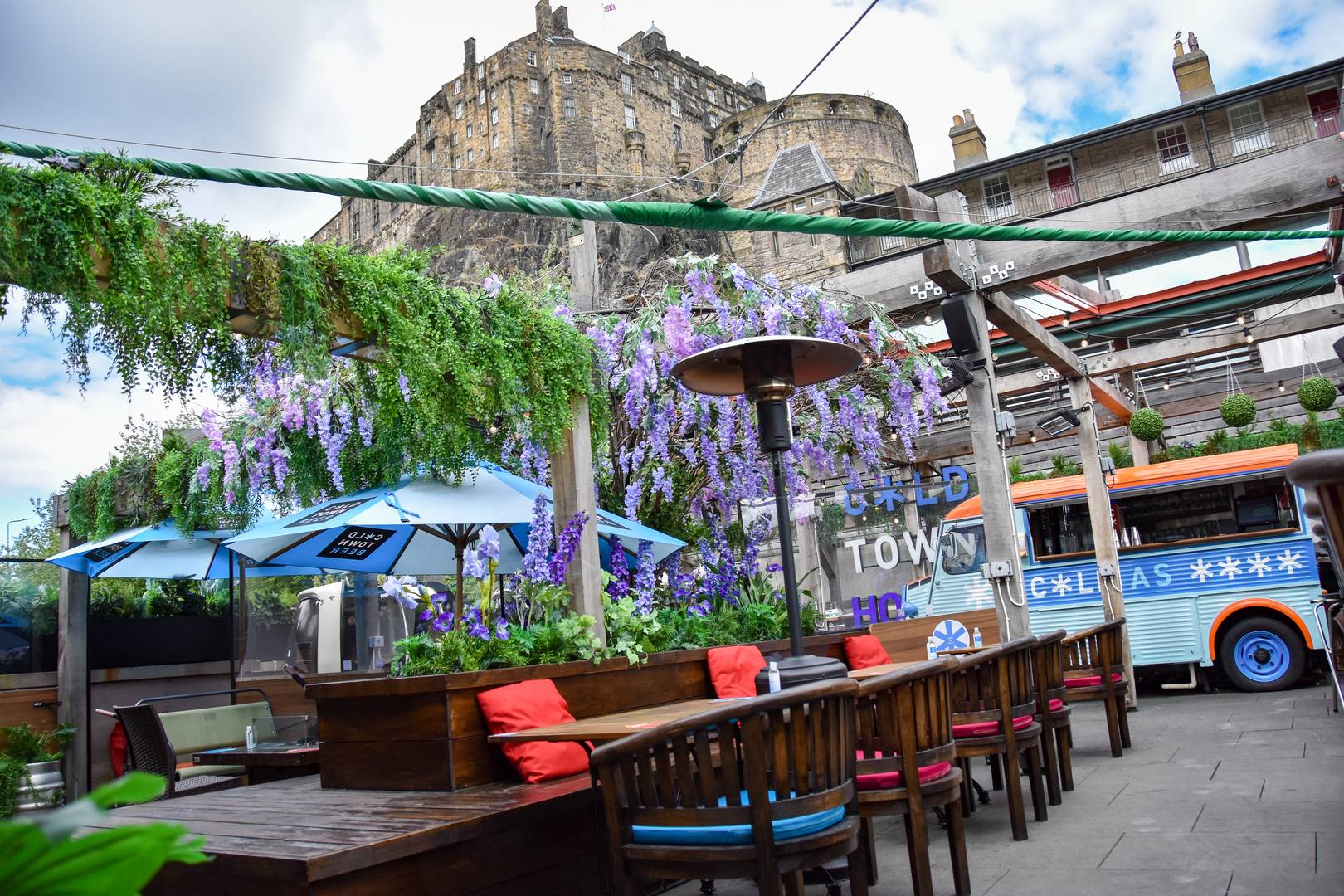 Brewers Cold Town Beer spread their bar – Cold Town House – over three floors right in the heart of the Grassmarket. There's always a party brewing here, with a regular line up of live entertainment including sport, music, comedy and cabaret.
Head upstairs to the first floor's Pizza and Prosecco bar, or further up to the jewel in the crown: the rooftop bar with its stunning view of Edinburgh Castle. Grab a blanket and revel in an apres-ski vibe in winter or luxuriate and bask in the warmth of the summer sun. Either way, this is a destination you need to try.
---
The Blackbird
Famous for
Craft cocktails and live music.
This quirky spot is a great place to enjoy cocktails in the sun. The Blackbird's colourful beer garden buzzes with good vibes on a sunny day.
They open for brunch on the weekends, so you can make the most of the summer days by getting out there as early as possible. When the sun goes down the fairy lights come on so you can keep soaking up the atmosphere into the wee small hours.
---
The Raeburn
Perfect For
Those looking for an elegant outdoor terrace to enjoy al fresco dining and refreshing drinks, in the charming and picturesque Stockbridge neighbourhood.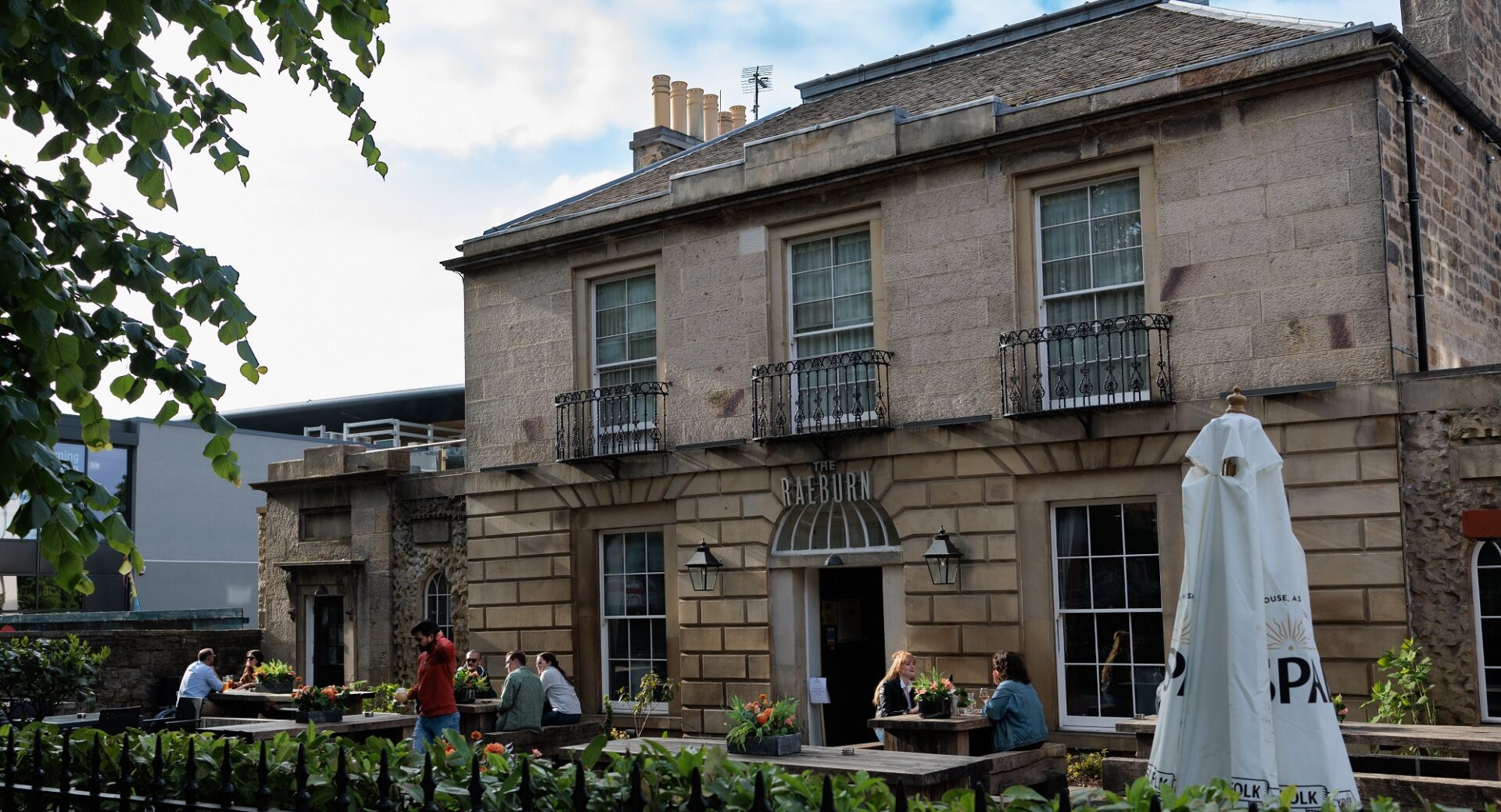 This grand Georgian boutique hotel, restaurant and bar is Stockbridge's go-to on a sunny day. While nearby Inverleith Park is great for a picnic, if you want to catch up with friends over a wine, The Raeburn is the place to be.
Take a seat in the front garden area, furnished with oak benches and heaters so you're all set if the temperature begins to drop. Alternatively, if you're looking for some alfresco dining, book a table in their first-floor terrace which is open for lunch and dinner. The extensive bar offers classic cocktails, carefully selected wines and whiskies as well as a great range of craft beer and cider.
---
The Beehive Inn
Famous for
Enjoying the vibrancy and soaking up the atmosphere in the Grassmarket.
The Beehive Inn is a little pub in The Grassmarket, which looks quite unassuming from the outside, but if you make your way through the maze of tables to the back door you'll discover a huge garden over three levels, with room for over 200 people to bask in the sunshine under the shadow of Edinburgh Castle.
However, if the weather takes a turn, you can always venture inside to their dining room, which serves food from 12pm and boasts fantastic views of the Grassmarket.
---
Indigo Yard
Perfect For
Those looking for a social atmosphere in a relaxed setting around the city's west end.
If you find yourself in the West End on a sunny day make a bee line for Indigo Yard, just off the beaten track on Charlotte Lane. While its location gives it a hidden gem feel, on a nice day it's easily found and buzzes with fellow sun worshipers.
Indigo Yard is big on "craft, cork and cocktails" so whatever your tipple you won't be stuck for choice. Foodies meanwhile will be pleased to find a menu bursting with a huge variety of dishes using great local produce.
---
The Three Sisters
Famous for
Streaming live sports and lively nights out.
One of the Cowgate's most popular haunts, The Three Sisters boasts an expansive open air courtyard, complete with a huge outdoor screen to watch the weekend's sporting events.
You won't go hungry here either – food stalls regularly set up camp here for special events such as the Wimbledon Final and the Festival Fringe, which usually see this place packed to the rafters.
---
The Royal Dick
Famous for
Being a former veterinary school, its a fascinating historical an architectural element of this bar's charm.
Hidden in the belly of Summerhall you'll find The Royal Dick, once the Small Animal Hospital of the Dick Vet School and now a unique watering hole in the heart of Newington. It also enjoys the benefit of being in the same building as the renowned distillery of Pickering's Gin and the brewery of Barney's Beer.
The Royal Dick has an open-air courtyard out the front, so it's the perfect vantage point for watching the comings and goings of Summerhall, which you can lazily observe while enjoying your glass of wine, beer, gin or Irn-Bru!
---
The Pear Tree
Famous for
Its impressive beer garden in Edinburgh's Southside neighbourhood. Popular among students.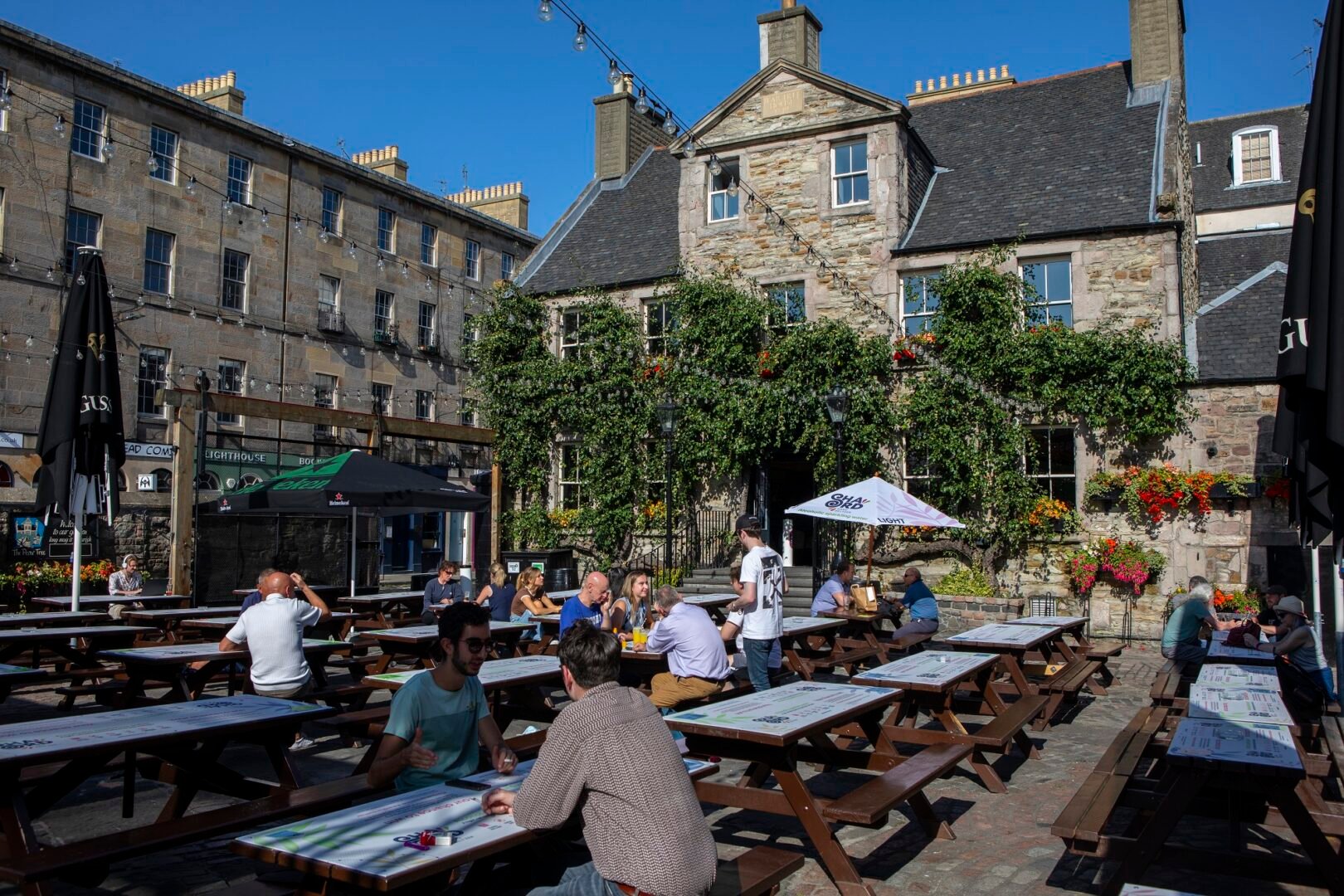 Just down the road from Summerhall you'll find student favourite The Pear Tree, which is quick to fill up on sunny afternoons and during festival season.
Enjoy your drink in beautiful leafy surroundings, then once you're done, head over to the Meadows park which is just a short walk away, to catch even more rays.
---
Teuchter's Landing
Famous for
Its award-winning breakfast and extensive whisky selection. Not necessarily enjoyed together.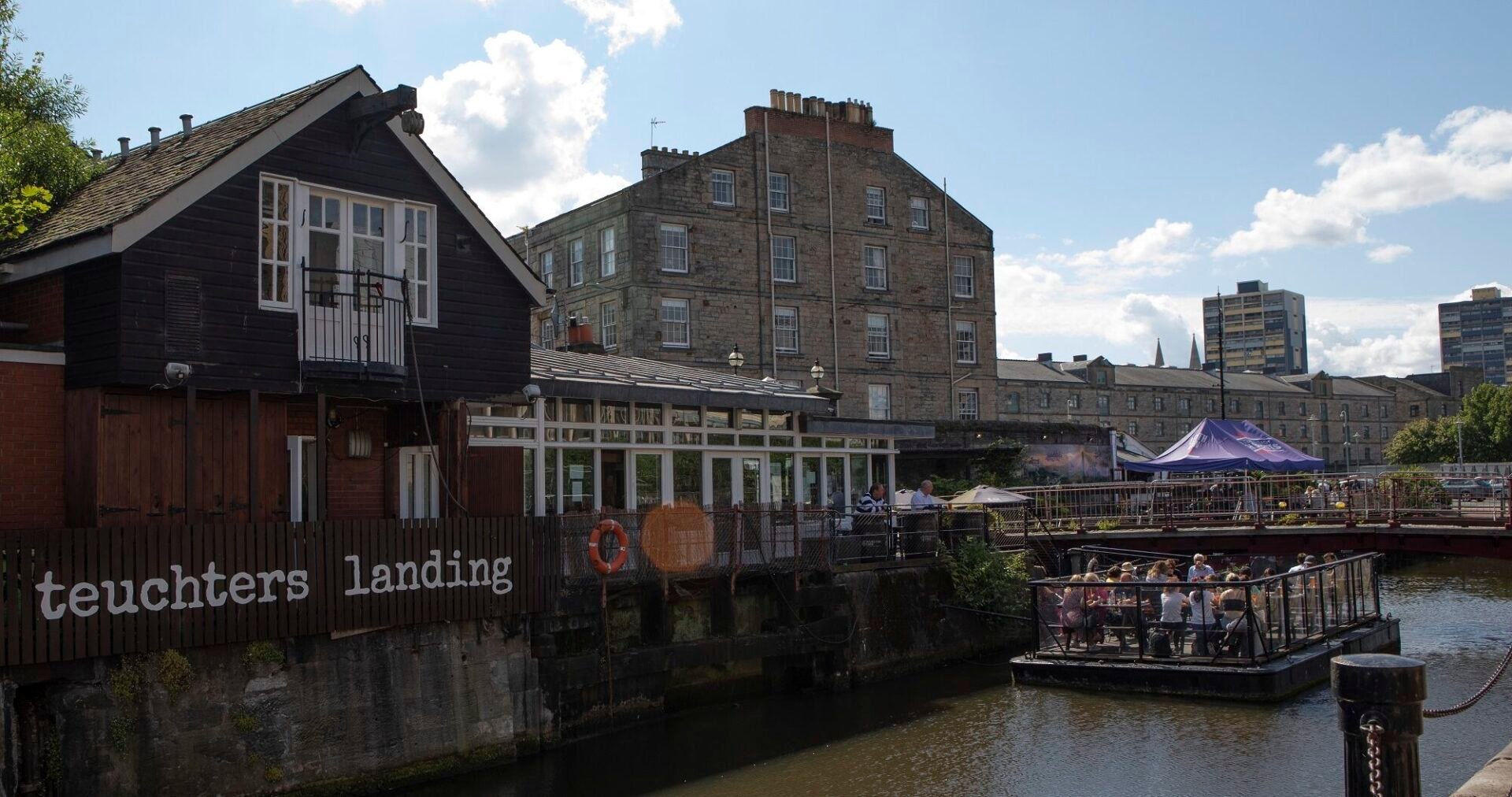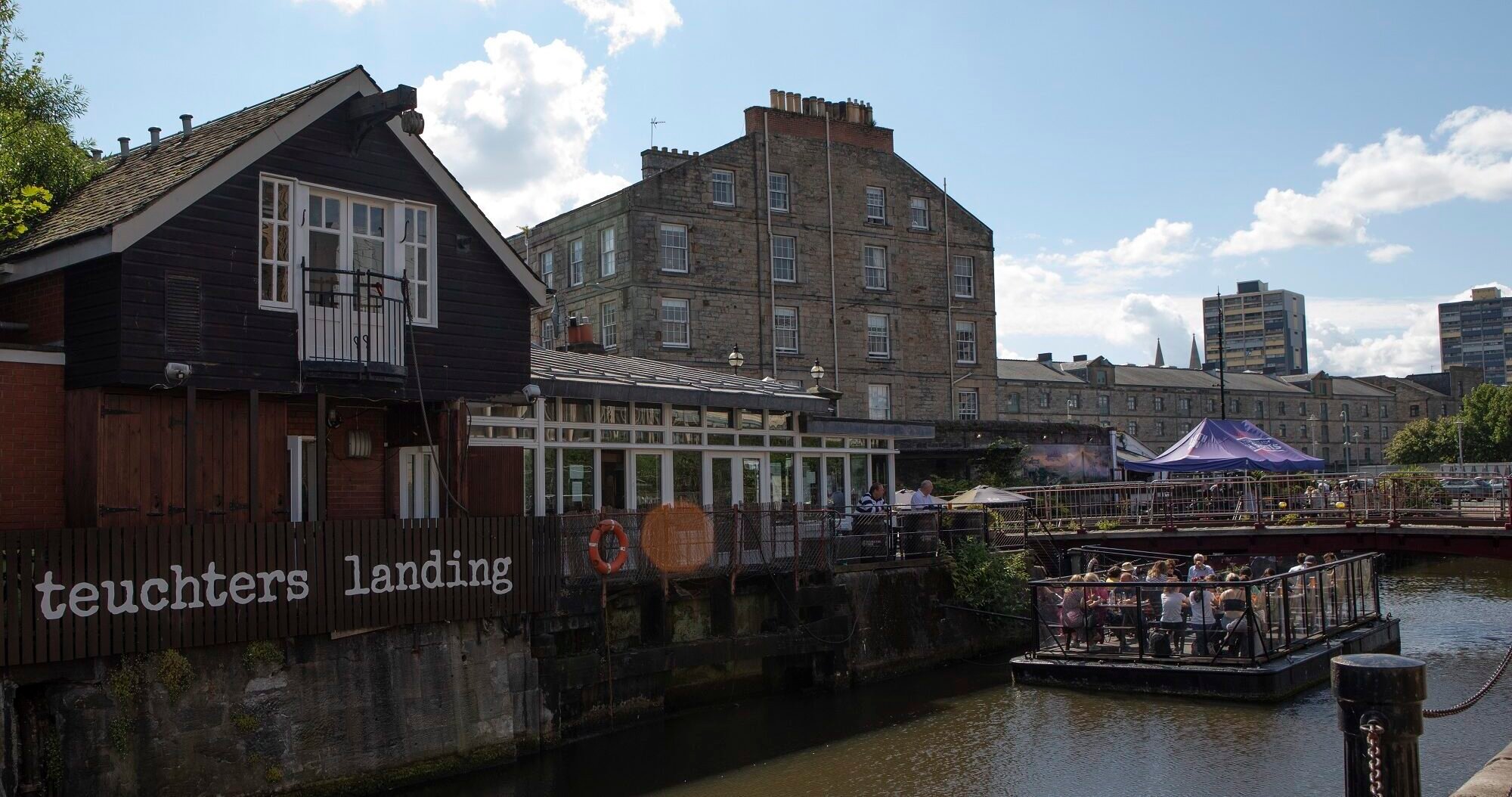 A favourite with Leith residents, Teuchter's Landing has a lovely outdoor terrace on the water's edge. It's particularly popular on sunny Friday evenings for after-work drinks,
Whisky fan? You'll want to come here as they boast one of the best selections of whisky in the city.
---
Enjoy Edinburgh's Food Scene
Peckish? With so many fine restaurants, there's no excuse not to get out there and enjoy Edinburgh's expansive food scene.
---
Favourite