We can't deny it any more - winter is well on its way in Edinburgh. It isn't all bad, though. While the days are basking in the sun are truly behind us for a few months at least, this is the perfect time to hide away in one of the city's many warm, welcoming and cosy pubs.
Here are just a few of our favourites...
Tip 1: Pick a bar in one of Edinburgh's neighbourhoods and try somewhere new.

Tip 2: Chat to the friendly bar staff for local tips and suggestions.

Tip 3: If you enjoyed your cosy bar experience, leave a positive online review and inspire others to visit.
The Sheep Heid Inn
Famous for
Edinburgh's oldest surviving watering hole with endless charm and character. A great place to visit after a trip to Arthur's Seat.
You can't have a page about cosy pubs in Edinburgh without mentioning the oldest pub in the city.
The Sheep Heid Inn has been serving Edinburgh for around 600 years and over that time has built up a reputation for being a cosy hideaway. Nothing beats sitting in front of the roaring fire with a pint or a dram after a day exploring the nearby Holyrood Park. If you have a bit of energy spare, you can always try a round of skittles in their old style alley!
---
The Devil's Advocate
Famous for
Once a Victorian pump house, now a traditional bar located off Advocate's Close.
Enjoyed a walk to the castle to enjoy the winter views and want to end your day with a warming nip of whisky?
Tucked away down a classic Edinburgh close off the Royal Mile, The Devil's Advocate is one of the most beautiful bars in the city. Housed in an old Victorian pump house, the back bar is a sight to behold with an enormous array of rare spirits, including more than 300 whiskies.
---
The Whiski Bar
Famous for
Multi award-winning whisky bar and restaurant, with over 300 Scotch malts to choose from.
Situated on the Royal Mile, this warm and welcoming gem is popular with both locals and visitors alike. With a huge range of malts behind the bar (over 300, in fact), enjoying a dram in one of the intimate corners of The Whiski Bar is an absolute must.
Be sure to hang around until the evening, when the place comes to life with live Scottish music from one of the city's local bands.
---
The Hanging Bat
Famous for
Its range of draft and craft beer – selling 20 draft beers and ales and 200 local and international bottled beers.
Connoisseurs and fans of craft beers should not miss the opportunity to visit The Hanging Bat. Tucked away on Lothian Road, it serves the tastiest local craft beers as well as beers from their own brewing area.
Looking for a bite to eat? Why not curl up on one of their inviting leather couches with their famous Hanging Bat nachos or award-winning chilli con carne.
---
The Queens Arms
Famous for
A traditional New Town pub and restaurant.
Take a break from the cold in the warm and welcoming surroundings of The Queens Arms on the corner of Frederick Street and Rose Street.
Surrounded by soft lighting, their leather chesterfields armchairs are the perfect place for snuggling down with a dram from the bar's extensive whisky selection, while the snug copper table booths are ideal for a cosy drink or dinner for two.
---
Teuchters
Famous for
A traditional Scottish pub, with over 120 single malts and a range of tasty meals… some of which are served in a classy mug. A great atmosphere on match day and popular among rugby fans travelling to and from Scottish Gas Murrayfield Stadium.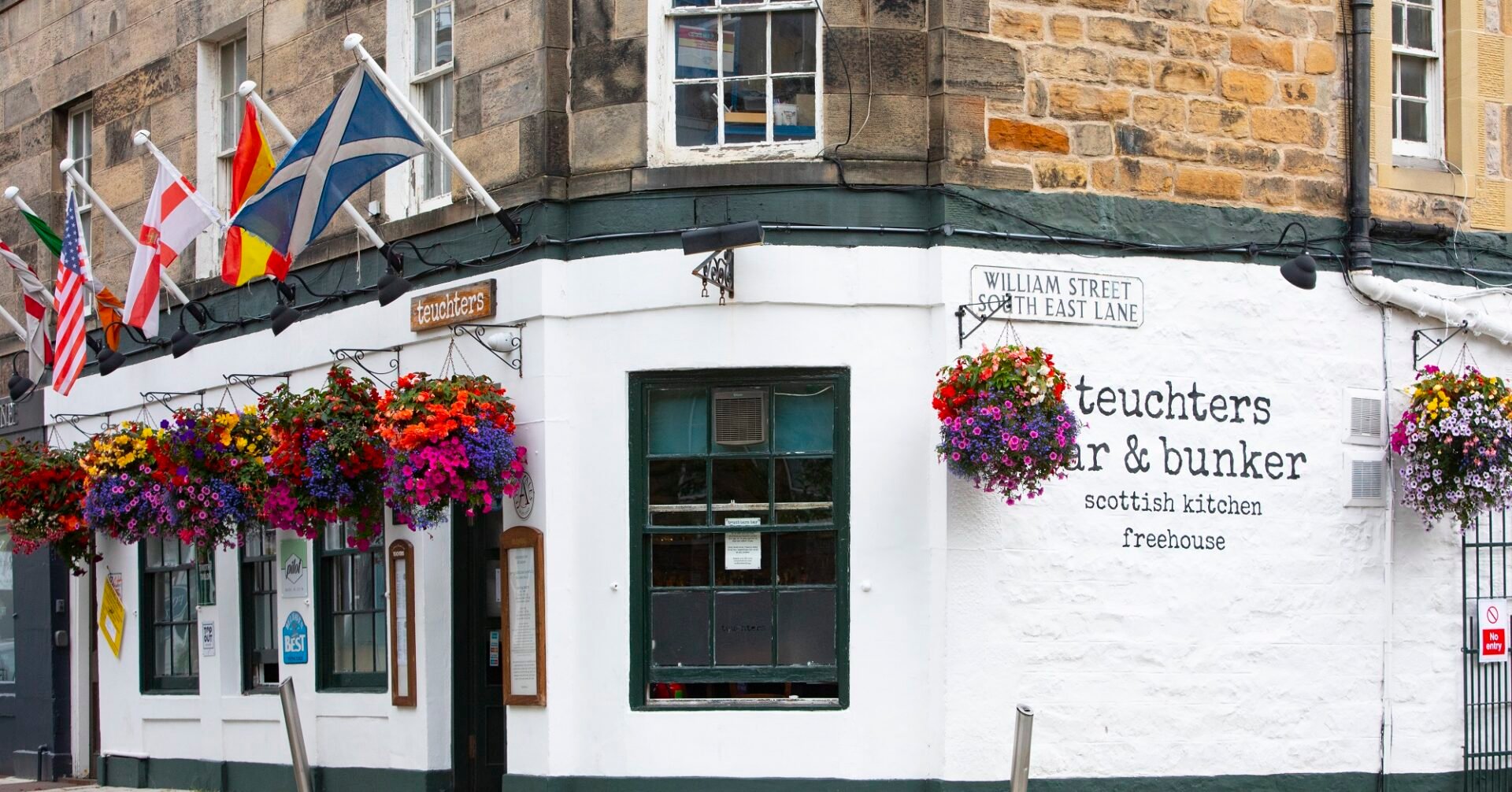 Teuchters is a real gem in the West End – nothing quite beats enjoying a pint here beside the fire on a cold day.
They have a huge selection of whiskies, and their draft beer taps are regularly rotating with ales from local suppliers like Barneys and Edinburgh Beer Factory.
---
The Last Drop
Famous for
Its gruesome past. During the 18th century, crowds gathered around the building to watch public executions. 'The Last Drop' symbolically refers to the last hanging held in the Grassmarket in 1864.
The Grassmarket neighbourhood is not short of cosy little pubs and The Last Drop, whose title is a nod to the location's colourful past, is just one of the area's establishments worth checking out.
Its warm lighting, low ceilings and intimate booths are perfect for enjoying a drink with some delicious food from their small yet strong menu.
---
The Brass Monkey
Famous for
Its relaxed lounging area and daily film screenings.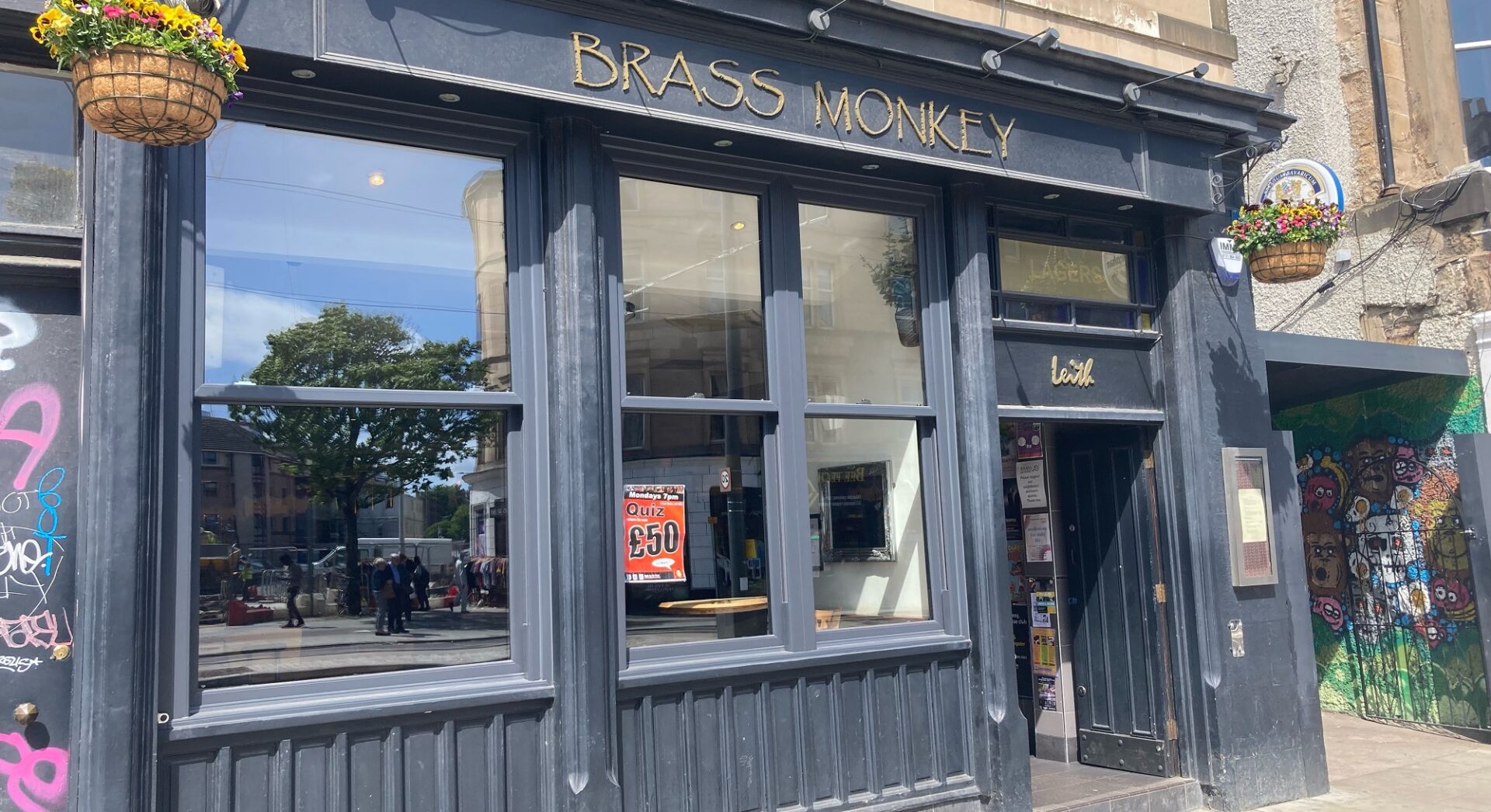 With its relaxed lounging area and daily film screening, The Brass Monkey is the perfect place to chill out, relax and forget about the (cold) weather outside for a while.
With its wide variety of drinks, be it a warming cup of coffee or a cocktail, this cosy and comfortable bar caters for all tastes.
---
Joseph Pearce
Famous for
Their Swedish Meatballs. Apparently, it is also the 'ultimate date bar' in Edinburgh.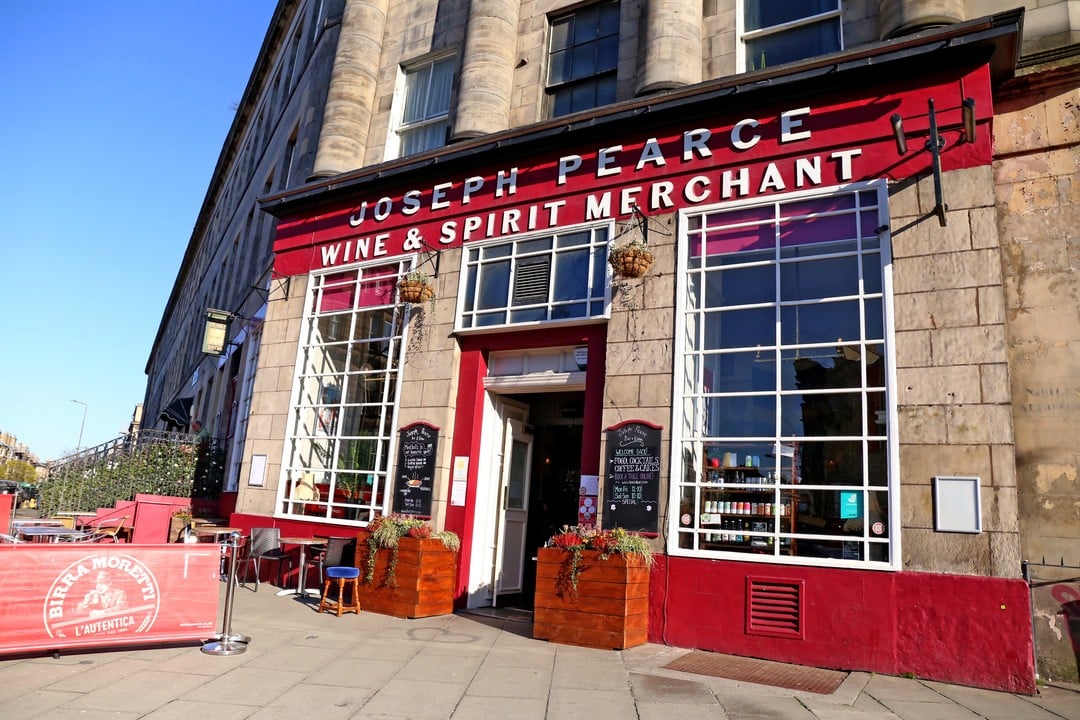 Nobody does cosiness quite like the Scandinavians, as Swedish-owned Joseph Pearce makes clear. With a warm and welcoming interior featuring lived-in sofas, floral wallpaper and fairy lights, this family-friendly bar at the top of Leith Walk is the perfect place to spend a chilly and dark Edinburgh evening.
If you're feeling a little hungry, get a smörgåsbord sharing platter and spend the night nibbling away at it with your pals.
---
The King's Wark
Famous for
Serving traditional Scottish food in the popular neighbourhood of Leith.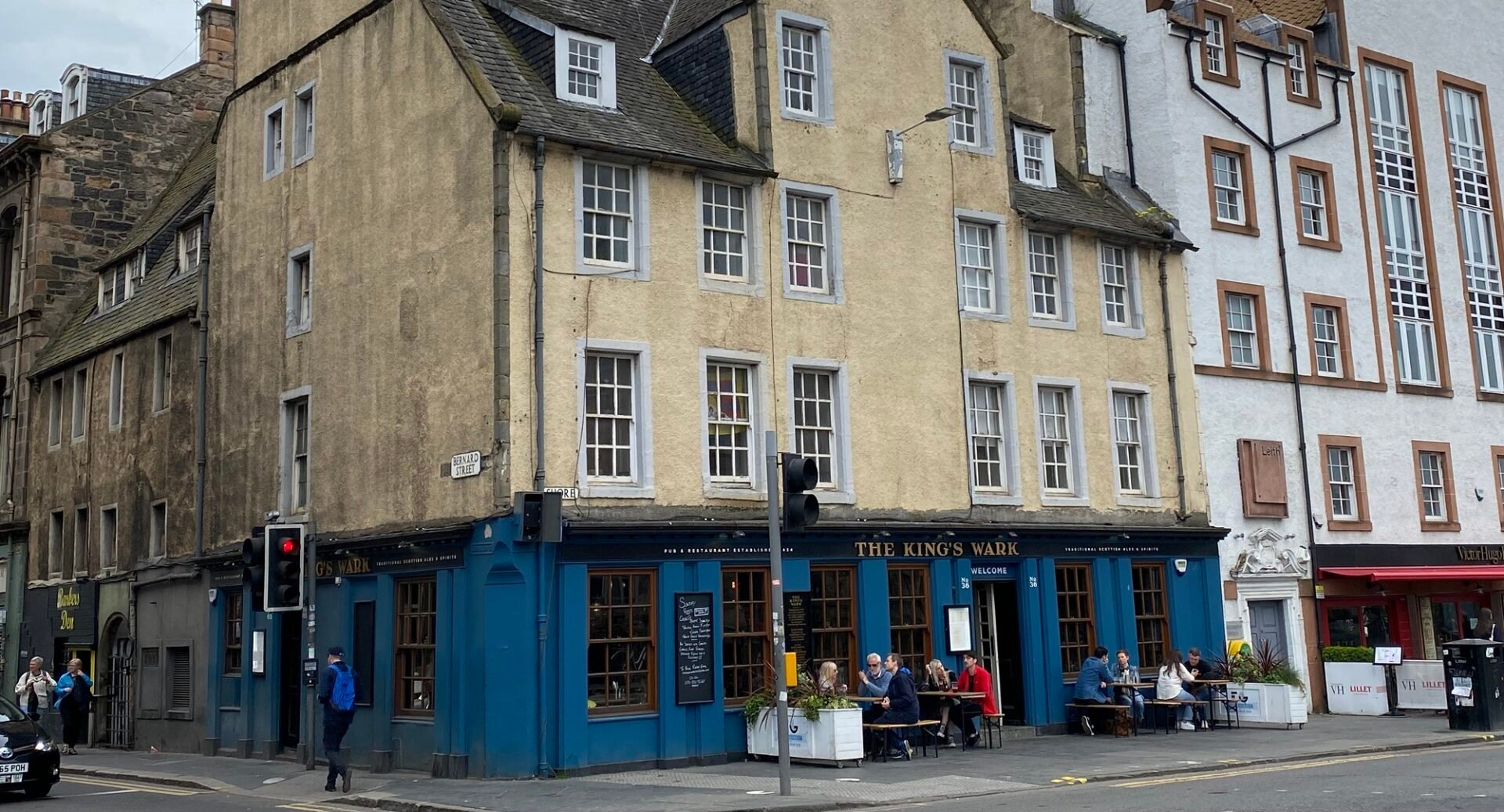 This wee gem on the Shore is a firm favourite with Leithers, and it's easy to see why.
The intimate homely King's Wark is always full of people either enjoying a quiet pint or indulging in some delicious comfort food from their renowned menu.
Amazingly, this building dates from the 1400s and in its past life has been a royal residence, a storehouse and an armoury store. If only its walls could talk!
---
Starbank Inn
Famous for
Offering a fresh cold pint with views of ships slowly sailing by.
Next to the Leith is the small neighbourhood of Newhaven and it's here that you'll find the nautical themed Starbank Inn.
With model ships on the window-sill, historic photographs on the walls and comfy chairs to enjoy the views over the Firth of Forth to Fife, there's worse places to spend an evening as winter rages outside!
---
Worked up an appetite?
For some tasty food suggestions, have a look at our Guide to Food and Drink in Edinburgh
---
Favourite