Established by King David I in the 12th century as one of Scotland's earliest royal burghs, it's not surprising that Edinburgh overflows with history. But many of the city's stories are hidden deep underground – you may have walked over them for years and never given them a second thought!
Edinburgh's secrets are everywhere – you just need to know where to look……
Tip 1: Discover the secrets under Edinburgh's streets on a guided tour.

Tip 2 Embrace the atmosphere and immerse yourself in the experience.

Tip 3 Capture your favourite moments and share your discoveries with us using #ForeverEdinburgh.
The Real Mary King's Close
Famous for
Being a preserved underground street, offering a glimpse into Edinburgh's dark and intriguing past.
Imagine a warren of underground streets frozen in time. Step inside The Real Mary King's Close and that is exactly what you'll find.
Once part of the city's most vibrant streets, this perfectly preserved close provides a fascinating glimpse into Edinburgh life between the 17th and 19th centuries.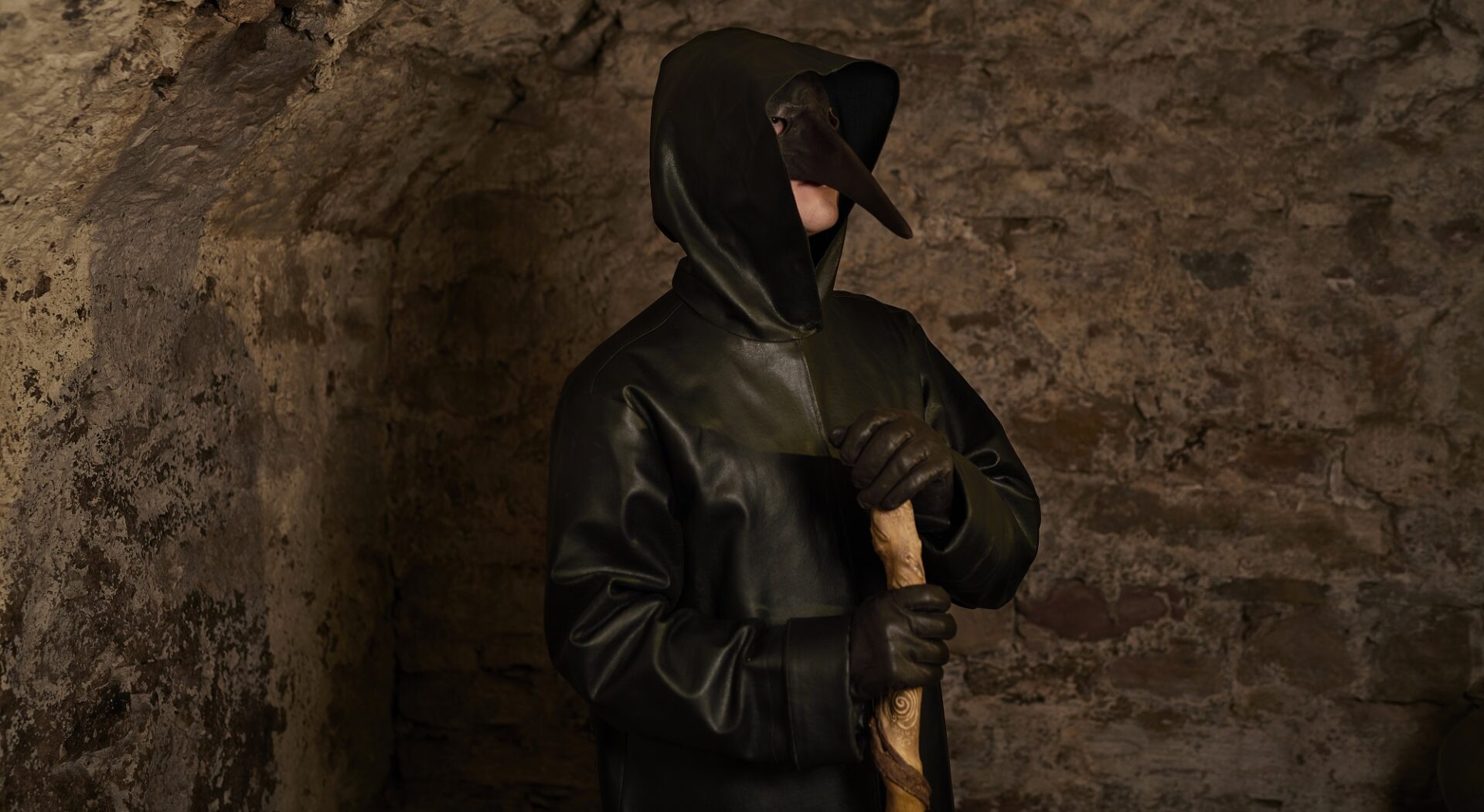 Named after Mary King, a fabric merchant who built her own business after her husband's death, a tour of the close is brought to life by one of the costumed character tour guides. This could be Agnes Chambers, a maid in the household of a merchant burgess, or Dr George Rae, the Plague Doctor who tended to victims when the 1645 plague hit Edinburgh.
They also run a fantastic programme of year-round events which explore different themes on life on the close. Keep an eye on their What's On page for upcoming events.
Free audio guides are available in nine languages. For guests with hearing impairment needs, scripted copies of the tour are available.
---
The Underground Vaults
Famous for
Its sinister history. Where infamous ghostly encounters and paranormal activity are said to have taken place.
Constructed from 1785 onwards and linking the Old Town's High Street with the south of the city, South Bridge consisted of 19 arches. Today, only Cowgate Arch is visible.
Rooms beneath the arches were commonly used as pubs and by tradespeople. However, South Bridge had never been properly waterproofed and over time it began to leak. The vaults below became damp, unusable areas and, eventually, the businesses moved out.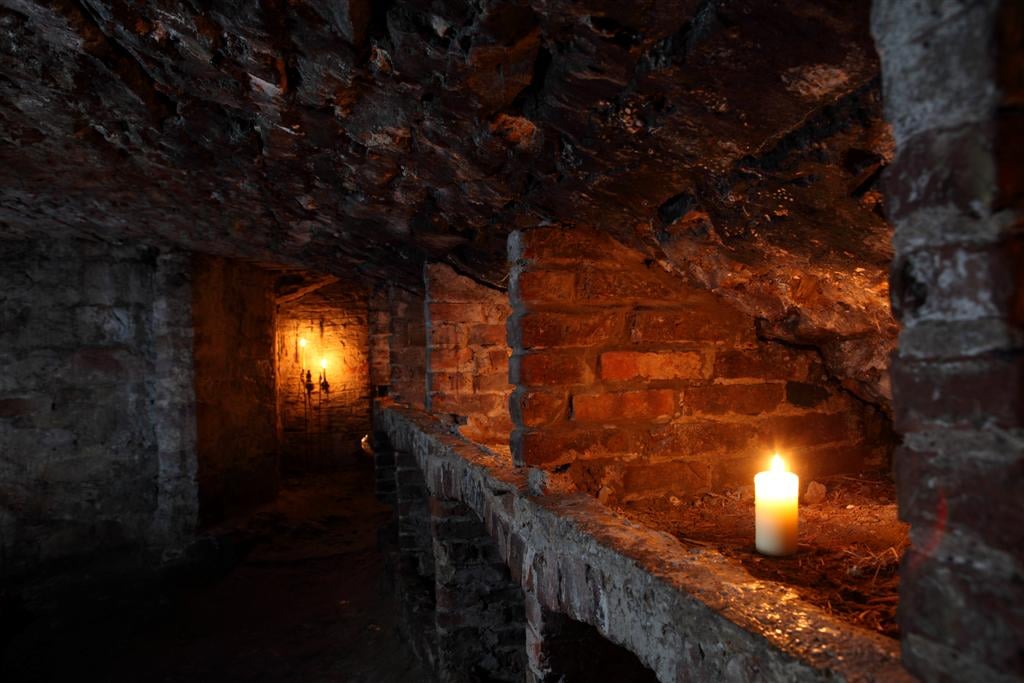 Over time, the vaults took on a new, less pleasant purpose. The poor and destitute moved in and they became slums, brothels and illegal taverns. Damp, dark, cramped, with no fresh water and sanitation, they would have been rife with disease. A hotbed of crime, it's also believed that murderers Burke and Hare prowled here looking for unsuspecting victims, whose bodies were then sold to the university's medical school's for dissection.
Discover more about gruesome 19th century murders Burke and Hare in our guide, Tales from Beyond the Grave in Edinburgh
Eventually, the vaults were sealed up and forgotten about. That was until 1985, when a chance excavation revealed the warren of tunnels and rooms. Items found included toys, clay pipes, buttons and ceramic jars.
Today, this unique piece of Edinburgh's history is now open to the public – several walking tour companies will escort you down to the eerie atmospheric chambers, including Mercat Tours, Auld Reekie Tours, City of the Dead and City of Edinburgh Tours. But be on your guard, said to be one of Scotland's most haunted underground experiences, you never know who you'll bump into!
---
Princes Street Gardens
Famous for
Being a beloved public park hiding stories of ancient legend and mysterious happenings.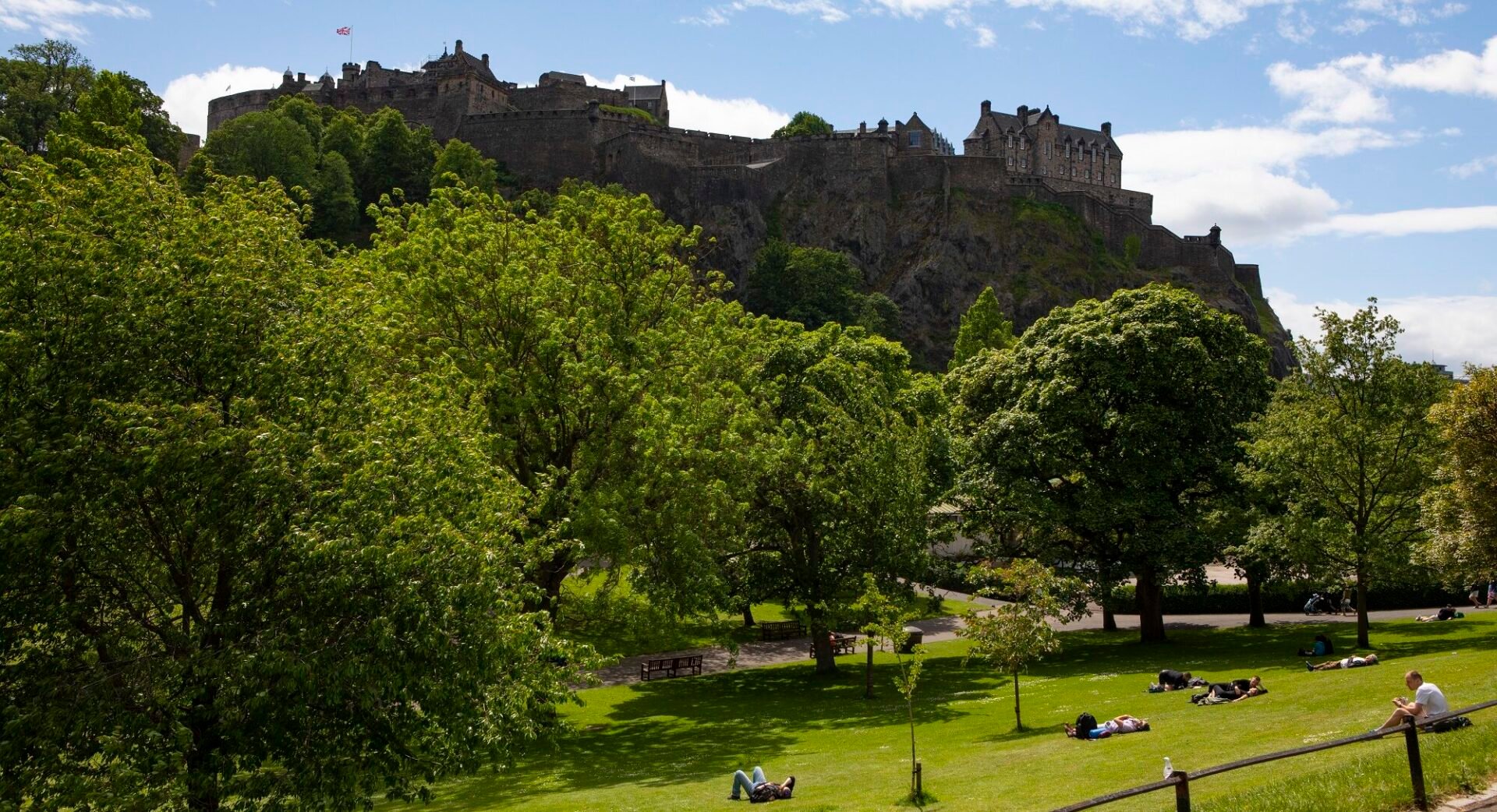 Today it is filled with lush gardens, historic monuments and has panoramic views up to Edinburgh Castle, The Mound and the Old Town, but Princes Street Gardens was not always such a picturesque scene.
A man-made body of water covering the site of today's gardens, the Nor Loch is believed to have been created in the mid 15th century under the instruction of King James II. Stretching from the castle rock to present day Market Street, it protected the city from the always present threat of invasion.
As the population grew, the loch became an open sewer for the city. The stench must have been unbearable!
Demands to get rid of the Nor Loch started in the early 18th century and in the 1760s it was drained. Developed in stages from east to west between 1830 and 1876, the beautiful Princes Street Gardens now occupies the site of the former loch – a much more tranquil scene than in days gone by.
---
A disused railway tunnel
Famous for
Its abandonment. This tunnel whispers tales of forgotten transportation and secrets beneath the city.
Buried 49 feet below St Andrew Square is a railway tunnel 1000 yards long and 24 feet in width. It was closed to passengers in 1868, just 21 years after it opened.
However, it has since had a colourful history. During WWII it became Edinburgh's biggest bomb shelter. It was also used briefly as a mushroom farm (its dark and damp conditions being ideal for cultivation) and again in 1948, when a visiting professor conducted a series of radiation experiments. For a brief period in the 1970s it was used by a local garage to store up to 150 cars.
Something to think about as you browse the shops in Waverley Market, which accommodates the area now!
---
Gilmerton Cove
Famous for
Its legendary underground labyrinth. Steeped in mystery, theories range from secret societies to smuggling operations.
Hidden beneath the streets of Gilmerton in Edinburgh's southside is an archaeological mystery that has baffled experts for over 200 years.
A series of underground hand-carved passageways and chambers, Gilmerton Cove is a unique subterranean attraction featuring seven different rooms with rock hewn furniture. Numerous theories on its purpose exist – from a Covenanters refuge to a witches coven.
Gilmerton Cove is currently closed to the public. Check their Facebook page for further updates.
---
Colinton Tunnel
Famous for
Being an enchanting mural in an abandoned Victorian tunnel.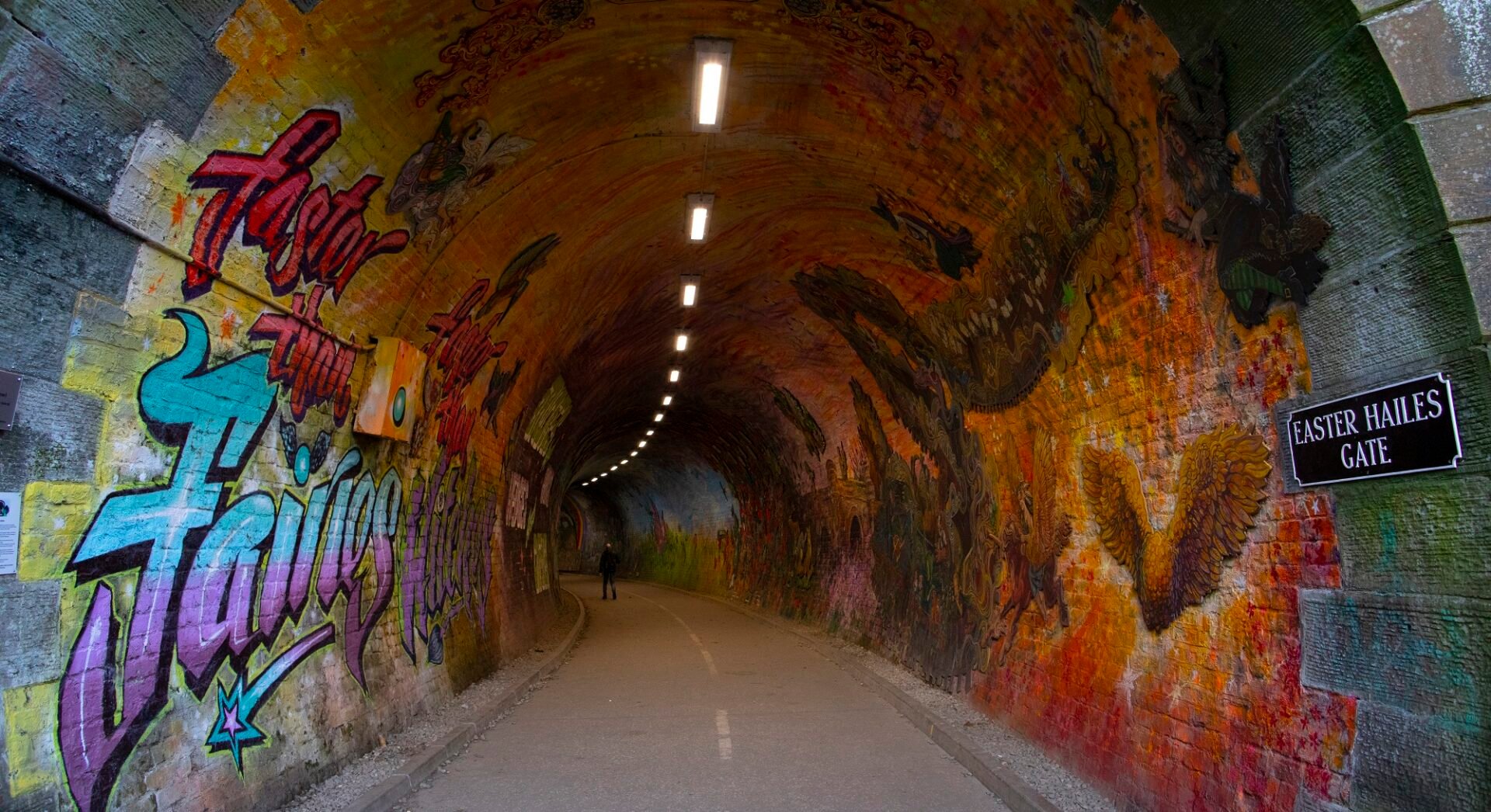 Celebrating local history and heritage, this once abandoned railway tunnel has been transformed by artist Chris Rutterford into the biggest mural of its kind in Scotland.
Featuring illustrations from Edinburgh author and poet, Robert Louis Stevenson's From a Railway Carriage, as you wander through the 147 year old Colinton Tunnel keep an eye open for a magical train, fairies and witches.
Looking to capture an amazing Instagram shot? You'll find plenty of inspiration here. Remember to tag us using #ForeverEdinburgh and #edinphoto and we could share your image on our social channels!
---
Sanctuary stones
Famous for
Providing protection to debtors in days gone by.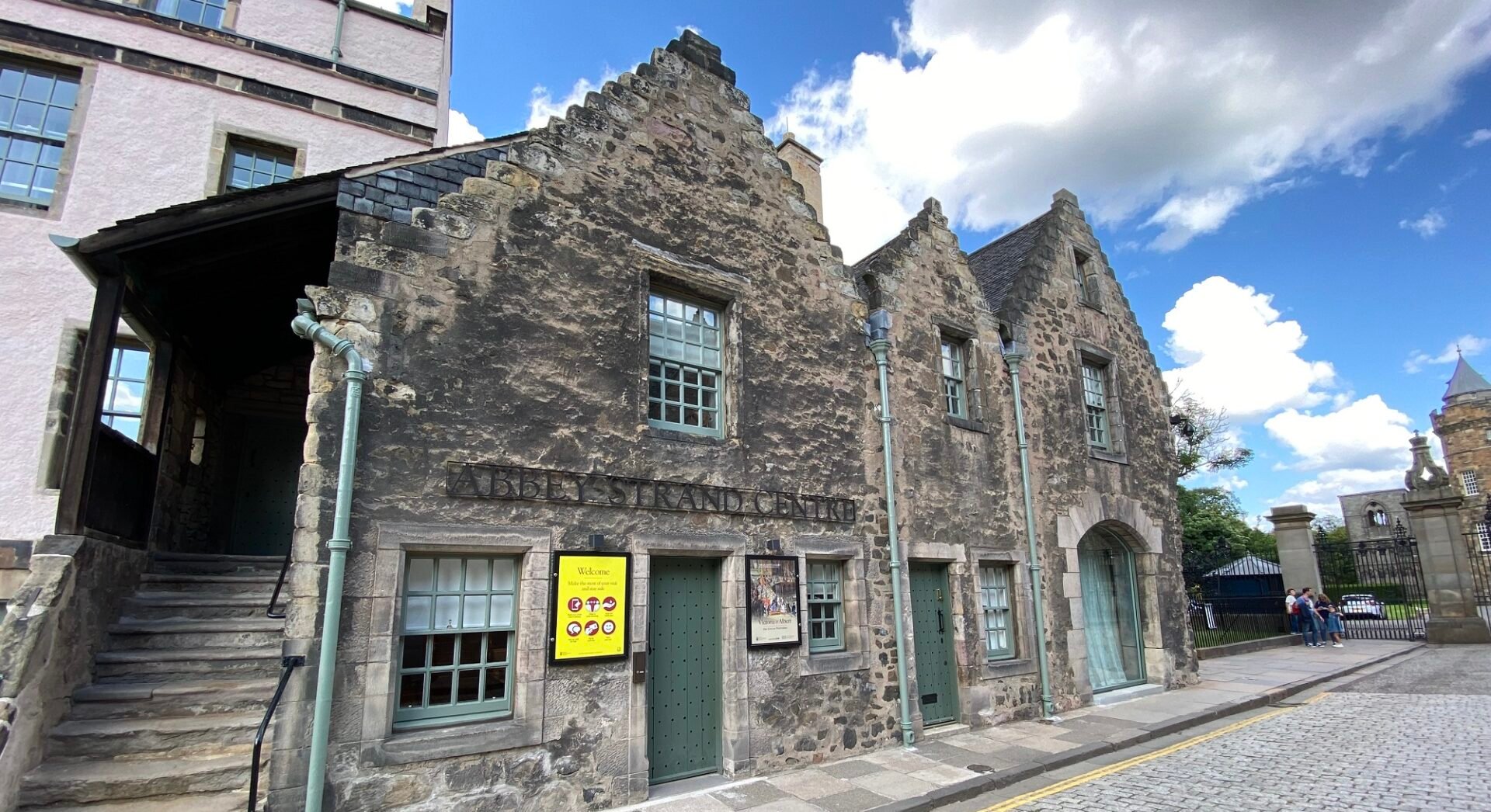 Outside The Palace of Holyroodhouse can be found a row of three copper 'S' cobblestones – but what do they mean?
Known as Sanctuary Stones, these markers signify the 5-mile boundary known as Abbey Sanctuary that gave protection to debtors seeking refuge from their creditors. In times when minor theft could warrant a hanging, those pursued were offered food and housing within these confines.
In 1880 a law was passed that meant debtors could no longer be thrown in prison and many of the old sanctuary buildings were demolished. One, however, still exists and today serves as a gift shop for the Palace of Holyroodhouse.
---
The Heart of Midlothian
Famous for
Being a symbol of Edinburgh's historical heart.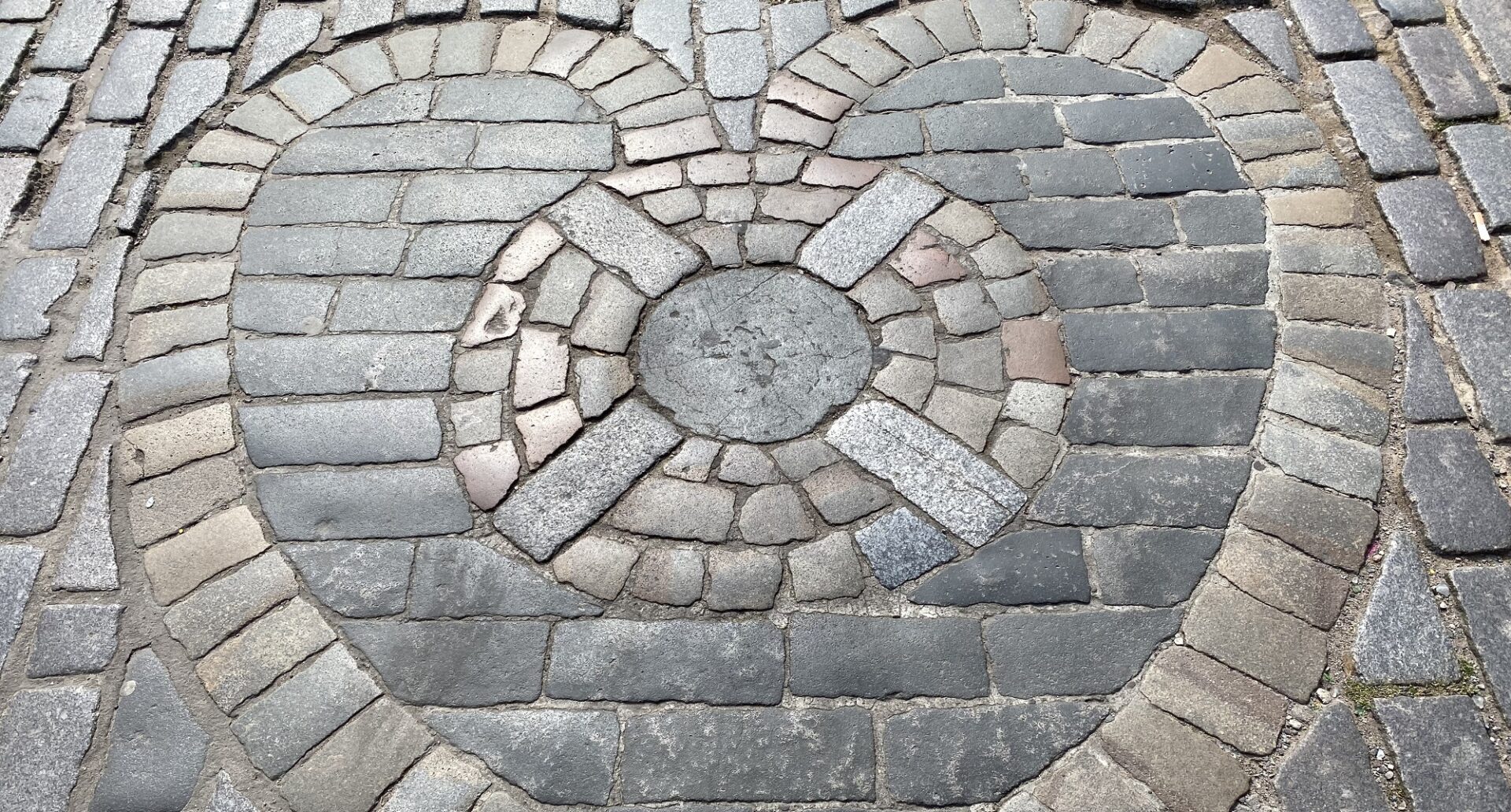 On the surface, the heart-shaped mosaic set in the cobblestones on the Royal Mile may look like a romantic symbol, but in its past life, this area was a far from romantic destination.
The mosaic marks the site of the Old Tolbooth. A multi-use building, it was used as a place for collecting tolls as well as a council chamber and courthouse. But it was as a prison that it was most fearsomely regarded, becoming notorious for its squalid conditions and torture treatment. The conditions were so bad that in 1561 Mary, Queen of Scots ordered it to be demolished and rebuilt. The new building became Edinburgh's main jail and amongst its new features included a heart on its doorway. In time, the entrance to the jail was marked out using cobbles in the shape of a heart.
Today – much to the bewilderment and disgust of the unwitting tourist – it has become customary to spit on the heart for good luck, although nobody can say for sure why. Some believe it's a practice left over from when passers-by would spit at prisoners in solidarity, or that it was the prisoners themselves who spat on the heart if they found themselves lucky enough to be released. Some say it's a gesture of good luck for the local Edinburgh football team, Hearts, whose emblem is derived from the stone heart.
Whatever the reason, today it's a popular photo location for tourists…. just watch out for the spitting.
---
Explore Spooky attractions in Edinburgh
Intrigued by tales of mystery, supernatural and ghostly presences? Edinburgh has some spine-chilling attractions that are not to be missed!
---
Favourite