Harry Potter is a household name across the globe, but did you know that J. K. Rowling penned some of the world's favourite wizarding stories right here in Edinburgh?
As you walk around the city, you can see the streets and sights that many people believe inspired the global sensation. Visit the locations in our guide and get a real sense of Hogwarts and the Wizarding World, right here in Scotland's capital...
The Elephant House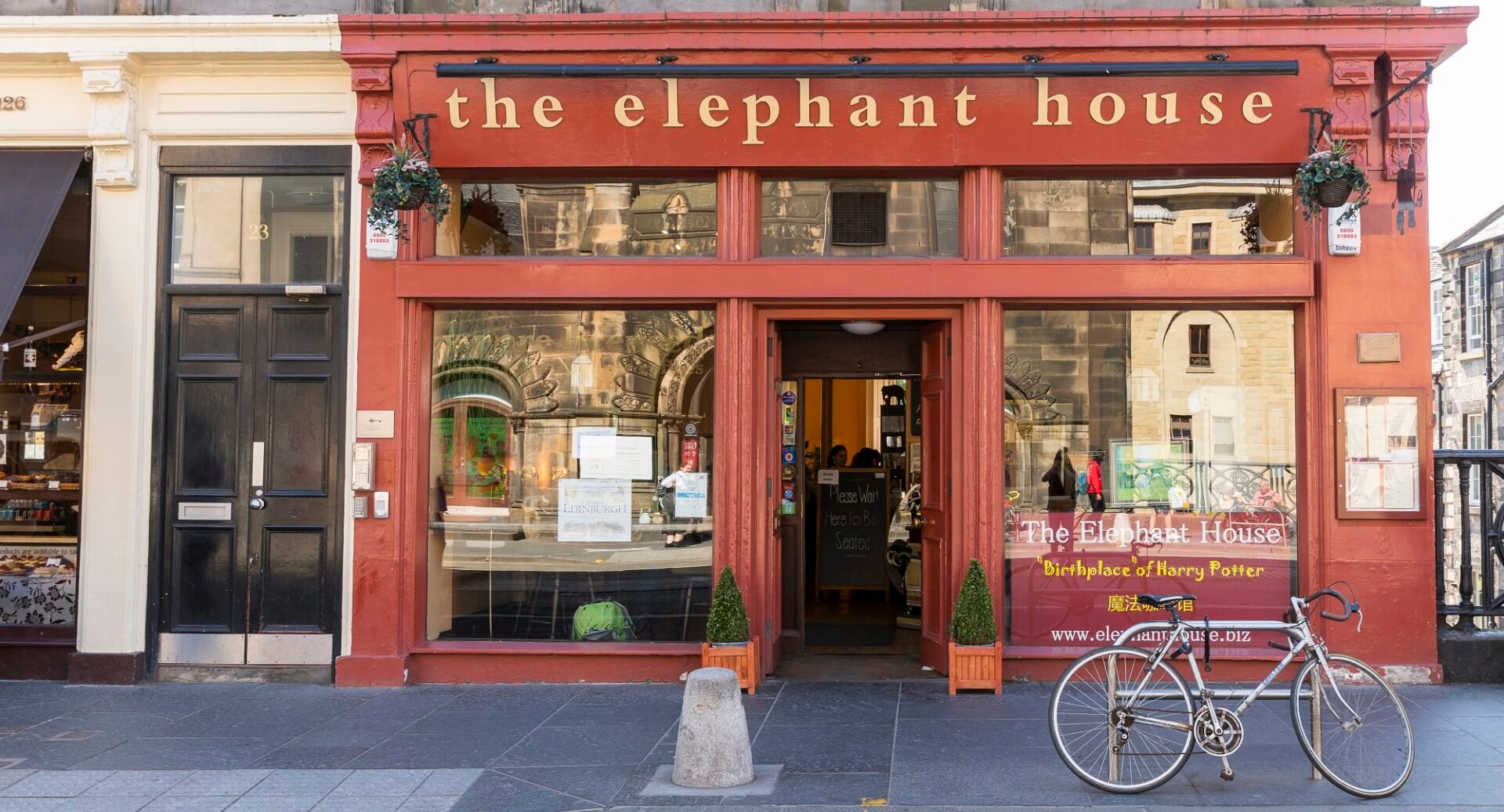 Start your journey where it all began. Before she made her fortune with the Harry Potter books, J.K Rowling would seek refuge from the cold and write her early manuscripts in Edinburgh's warm and welcoming cafés. The most notable is The Elephant House on George IV Bridge, where you'll find lots of tourists taking selfies in front of the sign marking the 'birthplace' of Harry Potter.
Due to a fire in the building, The Elephant House is currently closed until further notice. Check their website for further updates.
---
Greyfriars Kirkyard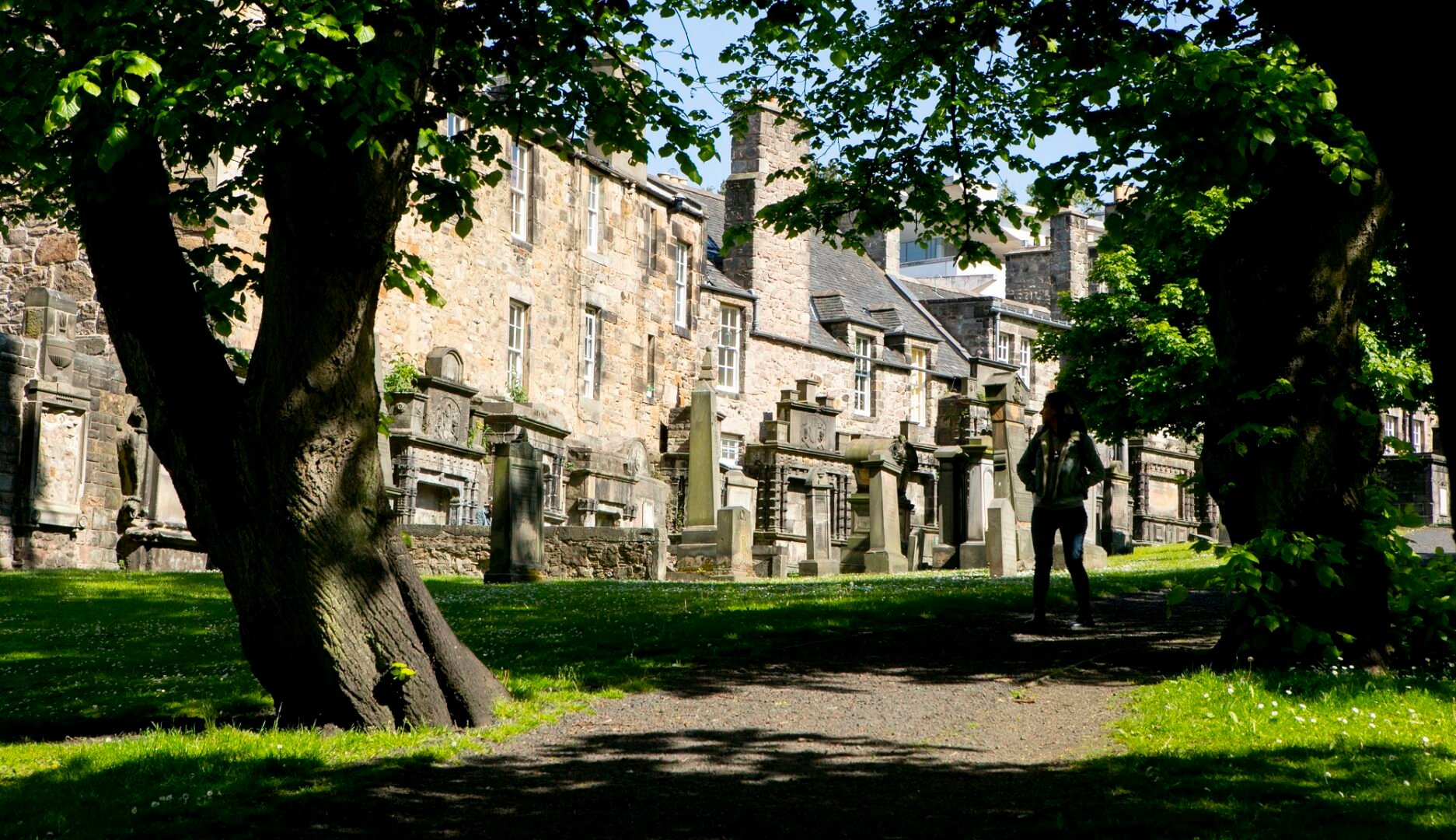 No Harry Potter fan should miss a trip to Greyfriars Kirkyard. It is believed that J.K. Rowling used some of the names on the tombs for inspiration for the series' leading characters – keep an eye open for Robert Potter, William McGonagall (a famously bad poet), Elizabeth Moodie and Margaret Louisa Scrymgeour Wedderburn.
However, undoubtedly the most famous resident in Greyfriars Kirkyard is Thomas Riddle which as all Harry Potter fans know, is the name of 'He who must not be named', aka Lord Voldemort. Poor Thomas Riddle – when he passed away in 1806, it's highly unlikely he had any idea that his name would inspire one of literature's most famous villains!
Potter fans flock to Greyfriars Kirkyard all year round to pay homage to the people that gave their names to some of the world's most spellbinding tales. With its eerie atmosphere, it's also rumoured to have been the inspiration behind the graveyard in Godric's Hollow, the resting place of Harry's parents. What do you think?
---
Victoria Street and West Bow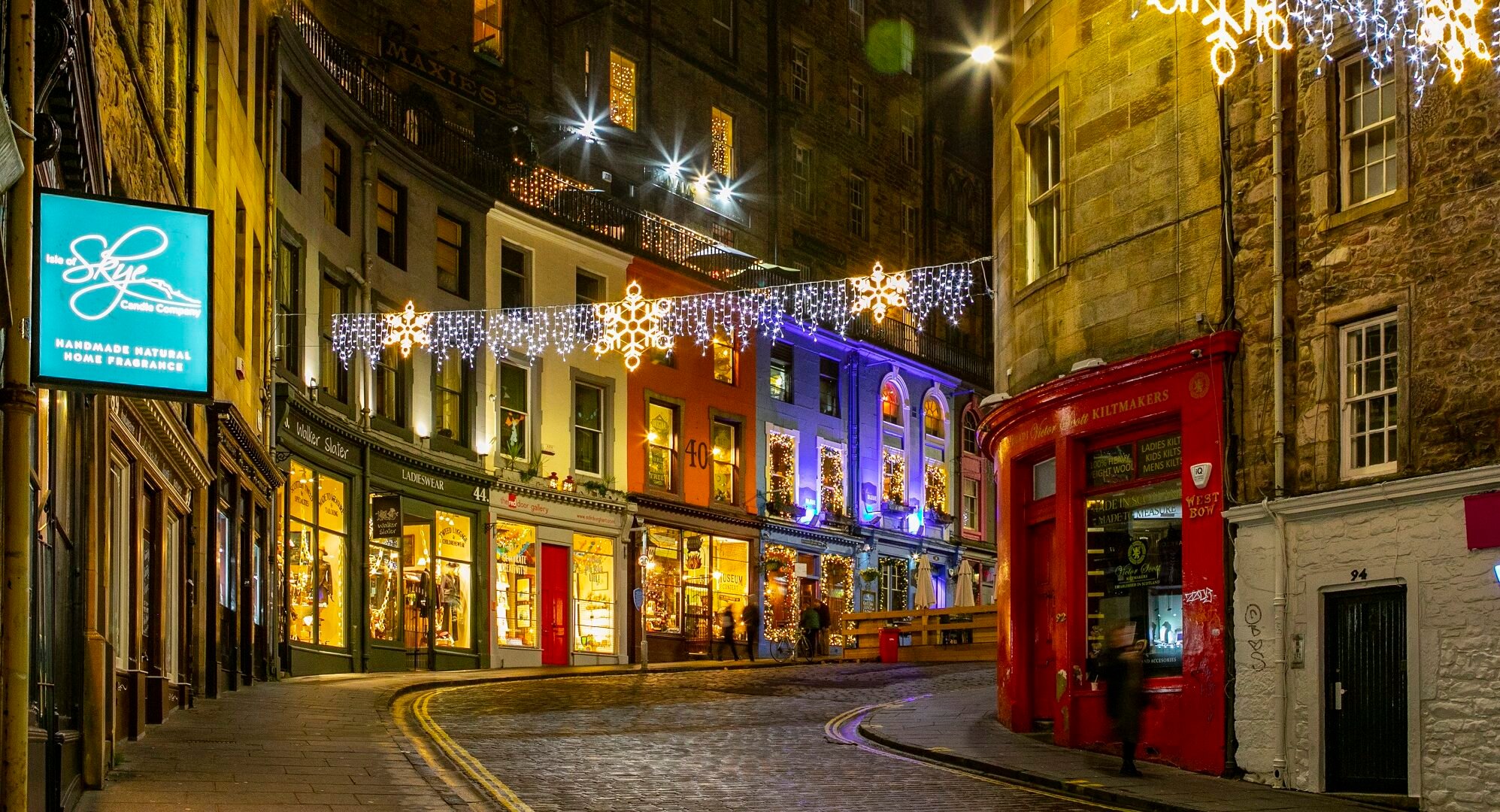 Just off Edinburgh's historic Royal Mile, make your way to the lively and bustling Grassmarket area and you'll come across the sweeping curve of Victoria Street and West Bow, where restaurants are stacked on top of shops tightly packed together in brightly painted buildings. With its bright and cheerful appearance, it's easy to see why this is one of the most photographed streets in the city.
It's no wonder then, that this colourful street is thought by many Potter fans to have served as the inspiration for London's magical shopping thoroughfare, Diagon Alley. No trip to Edinburgh would be complete without a trip to this delightful area.
From boutique fashion to magical merchandise, the Grassmarket is packed with an array of one-of-a-kind shops. Discover more in our Guide to Shopping in the Grassmarket
West Bow is actually no stranger to wizarding tales – in 1670 it was the home of Major Thomas Weir, a well-respected member of Edinburgh society who, rather unexpectedly, on his deathbed confessed to acts of satanism, sorcery and witchcraft. Together with his sister Jean, who not only backed up his claims, but added that she too was guilty, he was executed.
It was thought that their house was completely demolished, but it now seems that some parts still exist, hidden in the Quaker Meeting House on the upper terrace. Visitors have reported seeing Weir's ghostly figure walking through walls, more than 350 years after his death.
---
Harry Potter shopping
For Potter merchandise, a visit to Museum Context is a must. This quirky shop is spread over two stone vaults and replicates the authenticity of Ollivander's Wand Shop. Located on Victoria Street, with an additional store on Cockburn Street, this spellbinding shop offers a whole variety of Harry Potter memorabilia, including officially licensed scarves and replica Nimbus 2001 broomsticks.
More magical purchases can be found at The Enchanted Galaxy. Allow yourself to be bewitched by the model movie props that feature throughout the shop, including all of the main characters' wands. If you're feeling hungry, purchase a chocolate frog on your way out!
---
J. K. Rowling's handprints at the City Chambers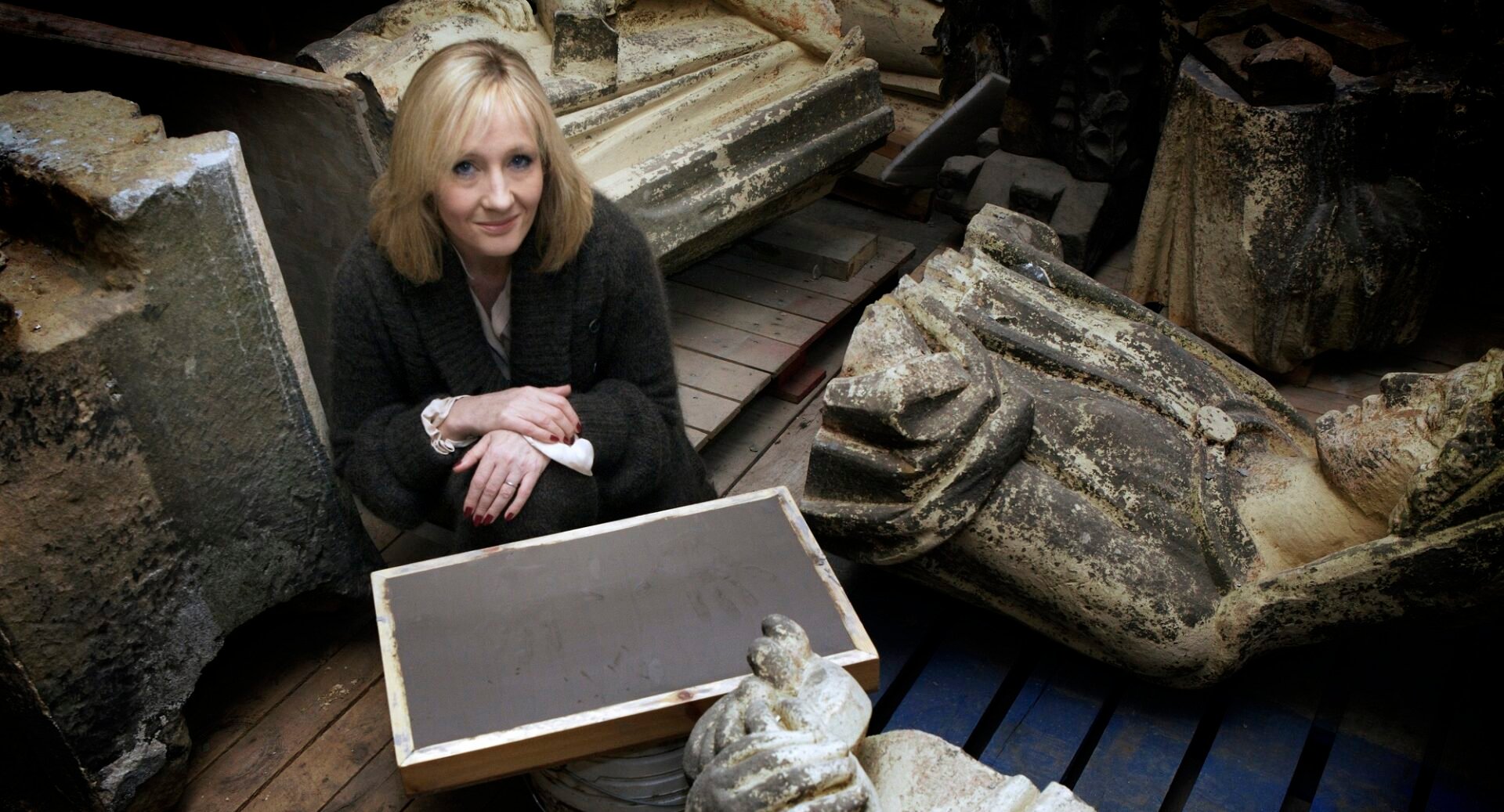 Just off the Royal Mile you can find the famous author's handprints reproduced on a flagstone in front of Edinburgh City Chambers. The prints were produced when J.K. Rowling was bestowed The Edinburgh Award in 2008.
Awarded to honour a person who has made a positive impact on the city and gained national and international recognition, a wander around the entrance courtyard reveals the handprints of other reward recipients including author Sir Ian Rankin, cyclist Sir Chris Hoy, artist Dame Elizabeth Blackadder and rugby player, Doddie Weir OBE.
---
George Heriot's School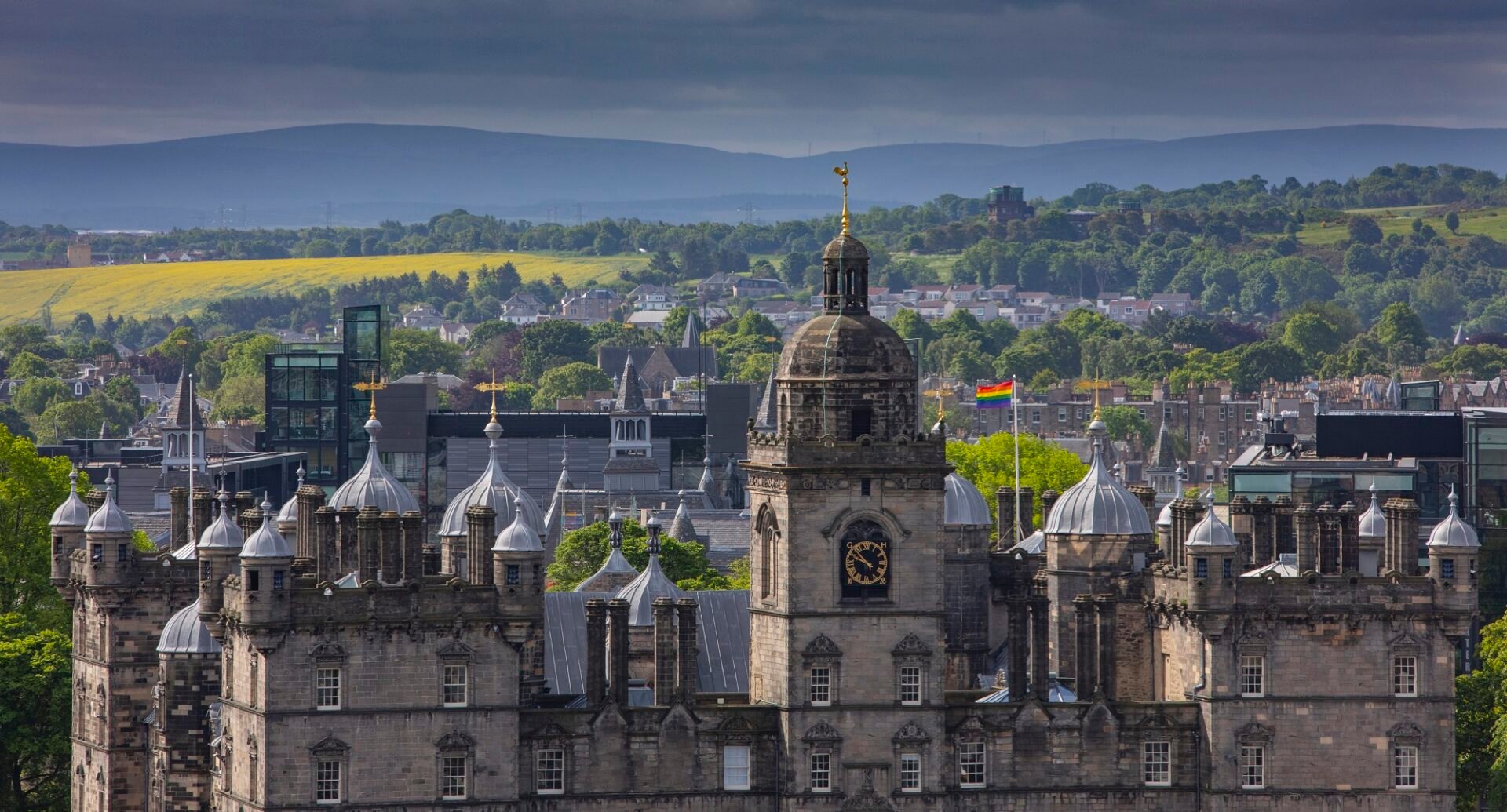 Even though the location of Hogwarts has never been officially determined, many people believe that the author based the magical school on Edinburgh's George Heriot's School.
With its four towers and breathtaking gothic architecture, you can understand why many think it helped the author conjure up the idea of the famous school. (Hogwarts also mirrors George Heriot's with its system of four houses and an on-going house competition each year).
As a working school, it's rarely open to the public, but you can get a good view of it from George IV Bridge, Lauriston Place and Greyfriar's Kirkyard.
---
The Witches' Well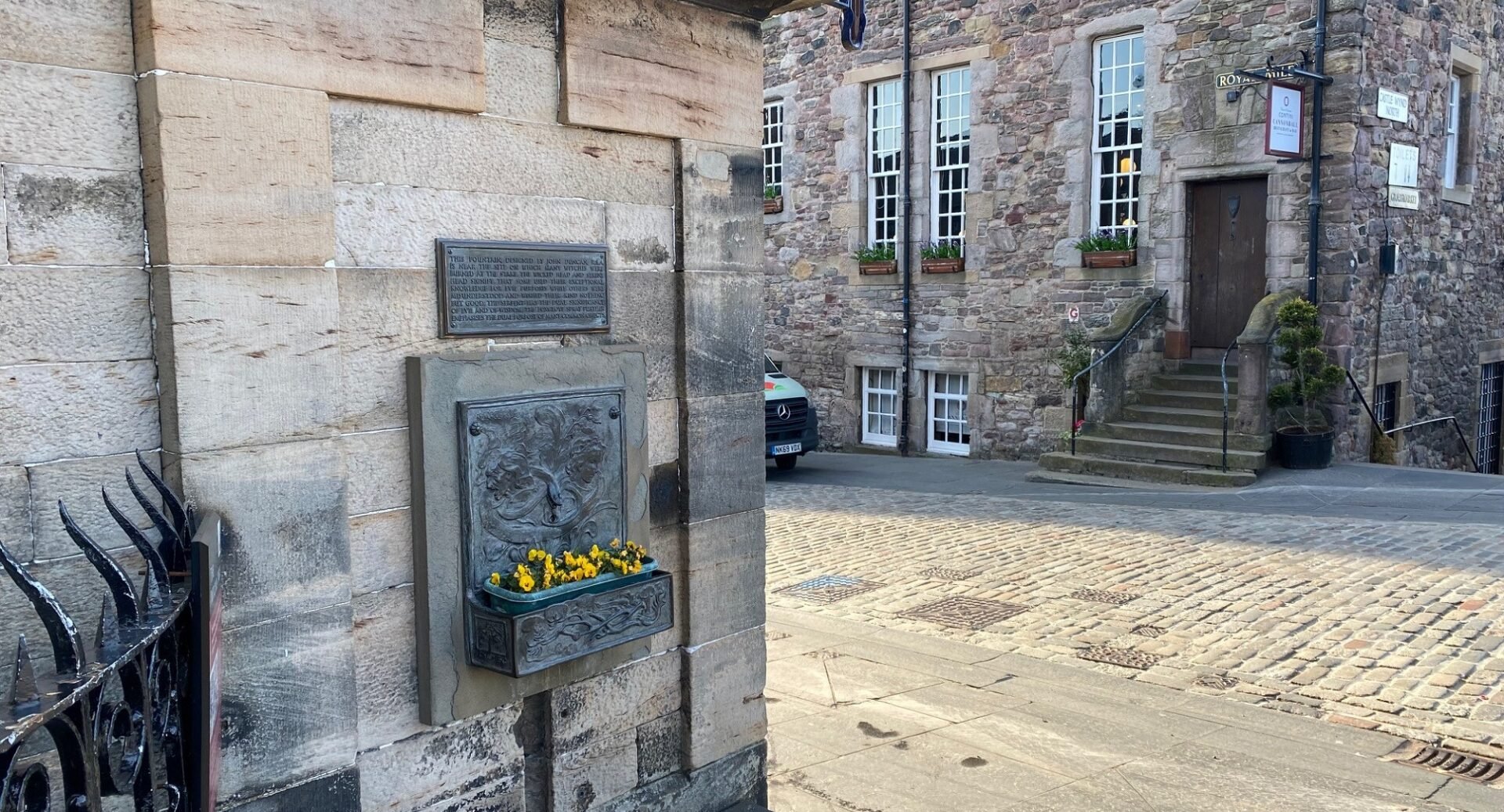 This small cast iron drinking fountain on Edinburgh Castle's esplanade is a poignant memorial to the hundreds of innocent people convicted of witchcraft between the 16th and 18th centuries.
Commissioned in 1894 by local philanthropist Sir Patrick Geddes, the fountain was designed by artist John Duncan.
Discover more about this tragic period of history in our Guide to Edinburgh's Witches and Wizards
---
The Balmoral Hotel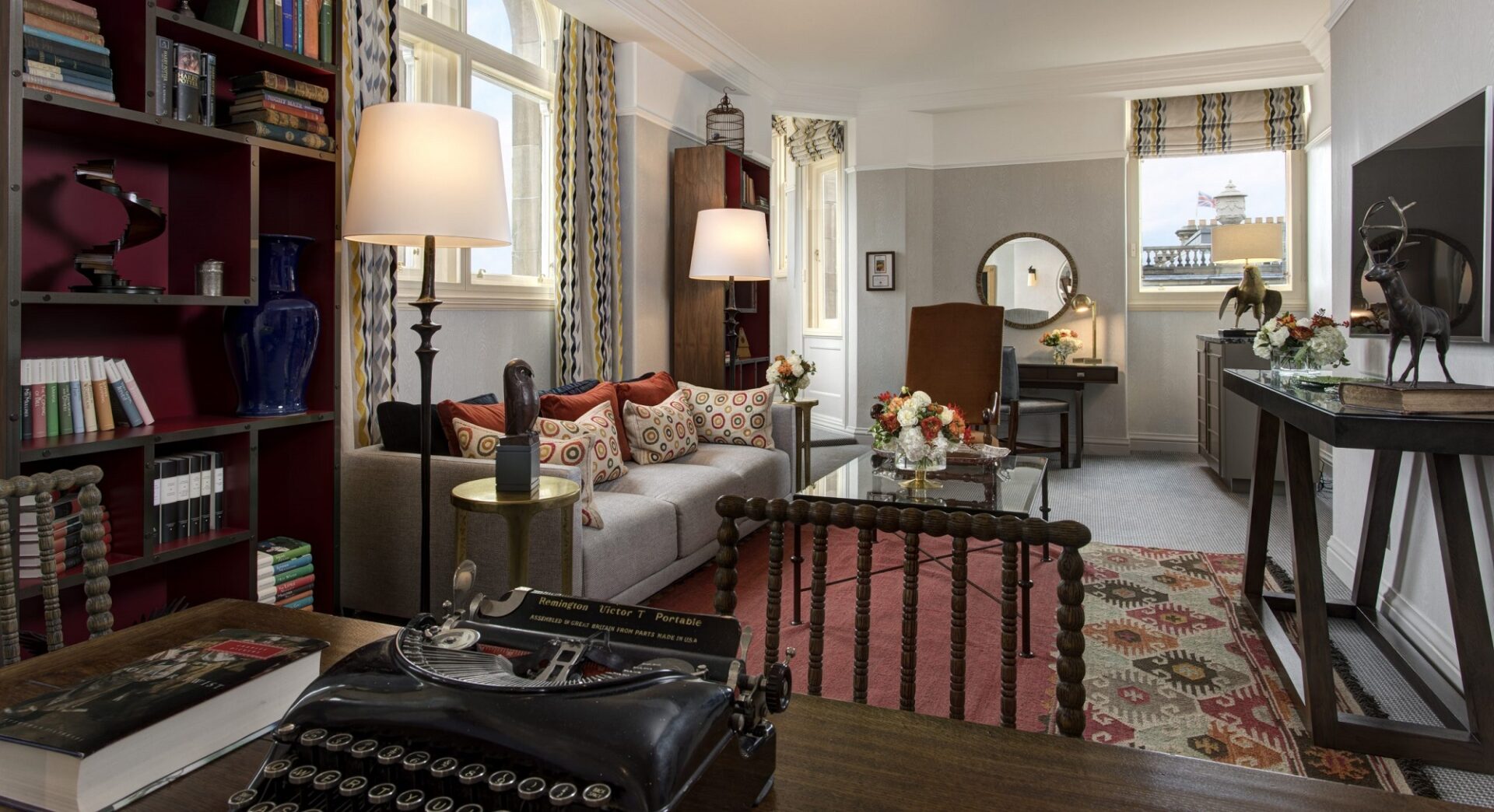 The Balmoral Hotel is the pinnacle of luxury in Edinburgh and perfectly highlights J.K. Rowling's rags to riches story.
While she initially undertook her writing in the humble surroundings of Edinburgh's cafés, she completed the last scenes of her final book, Harry Potter and the Deathly Hallows in one of the hotel's grandest suites, Room 552.
Renamed The J.K. Rowling Suite in her honour, the sumptuous suite has an owl door knocker and contains her writing desk as well as a marble bust of Hermes, the Greek god of travel, which is signed by the author. Stay the night here to immerse yourself in the ultimate Harry Potter experience!
---
The Lewis Chess Pieces
In the first book of the series, Harry Potter and the Philosopher's Stone, Ron introduces Harry to the magical game of Wizard Chess. A slightly more violent version of the classic game, pieces are enchanted and defeat often results in being smashed to bits.
Did J.K. Rowling get her inspiration for these characters from the medieval Lewis Chess Pieces in the city's National Museum of Scotland? Dating from the early 13th century, the 11 pieces on display were part of a large hoard discovered on the Isle of Lewis, part of Scotland's Western Isles, in 1831. Remarkable in their detail, each piece is different and they remain one of the most intriguing items in the museum.
---
The Department of Magic
Designed to be played by groups of between 2 and 6 people and for ages 11+, The Department of Magic offer two escape room challenges for wannabe wizards. Teams must overcome a series of magical puzzles, brainteasers and riddles in order to defeat the Dark Lord and save the wizarding world. Choose from Prophecies Quest or Dark Lord Resurrection.
Then after all that hard work, head downstairs to the Magic Potions Tavern, where you'll be provided with all the ingredients to create your own magical-inspired cocktail.
---
Harry Potter tours
If you prefer to be shown the city's notable Harry Potter sights by a knowledgeable and entertaining guide, don't miss The Potter Trail. Led by a themed tour guide, the 90 minute tour begins at Greyfriars Bobby Statue and finishes on Victoria Terrace, visiting all of the top Potter sights along the way. You may even learn a spell or two! Although this tour is free, donations are recommended. Can't make it in person? Don't worry – they also offer a Virtual Tour, which is just as interactive and spellbinding as the in-person tour.
For the full Harry Potter immersion, The Potter Tour not only fills a morning (4 hours), but also covers many different areas of the city, so you can experience for yourself all things Edinburgh and Potter related.
While this is not Harry Potter related, The Ghost Bus Tour is probably the closest thing Muggles will ever get to The Knight Bus! A horror-comedy theatre experience, prepared to be amazed by stories from Edinburgh's sinister past as you are whisked through the city's streets on a 1960s black double-decker bus (which incidentally used to be used for funerals).
While we're on the subject of ghosts and ghouls, although there's no Nearly Headless Nick, Edinburgh does have its fair share of chilling ghost and folklore stories. Learn more about the city's darker side in our guide to Spooky Attractions in Edinburgh
---
Magical refreshments
Conjuring spells is hard work – refuel in one of these spellbinding bars.
Describing themselves as a place where the misfit fits, The Dog House welcomes all magical beings. A combination of Fosters and syrup, don't miss the chance to sample a pint of butterbeer, the brew frequently drunk by characters throughout the novels. Or add some colour to your cheeks with a Hot Buttered Brew from Monteiths.
With a name like The Cauldron Bar, there's no shortage of magical vibes at this city centre bar. Their Portion Making Cocktail Class uses molecular mixology and responsive magic wands to create magical cocktails. It's a bit like a real potions class, but without Snape glaring over your shoulder. If afternoon tea is more to your liking, be sure not to miss their Wizard Afternoon Tea, an immersive and interactive experience which is suitable for both adults and children. Budding witches and wizards have the opportunity to brew exciting teas using a working magic wand, while interacting with an experimental cake stand topped with a pulsing dragon egg!
---
The Writers' Museum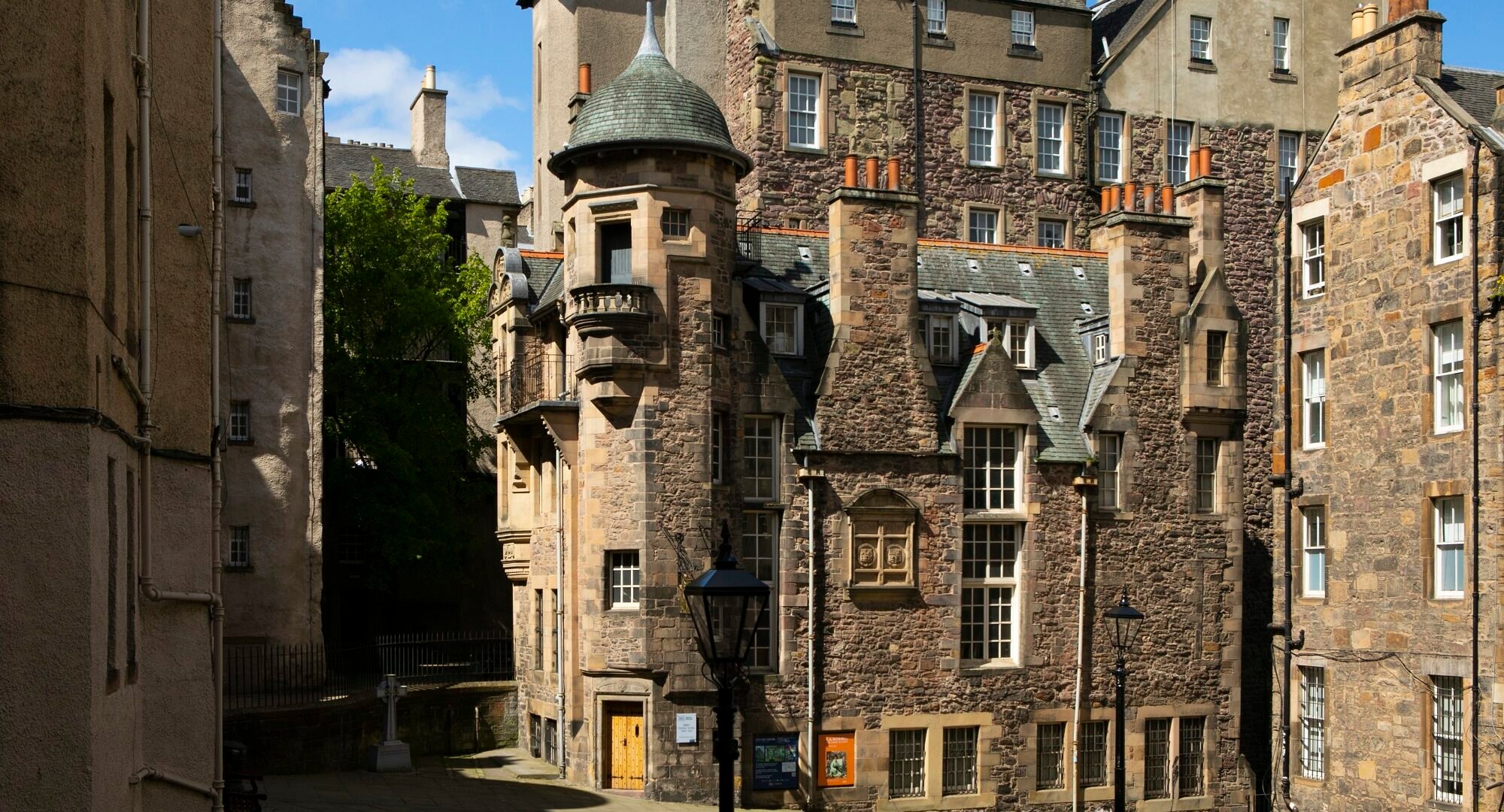 Did you know that Edinburgh was the first city in the world to be designated a UNESCO City of Literature?
As well as being home to world-famous writers including J.K. Rowling, Sir Ian Rankin, Alexander McColl Smith, Arthur Conan Doyle and Sir Walter Scott, it has its own Poet Laureate and is home to several world-leading literary attractions.
One of these is The Writers' Museum, just off the Royal Mile. Celebrating the lives of three giants of Scottish Literature – Robert Burns, Sir Walter Scott and Robert Louis Stevenson, it contains precious relics that will captivate all booklovers, including Burns' writing desk and Scott's childhood rocking horse.
Where here, be sure to make time to wander around the neighbouring Makars' Court, where famous quotations from a multitude of Scottish writers are inscribed on courtyard's flagstones. Robert Louis Stevenson's quote 'there are no stars so lovely as Edinburgh street lamps' from his work The Silverado Squatters is just one of the many extracts that can be found in this enticing courtyard.
---
Hogwarts Express to the Highlands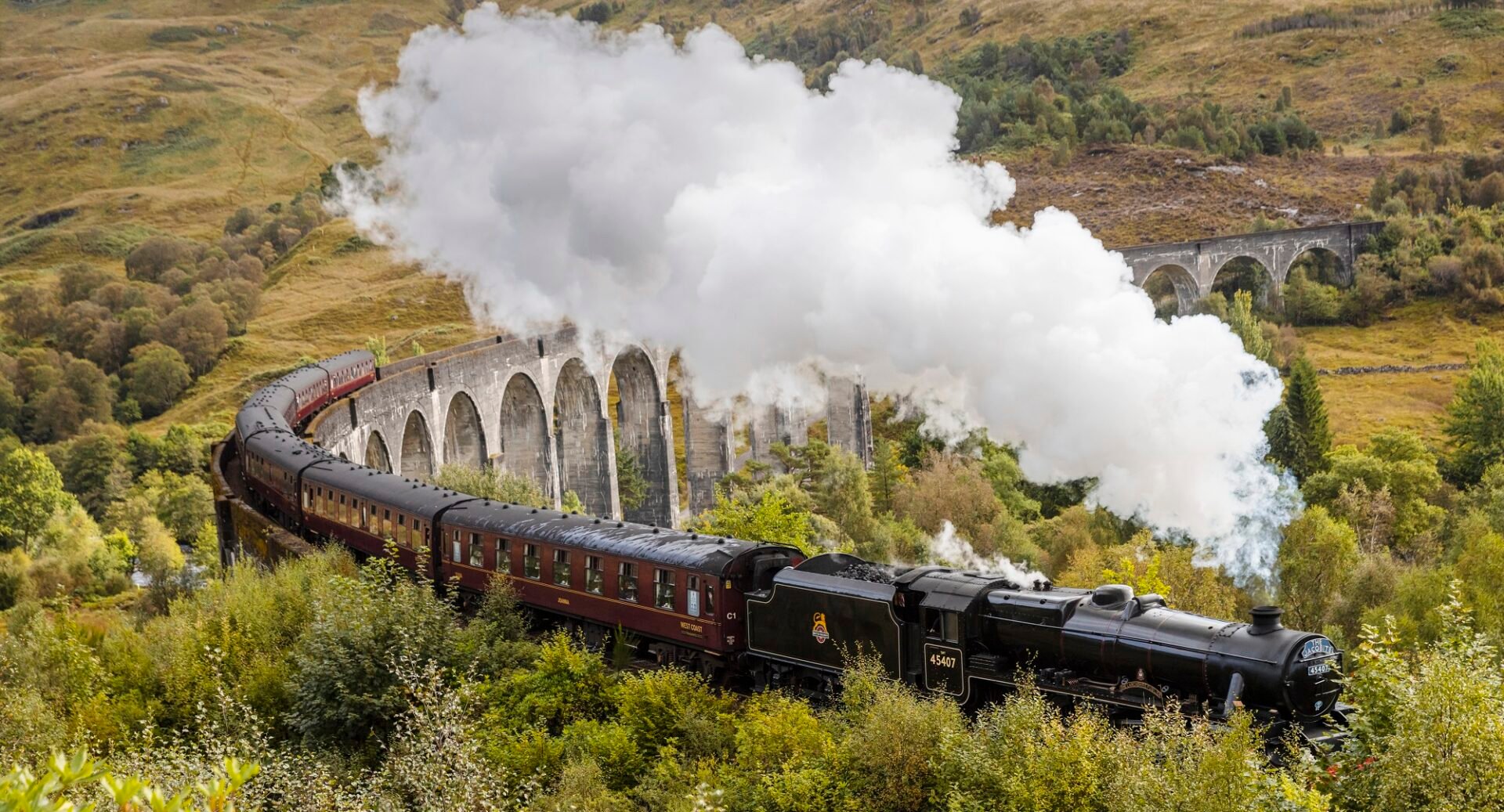 The Jacobite Steam Train, also known as the Hogwarts Express, takes both train and Harry Potter enthusiasts on a thrilling 84 mile round trip from Fort William to Mallaig.
The excursion involves passing through several locations where scenes from each of the movies were filmed, including the Glenfinnan Viaduct where Harry and Ron fly a Ford Anglia car over the famous landmark.
Let the excitement begin on the train from Edinburgh to Glasgow, before hopping aboard a train from Glasgow to Fort William where the tour commences.
---
Literature in Edinburgh
Discover more unmissable literary themed attractions
---
Favourite