If you like your beer to be made using the finest of ingredients and featuring innovative flavours, you're in for a treat. Edinburgh has a wonderfully vibrant craft beer scene and a huge selection of bars to prove it.
From the shores of Leith to the heart of the city centre, there are lots of brilliant pubs that specialise in craft beers dotted all over the city. Read on to discover 10 of our favourites….
1. Brew Dog
Perfect for
Choose one of their Edinburgh bars to enjoy craft beers, and a tasty pizza or burger on the side.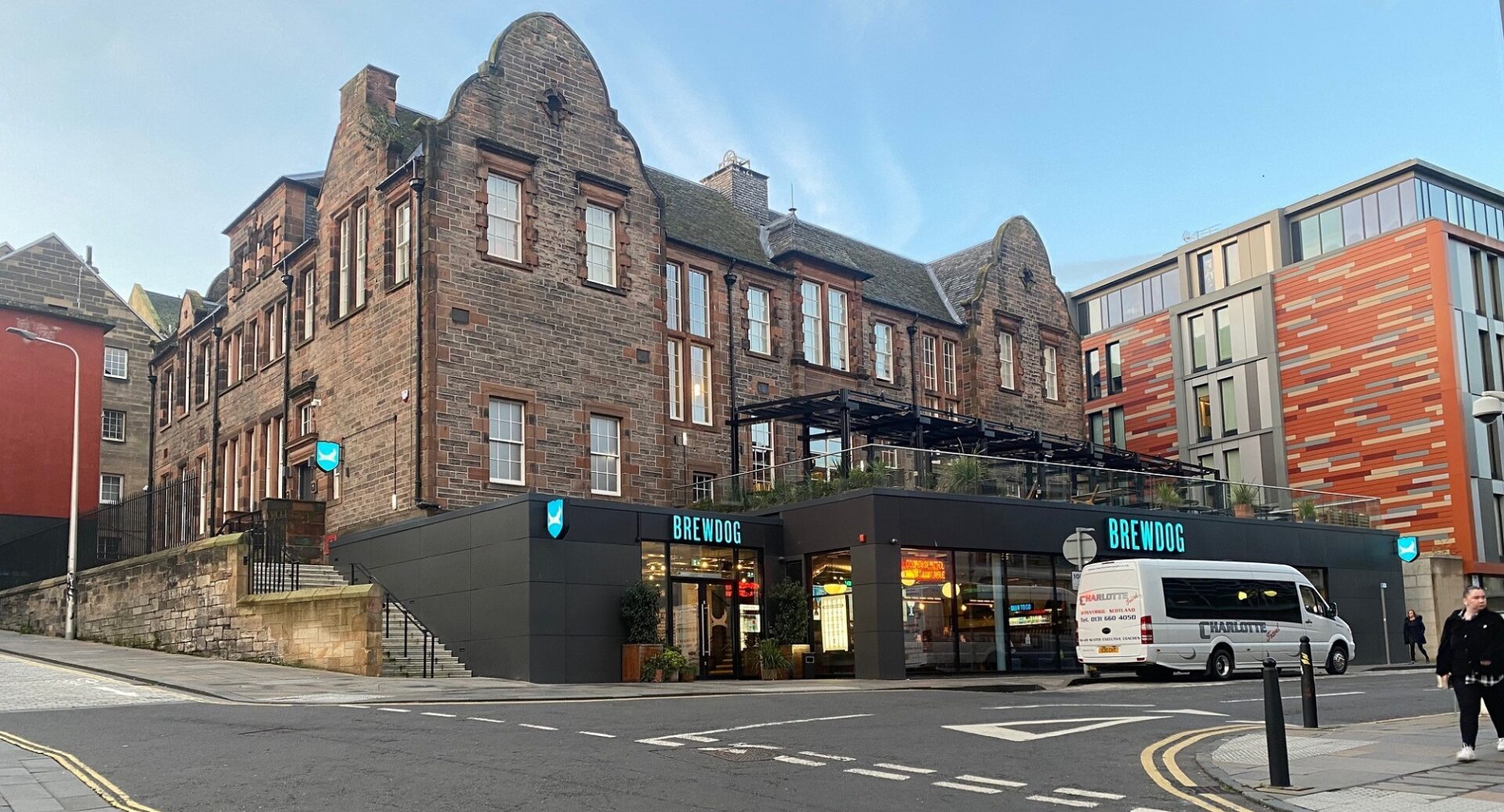 Now with three locations across the city, BrewDog offer a wide selection of both their own famous beers in addition to a few guest names.
The stainless steel and exposed brickwork give the bars a funky industrial feel, with 28 taps of craft beer to choose from, as well as a range of bottles and cans.
If you're feeling peckish, you're sure to find something satisfying – BrewDog Cowgate specialises in epic handmade sour dough pizzas, while over at BrewDog Lothian Road, the stacked burgers and wings are the perfect beer accompaniment. Catering for all, half their menu is vegan or vegetarian and their headliner beer range is vegan too.
The latest venture, DogHouse Edinburgh Hotel is conveniently located just a 5 minute walk from Edinburgh Train Waverley and features all the BrewDog favourites for a perfect night's stay, including beer fridges in the shower and a fully kitted out minibar. All rooms are also dog friendly, with complimentary dog treats.
---
2. Innis & Gunn
Perfect for
Rotating taps – perfect for sampling new craft beers.
Another famous beer brand with not one, but two bars in the city is Innis & Gunn.
At Innis & Gunn Brewery Taproom Edinburgh City Centre, you can expect 26 taps of craft beers, as well as their own lager beer, delivered straight from their brewery. Head across the city and Innis & Gunn Brewery Taproom Leith welcomes guests with 16 rotating taps of perfect craft beers.
The food menus are also crowd-pleasures, from sharing platters to traditional pub dishes. Keep an eye open for their regular Beer Dinners – combining the skills of their chefs and brewtenders, they feature the perfect food and beer pairing.
---
3. The Stockbridge Tap
Perfect for
Dog-lovers. Bring along your pooch whilst enjoying one of their beers on cask or keg.
Loved by locals and with a daily rotation of craft beers from all over the UK on cask and keg, The Stockbridge Tap is well worth a visit.
A short walk from the city centre in the popular neighbourhood of Stockbridge, the staff are knowledgeable and approachable, so this is the perfect place to try something new.
---
4. The Hanging Bat
Perfect for
Trying something new – they serve 100+ local and international bottles beers.
With their own on-site brewery, you can be sure of a one-of-a-kind ale at The Hanging Bat on Lothian Road.
Serving an eclectic mix of craft beers, including a mix of worldwide beers, they are unique in that they don't serve pints. Instead, they offer their excellent selection in smaller measures so that you enjoy it all the more.
---
5. The Cambridge Bar
Perfect for
Enjoying a craft beer, whilst enjoying one of their 100% Scottish beef gourmet homemade burgers.
Nestled on one of the back streets of the New Town, The Cambridge Bar is a little hidden away but well-known to locals for serving craft beer, ales and fantastic burgers. Dogs are welcome here, so feel free to bring along your four-legged friend.
Their motto is to 'keep it simple', but their frill-free approach is a hit making it somewhere you're bound to return to again and again.
---
6. Nobles Bar & Restaurant
Perfect for
Relaxing over one of their local beers after enjoying a day sight-seeing in Leith.
The neighbourhood of Leith has become one of the coolest places in Edinburgh to visit, with a growing scene of must-visit bars and restaurants. Nobles Bar & Restaurant stands out from the crowd with its gorgeous stained glass windows and original Victorian features.
The ambience here is incredibly relaxed, so feel free to chat to the staff about the craft beers they have on offer that day, then sit back and relax while sampling your latest find from one of their quality local brewers.
---
7. Jeremiah's Tap Room
Perfect for
Catching up with friends whilst soaking up the summer sun.
A mix of Victorian pub meets trendy town bar, Jeremiah's Tap Room in Leith has a great selection of craft keg and cask line ales, as well as an assortment of bottled options by smaller brewers.
In the summer months, their outdoor seats are the perfect place for boosting your vitamin D.
---
8. Pilgrim Bar
Perfect for
When you want a bar with quirky and sustainable décor.
With the tagline 'not all those who wander are lost', Pilgrim Bar's sustainable ethos sees its interior almost entirely made out of recycled or upcycled material – from the bar made from hundreds of discarded suitcases to its original 1930s cinema seating. They offer a variety of draught and bottled beer and cider options from various brewers including local favourite Innis & Gunn.
Even if you're not a big beer enthusiast, this unique bar in Edinburgh's Cowgate is definitely worth checking out for the funky interior design alone.
---
9. Holyrood 9A
Perfect for
The perfect combo – beer and a burger.
Located in the heart of Edinburgh's Old Town, Holyrood 9A lives up to its tagline, 'great beer, great burgers'.
Their polished pumps showcase 25 beer and ale varieties from across Scotland and the world. It's a great place to catch up while sampling some fine ale options and tucking into their famous burgers.
---
10. Red Squirrel
Perfect for
A good variety of local and Scottish craft beers.
Boasting 20+ craft beers and ales on tap, including a great variety of bottled options, Red Squirrel showcase a wide range of Scottish brewers, including some local favourites such Edinburgh Beer Factory and Pilot.
When hunger strikes, their hearty menu features big brunches and gourmet burgers. They also serve up a decent selection of vegetarian and gluten free options.
---
Worked up an appetite?
Whether it's traditional Scottish dishes or a taste of worldwide flavours you seek, Edinburgh serves up a mouth-watering range of places to satisfy all tastes.
---
Favourite