With long summer days stretching before us, a leisurely brunch is a lovely way to start the day. And within Edinburgh's historic and iconic Old Town, there's a mouth-watering selection to choose from.
So, on your next day off, why not treat yourself to a lingering brunch at one of these tasty eateries – it's sure to keep hunger locked-up 'til dinner time!
Luckenbooths
Perfect for
Smaller sized children's menus.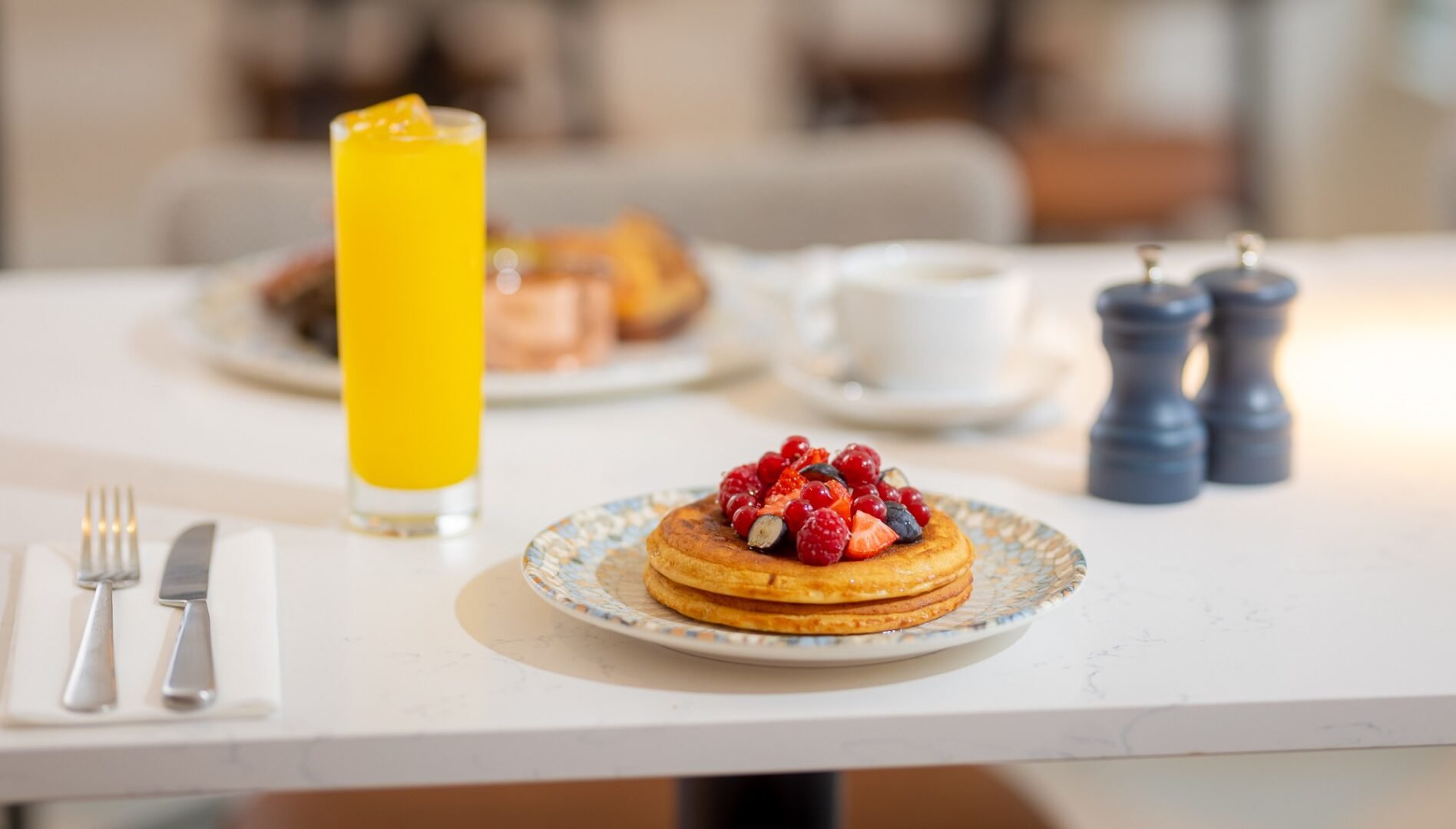 Taking its name from the lockable stalls and workshops that ran along the Royal Mile from the 15th – 19th centuries, Luckenbooths is a stylish restaurant serving a varied menu made with seasonal and local produce.
Served from 7am – 11.30am, tuck into appetising dishes such as ham and egg hash bowl, smashed avocado and poached eggs or pumpkin spiced French toast.
Children have their own breakfast menu. Will it be toasted filled muffin with sausage, bacon or fried egg, a fresh fruit bowl or the pancake stack?!
---
Mimi's Bakehouse
Perfect for
Brunch, followed by a sweet treat!
The small, but perfectly formed, Mimi's Little Bakehouse – Royal Mile serve a small all-day brunch menu. If you've got room, why not finish with a slice of something sweet from their bakery.
And ensuring none of the family get left behind, they welcome well-behaved dogs.
Walk-in only.
---
Bistro du Vin
Perfect for
A delectable selection of breakfast offerings.
Open to both residents and visitors, the breakfast choice at Bistro du Vin is guaranteed to set you up for the day.
For a healthy start to your day why not try one of the delicious healthy options from the Country Table – choose from a mixed granola bar, selection of yoghurts, or an assortment of freshly baked pastries. For those with a hearty appetite, smoked salmon with scrambled eggs or French toast with bacon and maple syrup will stop any hunger pangs.
To avoid disappointment, advance bookings are recommended.
---
The City Café
Perfect for
An American diner experience.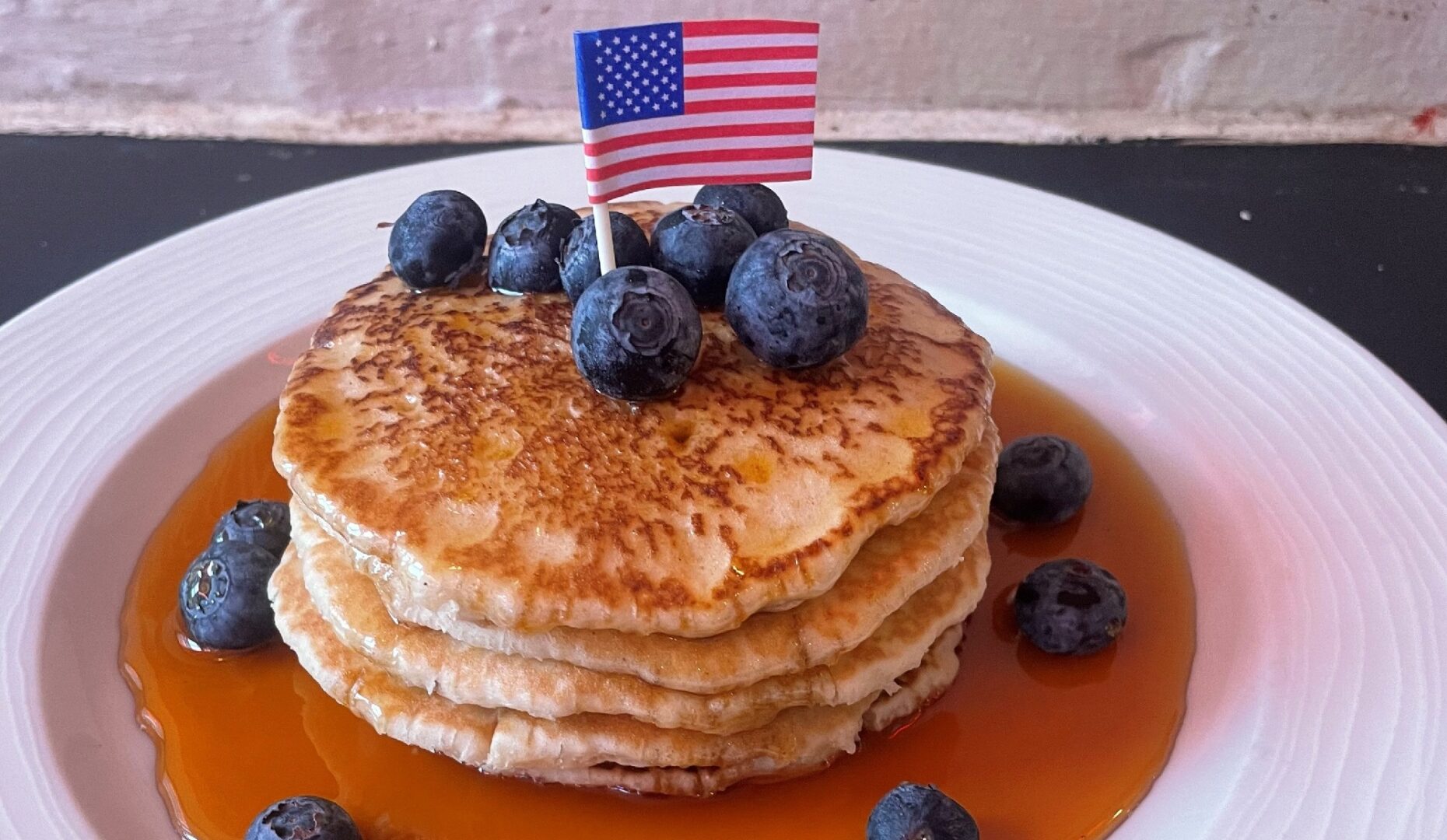 Decked out as an authentic American diner, The City Cafe's menu is bursting with choice.
Served with maple syrup and your choice of either fruit, Nutella or cream, their pancakes certainly don't disappoint. Or choose a cooked roll with one, two, or, if you're feeling ambitious, 3 fillings!
Thankfully the Royal Mile is just around the corner for a brisk walk afterwards if you've got that 'filled to the brim' feeling!
Walk-ins welcome; bookings can be made by calling 0131 220 0125.
---
Scotts Kitchen
Perfect for
A satisfying and filling breakfast roll.
Located on Victoria Terrace, overlooking one of the city's most photographed streets, enjoy a tasty meal in Scotts Kitchen as you watch the busy comings and goings of the Old Town.
Tuck into free range poached eggs or fresh baps with a range of fillings. Or go all-out and have the Scotts Big Breakfast with bacon, lorne sausage, free range poached egg, black pudding, haggis, portobello mushroom, beans, roasted tomatoes and toasted sourdough.
Booking not essential but recommended.
---
Edinburgh Larder Cafe
Perfect for
The perfect spot for filling up for the morning before exploring the nearby Royal Mile.
Served all day, the breakfast menu at Blackfriars Street's Edinburgh Larder Café focuses on delicious, seasonal and local dishes.
Choose from Benedict, Florentine or Royale eggs, or how about The Veggie Breakfast (mushrooms, cherry tomatoes, vegan black pudding, veggie haggis, herbed spinach, potato scone, homemade beans, poached egg and granary toast). Or fill up with a bowl of warming porridge, served with autumn spiced stewed apples, sultanas and toasted hazelnuts.
They also offer smaller portions of these in their kids' menu, so the wee ones needn't miss out.
Booking recommended.
---
Deacon's House Café
Perfect for
Al-fresco dining in the warmer months.
A few minutes' walk from Edinburgh Castle you'll find Deacon's House Café, with a mixture of indoor and outdoor seating.
Set yourself for a day's sightseeing with a smoked salmon and cream cheese bagel, smoked Ayrshire bacon and free-range scrambled eggs, or organic granola with coconut milk yogurt and red fruits. If you fancy something sweet afterwards, be sure to have a look at their home baking display, which is always packed with a range of scrumptious-looking bakes.
Walk-ins welcome.
---
Hula Juice Bar & Eatery
Perfect for
Healthy, nutritious and delicious breakfast dishes.
With an aim to serve both tasty and nourishing food and drink, Hula Juice Bar & Eatery was established in 2007 as Edinburgh's first juice bar.
Open for both sit-in and takeaway, why not start your day with one of their fruit smoothies and organic oats with either honey and cinnamon, blueberries and honey. Or if you're craving something substantial, their open sandwiches, smoothie bowls or tempting sourdough sandwiches will keep hunger at bay.
Booking recommended for sitting-in.
---
Southern Cross Cafe
Perfect for
People watching on the colourful Cockburn Street.
Serving a range of delicious coffee, and cakes, as well as an ever-changing specials board, Southern Cross Café is a lovely wee café to sit and watch the world go by.
Pull up your chair, get comfy and dig into some delicious treats.
---
MUMS Great Comfort Food
Perfect for
Pancake stacks that look almost too good to eat!
Yes, the name says it all. When you want food that feels like a warm hug, this is the place to go to!
Served until 11.45, MUMS Great Comfort Food's breakfast menu includes such delights as smoked salmon and scrambled eggs, filled rolls and the classic full breakfast (both with and without meat). For those with a sweet tooth, we recommend The Pancake Stack, which comprises four freshly made pancakes with streaky bacon or bananas and cream, drenched in maple syrup. Yum.
Walk-ins only.
---
Discover Edinburgh's Royal Mile
Now that you're hunger is satisfied, why not discover more about Edinburgh's historic Royal Mile and see that it's so much more than just a castle!
---
Favourite