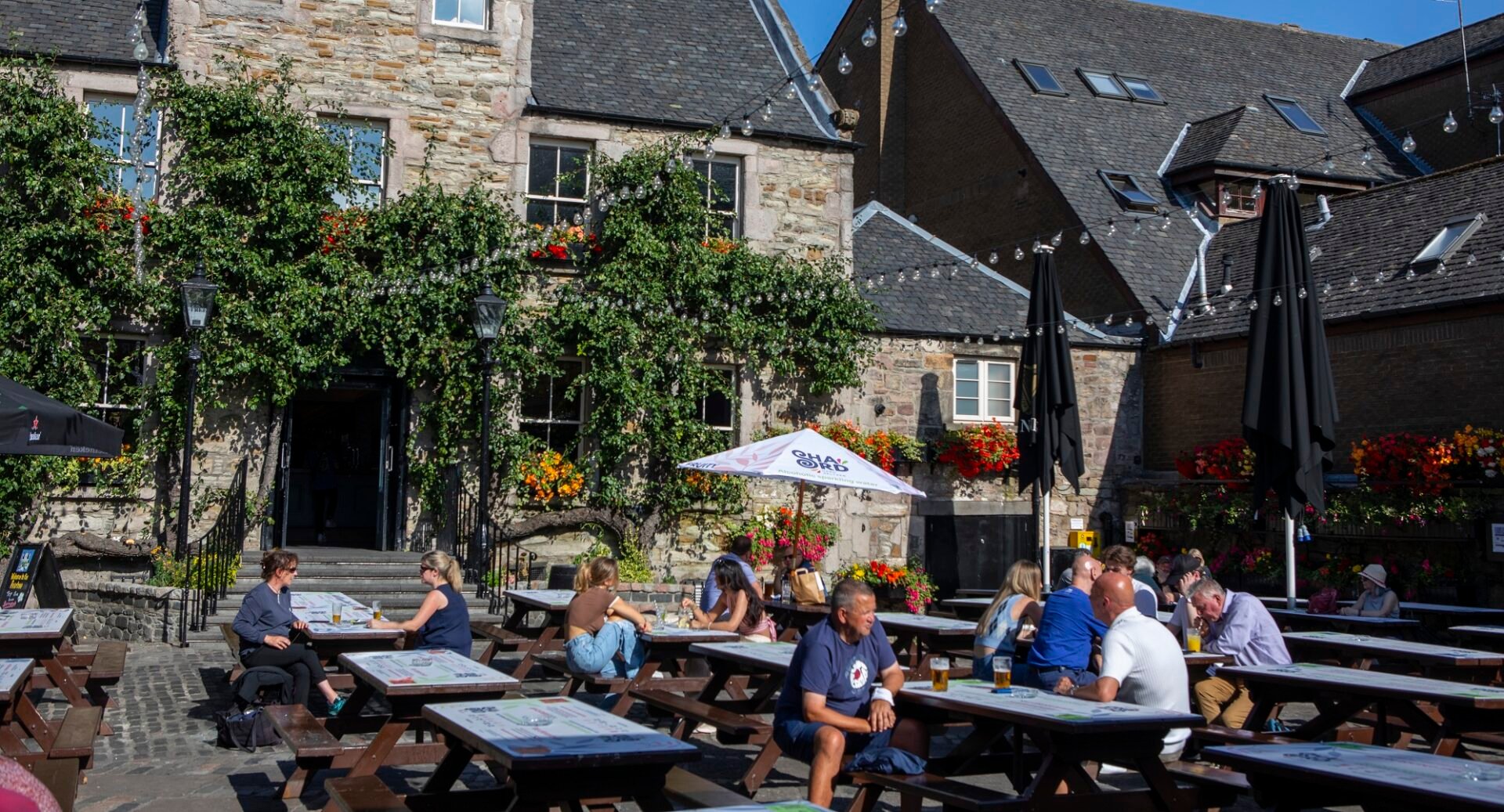 Food and Drink in Southside
Edinburgh's Southside has quickly become a go-to destination for foodies, with its bustling streets and diverse range of dining options. Whether you're in the mood for a relaxing brunch, casual lunch, fine dining or a night out at the pub, there's something for everyone in this vibrant neighbourhood.
---
Brunch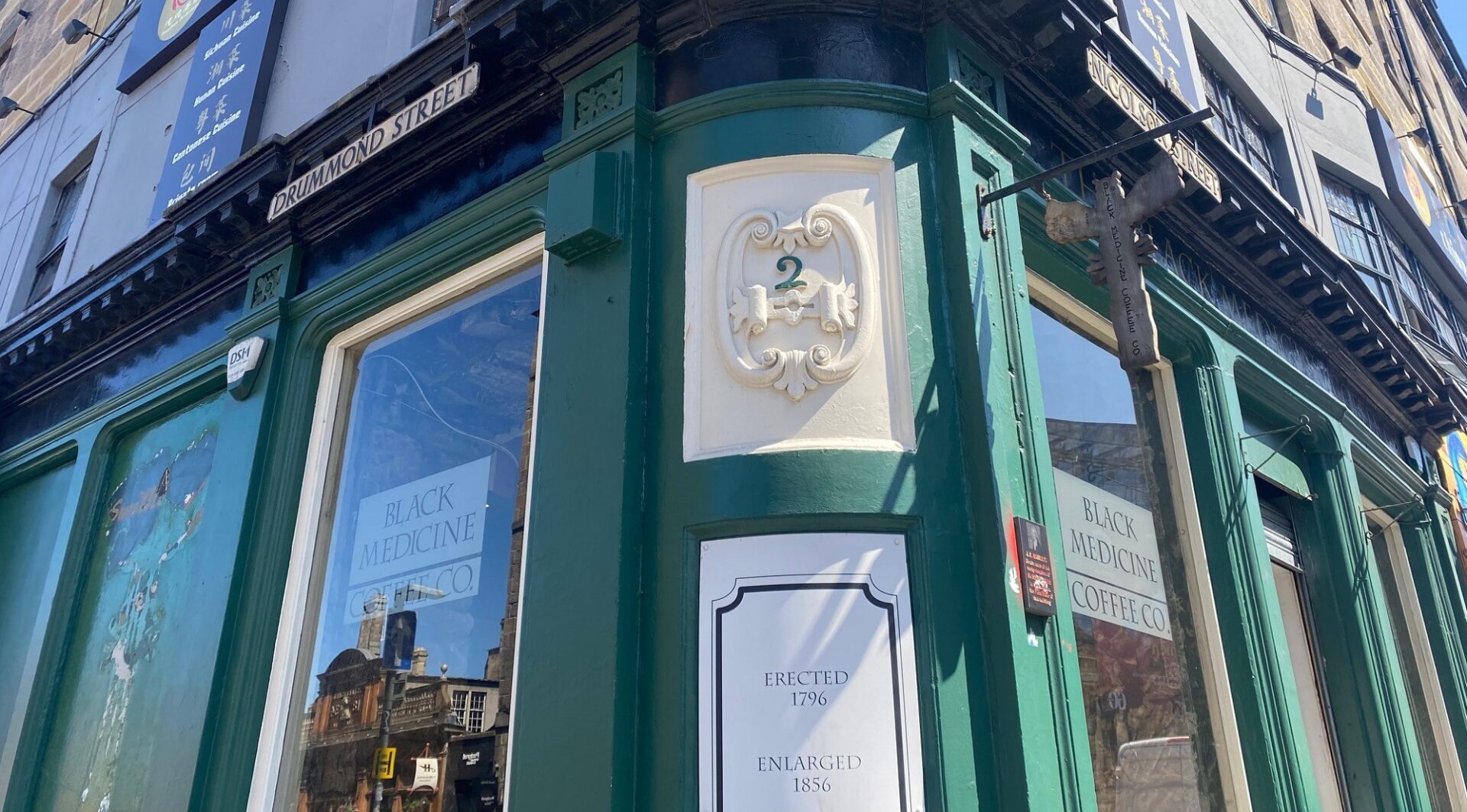 Start your day off right with a delicious brunch at The Wee Boulangerie. This artisan bakery offers a range of freshly baked goods, including croissants, pain au chocolat and sourdough bread. Their brunch menu includes classic dishes like bacon rolls and eggs on toast, as well as more unusual options like their brioche French toast with spiced apple compote. Pair your meal with a cup of their delicious coffee or choose from their selection of teas.
For another great option, head to student favourite Snax Cafe for incredible all day breakfasts and other cheap eats.
If you need a caffeine fix, next door you'll find Cult Espresso (not an actual cult) where they have excellent coffees and a very trendy vibe. Other coffee highlights include Black Medicine, and Kilimanjaro. You're spoilt for choice in the Southside.
---
Casual Eats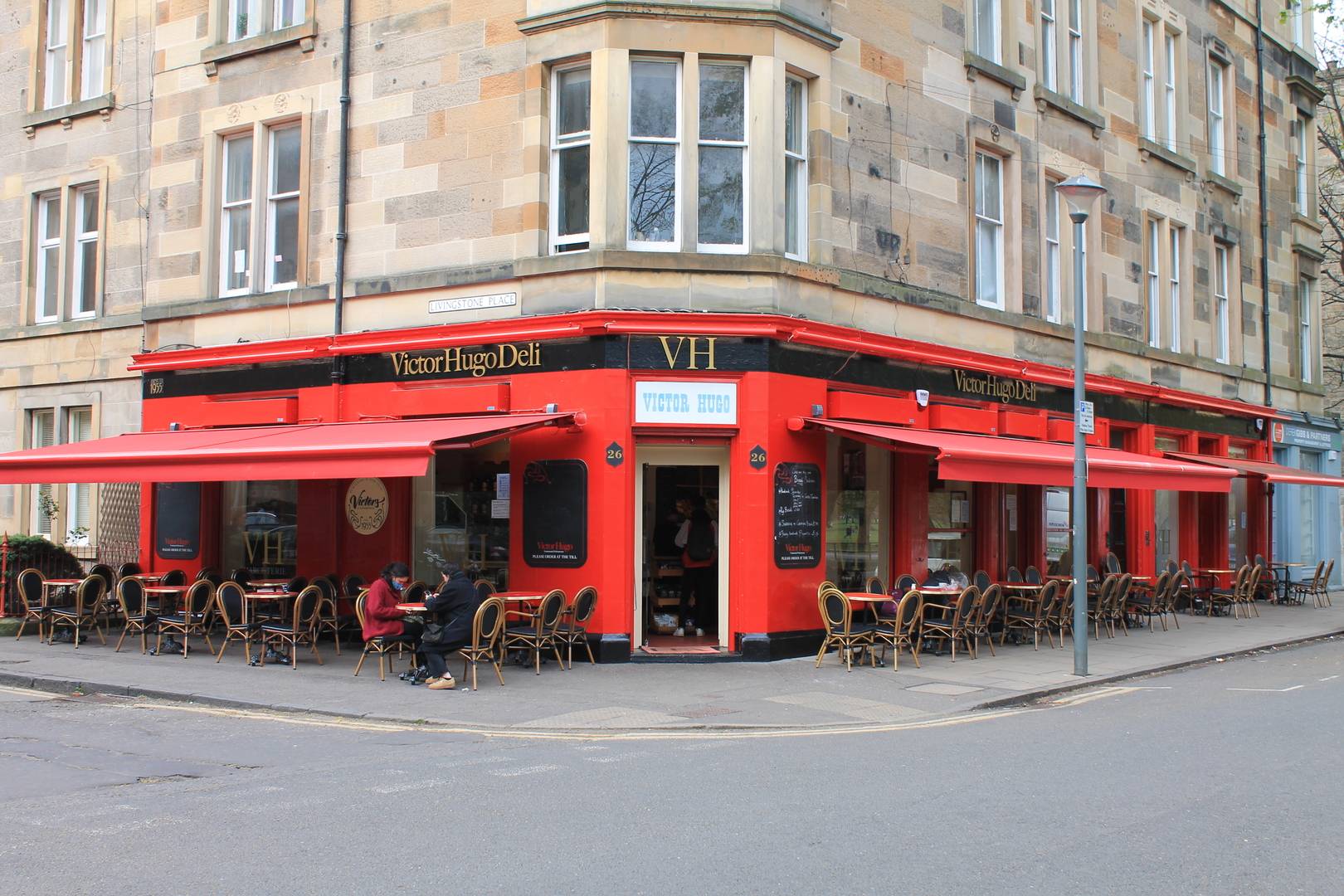 For authentic thai street food, head to Soi 38. This casual eatery serves up a range of traditional dishes, from pad thai to massaman curry. Their lunch menu includes a range of delicious options, such as their signature Soi 38 Noodle Soup or their Chicken Satay Skewers. Don't forget to save room for one of their sweet treats, like their Mango Sticky Rice.
Victor Hugo Deli is a deli located in the heart of the Meadows. Their lunch selection includes a range of delicious sandwiches, such as their Croque Monsieur or their Classic French Baguette. They also offer a range of sweet treats, including their decadent Chocolate Eclair and their delicious Tarte aux Pommes. Why not get a takeaway and have a picnic in the Meadows if the weather is nice.
---
Restaurants
If you're in the mood for sushi, Soul Sushi is the place to be. This modern restaurant offers a range of Japanese-inspired dishes, from classic sushi rolls to their signature Donburi bowls. Make sure to try their signature Soul Roll, filled with prawn tempura, avocado and topped with seared salmon. Pair your meal with one of their signature cocktails, like their Matcha Mojito.
For veggie and vegan Indian food, head to Kalpna. This family-run restaurant offers a range of delicious dishes, such as their Vegetable Jalfrezi and their Chana Masala. They also offer a range of naan breads, including their Garlic and Coriander Naan. Don't forget to try one of their refreshing cocktails, like their Mango Lassi Martini.
If you're looking for seasonal Scottish food, Apiary is the perfect choice. This modern restaurant offers a range of dishes made with locally sourced ingredients, such as their Pan-Seared Scottish Salmon or their Braised Scottish Venison. They also offer an extensive drinks menu, including a range of Scottish whiskies and craft beers.
One culinary gem that has captured the hearts of everyone in Southside is Mother India. Mother India offers a warm and inviting atmosphere where friends and families can come together to enjoy the rich flavours of Indian cuisine. With a menu boasting traditional favourites and innovative dishes crafted with a modern twist, Mother India promises a dining experience that will leave you craving more. Don't miss their mouthwatering curries and fragrant biryanis, expertly prepared to tantalise your taste buds.

However, if you are seeking a touch of elegance and sophistication, Blonde is a must-visit destination. This exquisite restaurant exudes style and refinement, providing an intimate setting for a memorable meal. With its seasonal menus crafted from the finest locally sourced ingredients, Blonde takes pride in delivering a culinary experience that showcases the best of Scottish cuisine.

If you're a fan of Japanese cuisine, Maki and Ramen is the place to be. With their vibrant and contemporary setting, this restaurant offers a fusion of traditional and modern Japanese flavours. The attention to detail and dedication to quality shine through in every bite, making it a favourite among locals and tourists alike.

For those in the mood for a taste of South American flair, Los Argentinos is a culinary haven. Located in the heart of the Southside, this restaurant brings the flavours of Argentina to your plate. From sizzling steaks and tender empanadas to flavoursome chimichurri sauces, Los Argentinos captures the essence of Argentinian cuisine in every dish.
Pubs & Bars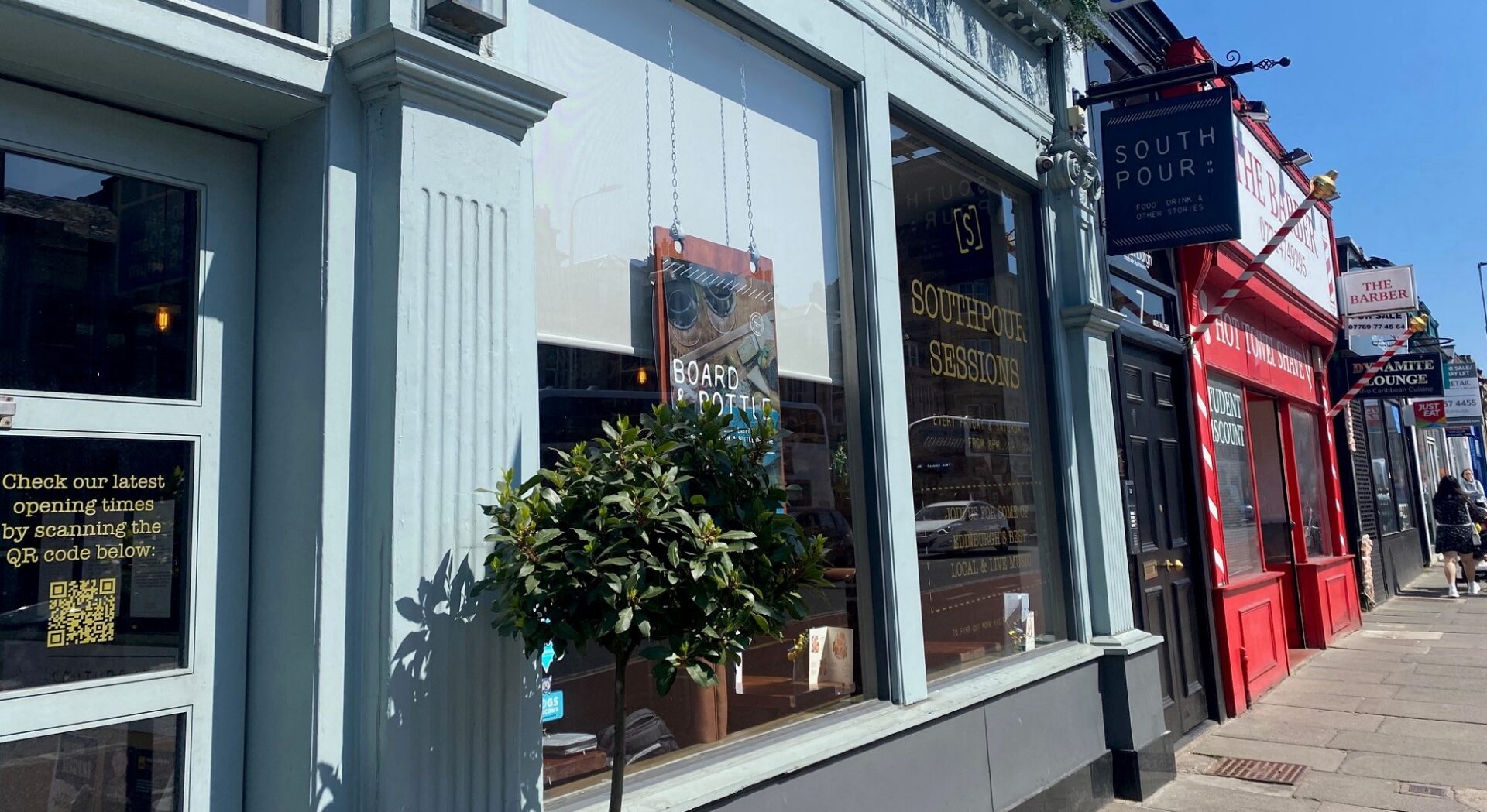 The Meadows Tap is a gentrified local boozer that has been transformed into a popular watering hole for locals and visitors alike. This cosy pub boasts an impressive selection of craft beers and ales, and their food menu is bursting with hearty Scottish dishes. With its laid-back atmosphere and friendly staff, the Meadows Tap is the perfect place to unwind after a long day.
For those looking for a more upbeat vibe, The High Dive Bar is the place to be. This cool bar offers a variety of tasty pizzas straight from their wood-fired oven, alongside a fantastic selection of cocktails and craft beers. With DJs spinning tunes on the weekend, this spot is a favourite among the trendy crowd.
If you're after something a bit more unique, then Paradise Palms is the place to go. This bar and creative space offers an eclectic mix of vegetarian food, cocktails and craft beers, all served up in a funky and colourful setting. And, with their very own record label, you might even catch some live music or a DJ set.
The Dog House is a local favourite, serving up delicious pub grub and hosting weekly live music events. They have unique, funky decor, video games and frozen cocktails. And, with live music every week, there's always a reason to swing by.
For whisky lovers, the Abbey Bar is a must-visit. This cosy spot boasts an extensive selection of whiskies from around the world, as well as a range of other drinks to suit all tastes. With its warm and welcoming atmosphere, it's no wonder the Abbey Bar is a favourite among locals and visitors alike.
The Auld Hoose claims to sell the largest nachos in Edinburgh, and with a reputation like that, it's no wonder this bar is a favourite among foodies. But that's not all they offer – their drinks menu is just as impressive, with a range of beers and cocktails to choose from. With its quirky decor and friendly staff, the Auld Hoose is a fun and unique spot to grab a bite and a drink.
If you're looking for a classic Scottish pub experience, look no further than Sheep Heid Inn. This pub is not only one of the oldest in Scotland, but it also has a rich history. The pub dates back to the 14th century, and has welcomed famous patrons such as Mary, Queen of Scots, and Sir Walter Scott. The pub is cosy and inviting, with a traditional atmosphere. Their drink selection includes a wide variety of Scottish whiskies, as well as local beers and ciders. If you're feeling peckish, their menu includes classic Scottish dishes such as haggis and neeps and steak & ale pie. Don't miss out on this classic pub experience when exploring the Southside.
For a cosy pub with lots of craft ales, Greenmantle Bar & Kitchen is the perfect spot. With its rustic decor and warm atmosphere, this pub is a great place to relax and enjoy a pint or two.
Nestled in the heart of Edinburgh's Southside, The Pear Tree is a beloved bar that embodies the spirit of the city. With its warm and friendly atmosphere, extensive drink selection, and delightful menu, it's the perfect spot to relax and unwind. The enchanting beer garden and regular events add to its charm, making it a must-visit destination for locals and visitors alike. Embrace the warm welcome, raise a glass, and immerse yourself in the vibrant charm of the Pear Tree.
Meanwhile, The Southern bar, has a charming ambiance and knowledgeable staff, offers a well-stocked bar with craft beers and tantalising cocktails. Another amazing spot, Southpour boasts a quirky decor, creative cocktails, and a convivial atmosphere that attracts a diverse crowd. Both bars embody the spirit of Southside and promise an unforgettable evening.

---
Discover all food and drink in Southside
A haven for small, independent tasty delights from around the world.
---
Shopping in Southside

Southside Edinburgh is home to an array of unique and independent shops that offer visitors a chance to find something truly special.

Things to do in Southside

Entertaining, but also educational!

Accommodation in the Southside

Edinburgh's Southside is the perfect location for a stay in the Scottish capital, with an abundance of accommodations to choose from.