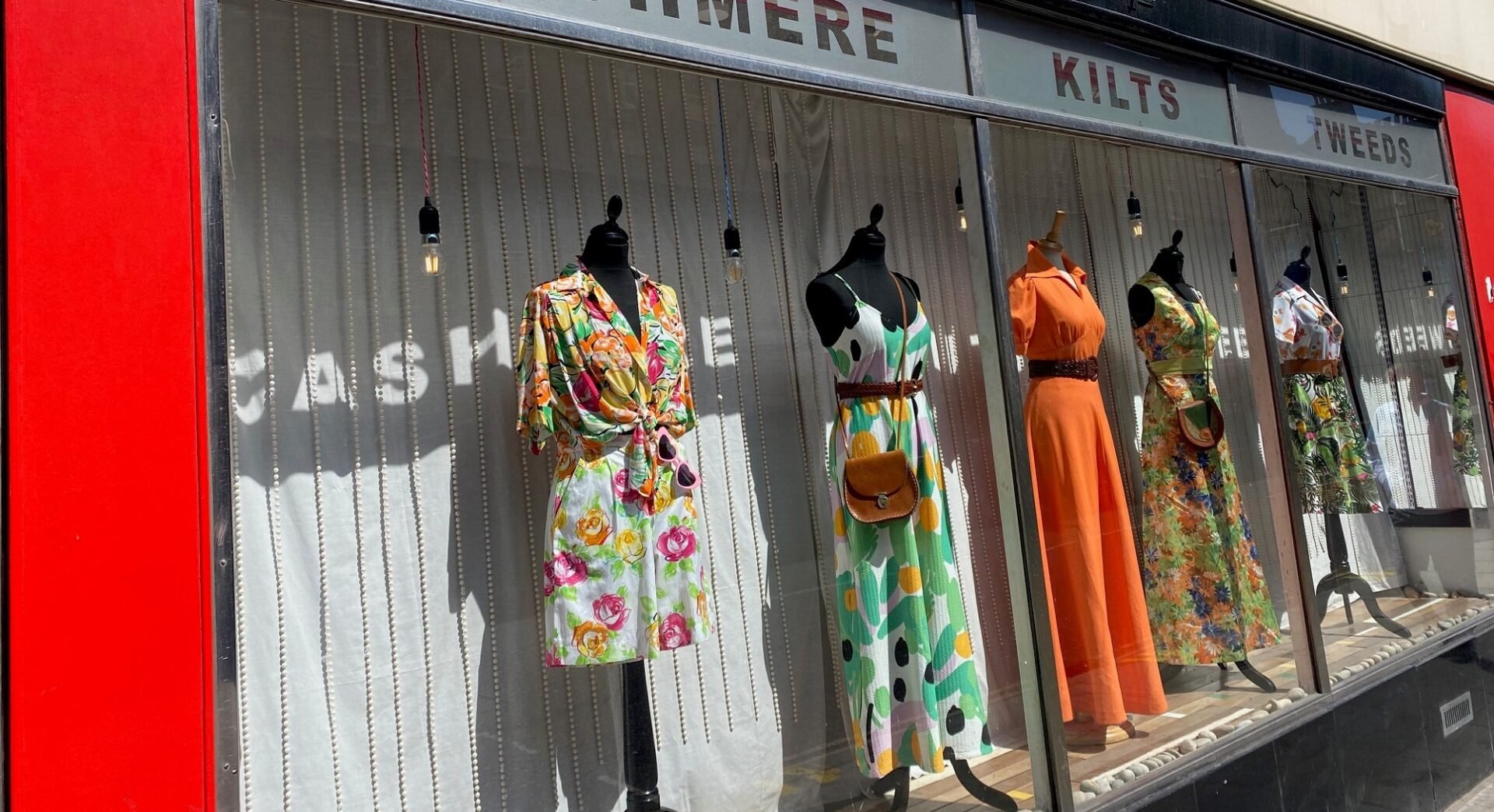 Southside Edinburgh is home to an array of unique and independent shops that offer visitors a chance to find something truly special. Whether you're in search of rare books, vintage clothing, or quirky pottery, you'll find it all here.
Vintage, antiques and second-hand
Whether you're watching your carbon footprint, hunting for bargains, or cherishing a bygone era, there are loads of reasons to shop second-hand, and Newington can cater to all of them.
For second-hand books, Tills Bookshop is a family run business with comfy seats and a cosy fire. Here, visitors can browse through a wide selection of second-hand books and vinyl records. Tills has a warm and inviting atmosphere, with its wooden shelves and comfortable armchairs. Book lovers will enjoy the opportunity to find a hidden gem among the stacks.
While, Oxfam and Barnardos bookshops let you support a good cause whilst stocking up on reading material.
For antique or reclaimed furniture you're spoiled for choice. Check out Vintage & Reclaimed, Patrick Buckley Antiques, Courtyard Antiques, and Miss Polly's Attic.
The Newington branch of Armstrong's is a great spot for vintage fashions and a good browse. This much-loved vintage store offers a wide selection of clothing and accessories from the 1920s to the 1980s. From vintage fur coats to bohemian dresses, there's something for everyone at Armstrong's. This is the perfect place to find a unique piece of clothing that will make you stand out from the crowd.
Music aficionados and vinyl lovers could lose hours hunting for treasures in Backbeat Records.
---
Drinks and Groceries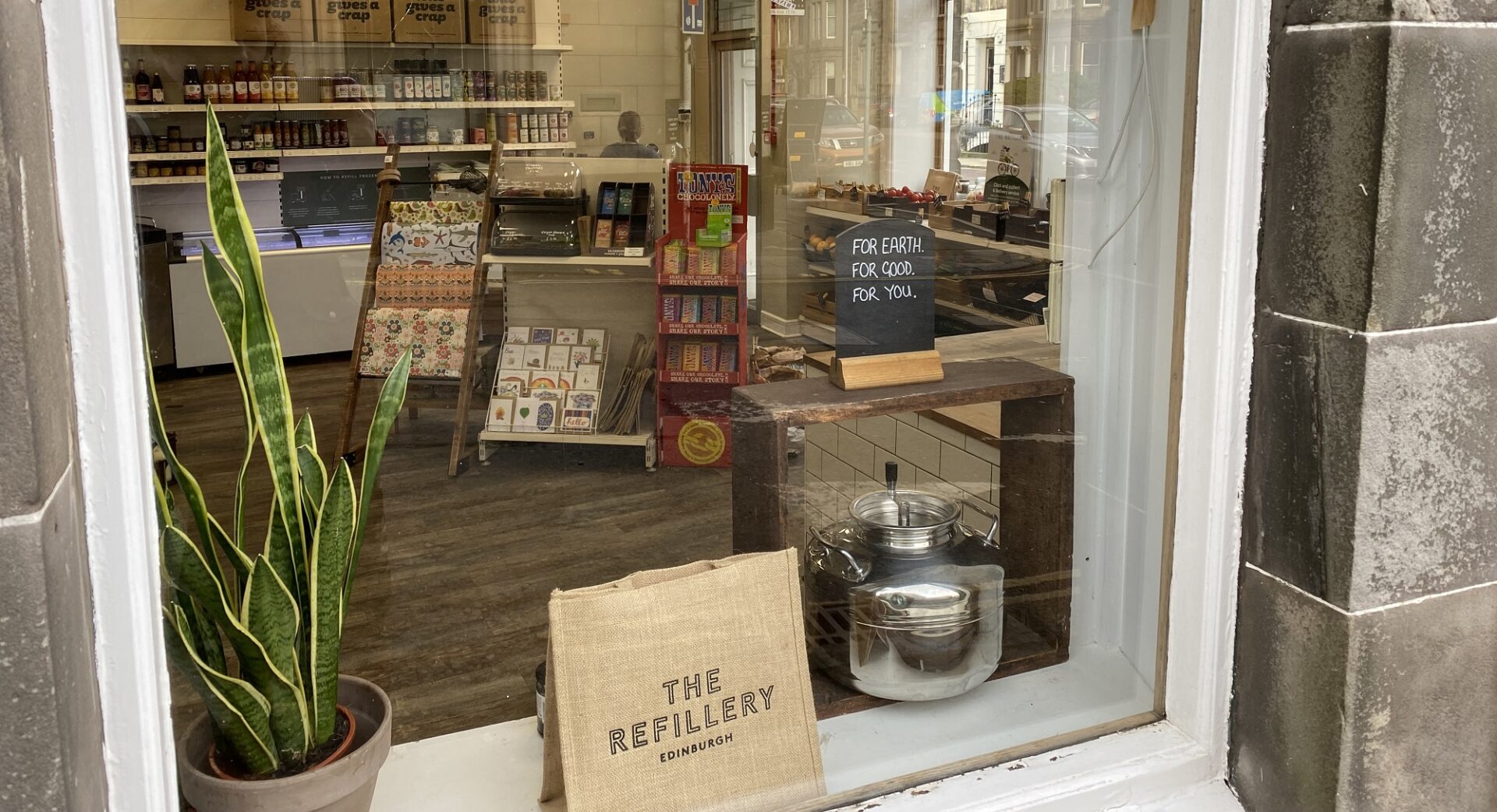 The eco-friendly mindset can feed into your grocery shopping habits too! Visit The Refillery with a load of empty jars and bottles to stock up on cupboard staples, packaging free. They have a wide range of groceries from ethical brands.
If you're looking for specific ingredients to recreate your favourite takeaway at home, Starlight Chinese Supermarket or Superior Oriental may have what you need.
And if you're not spending your evening enjoying one of Newington's excellent pubs, you might fancy a carry out from Bottle Baron or WoodWinters. Between them they have a great selection of craft beers, carefully sourced wines, and fantastic whisky, gin and other spirits.
---
All kinds of fun and games
Whether you're beginning your journey into the world of music, or are a seasoned performer, musicians are sure to hit the right note in this area of the city. As Edinburgh's longest running family-owned music store with over 50 years of experience in music retail, Varsity Music sell a wide variety of musical instruments and accessories, as well as providing professional musical instrument repair and restoration, so you'll be back to note-perfect in no time at all.
With some of the best range of traditional musical instruments in Edinburgh, Scayles Music buy and sell a huge and impressive selection, from the well-known, like guitars and flutes, to the weird and wonderful, such as bouzoukis and dulcimers. They have been serving the community since 1947. Here, visitors can find a wide selection of Scottish folk music and instruments, including bagpipes, fiddles, and harps. The staff at Scayles are friendly and knowledgeable, and they're always happy to offer advice on which instrument to choose. This is the perfect place to find a piece of Scottish culture to take home with you.
If you discovered the delights of dressmaking, quilting or crafting during lockdown, you'll find an extensive supply of fabric, buttons, trimmings and everything you need for creating the perfect project at Edinburgh Fabrics.
For a truly unique gift, The Meadows Pottery is a quirky little store located next to the Meadows. Here, visitors can browse through an array of handcrafted pottery pieces that are both beautiful and functional. Pots, mugs, jugs, bowls, vases, and teapots to colanders, goblets, garlic pots, saltcrocks, candleholders, cheesebells and planters, even the occasional five-gallon teapot! Everything is handthrown on the potter's wheel and made on the premises.The store also offers pottery classes, so visitors can learn to make their own unique pieces. This is the perfect place to find a unique gift for a loved one or to pick up a one-of-a-kind piece for your home.
Roll up, roll up! Ever dreamed of joining the circus? Cascade Juggling could be your first step towards stardom. Initially catering for jugglers, they have since expanded and today stock all kinds of magic and playing cards. Or for true escapism, Black Lion Games is a treasure trove of roleplaying games, collectible card games and board games. Just as the name suggests, Any Costume stock all kinds of fancy dress for adults and kids. Themed, fantasy, historical – who do you want to be?
Deadhead Comics, is another store that is truly a sight to behold. This quirky comic book shop is filled to the brim with weird and wonderful finds. From graphic novels to action figures, Deadhead Comics is a treasure trove for fans of all things pop culture. If you're looking for something unique to add to your collection, this is the place to be.
If you have a green thumb, you need to go to Moss & Fern. It is a trendy plant and gift shop that offers a wide selection of indoor plants, pottery, and other unique gifts. This shop is perfect for plant lovers and those who are looking to add a touch of greenery to their homes. The staff at Moss & Fern are knowledgeable and passionate about plants, and they're always happy to offer advice on how to care for your new green friends.
---
Discover all shops in Southside
Discover an array of unique and independent shops in Southside.
---
Food and Drink in Southside

Edinburgh's Southside has quickly become a go-to destination for foodies, with its bustling streets and diverse range of dining options.

Things to do in Southside

Entertaining, but also educational!

Accommodation in the Southside

Edinburgh's Southside is the perfect location for a stay in the Scottish capital, with an abundance of accommodations to choose from.