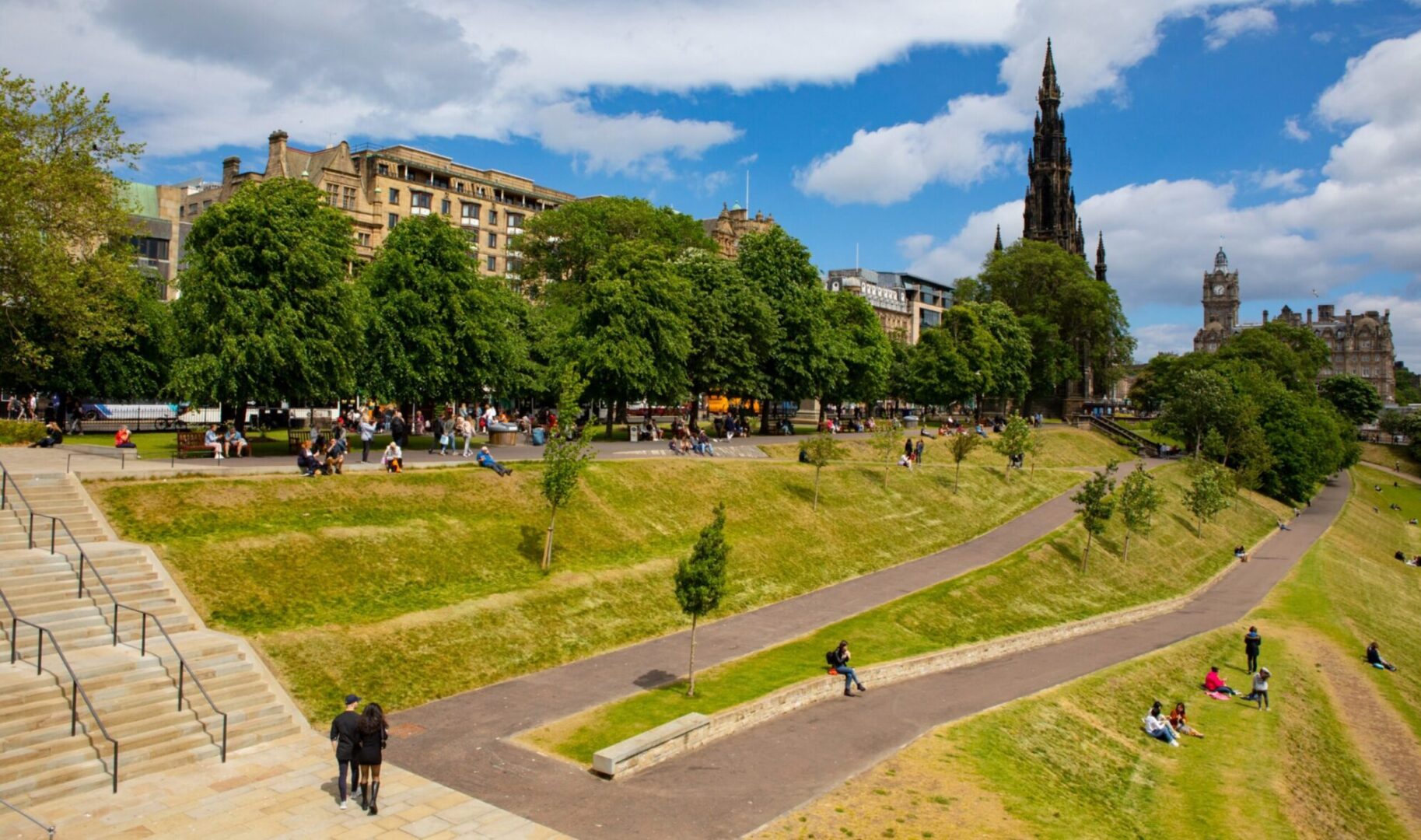 Edinburgh is a welcoming city and a place for everyone to enjoy. Vibrant and compact in size, visitors do not need to travel far to take in all the capital's delights and can rely on the well-connected public transport system to get you where you need to be. This page provides information on disabled access in the city, to help you plan your visit and know what to expect.
Pavements and business entrances
Edinburgh is a historic city and has retained much of its original architecture. Cobbled and uneven streets are not uncommon, particularly in Old Town. Small businesses and those based in older buildings may not offer step-free access, however ramps and lifts are available at most visitor attractions and larger hotels.
---
Buses
Lothian Buses, which operate across the city, have a range of facilities in place to accommodate disabled individuals and people with additional access needs.
All buses have at least one wheelchair accessible space, typically at the front of the bus, and ramps to assist with easy boarding. These spaces are suited for adapted pushchairs, and manual and powered wheelchairs.
Buses are also designed to assist users with hearing or visual impairments, including braille on push bells and visual and audio 'Next Stop' information. Priority seating is available for users with assistance dogs. The Transport for Edinburgh app also has some very useful features, including 'TFE talk' which includes full VoiceOver support and next stop announcements designed for those with impaired sight.
Priority seating is available on all Lothian buses near the bus entrance and exit doors. These are designed for bus users with visual, hearing, mobility and cognitive impairments, and pregnant individuals.
Lothian Bus Drivers and staff receive disability awareness training for a range of conditions and are also trained to recognise Hidden Disabilities Sunflowers and Thistle Assistance Cards.
Visit the Lothian Buses website for more information about disabled access on their vehicles.
---
Trams
Running from 6am to midnight 7 days a week, Edinburgh Trams have recently extended their line, meaning passengers can now travel from Edinburgh Airport to the shore at Newhaven. All trams are designed to be 100% wheelchair accessible, at every station throughout the city. All platforms are equipped with gently sloping ramps or lifts and low-floored entrances for easy boarding.
Platforms are marked with a wheelchair symbol to mark where wheelchair users should wait to board the tram.
All trams offer dedicated disabled access in their middle carriage, where a wheelchair space is available.
There are two dedicated wheelchair/buggy spaces per tram.
Edinburgh Trams also feature high visibility handrails, dedicated disabled priority seats for those who may struggle to stand, and passenger alert buttons signposted in braille.
---
Taxis
The entire fleets of Edinburgh's two main black cab firms are wheelchair accessible, with over 900 taxis between them. Make a quick and easy booking with City Cabs or Central Taxis.
---
Parking
There are 90 disabled person's parking places in Edinburgh. More information can be found on the City of Edinburgh Council website.
---
Hop-on, Hop-off Buses
A great way to see more of the city is by purchasing a hop-on, hop-off ticket for any of Edinburgh Bus Tours or Bright Bus Tours routes in the city. Valid for 24 or 48 hours, sit back and relax as you take-in many of the city's popular streets and attractions. All buses have a dedicated space for wheelchair users.
---
For more information including Edinburgh's best Visitor Attractions, Restaurants, Hotels and more with disabled access, visit our Accessible Edinburgh page.
---
Public Transport

Travelling within Edinburgh couldn't be easier thanks to its world-class and easy-to-use public transport network and walkability.

Driving in Edinburgh

Get up to speed with driving in Edinburgh

Car Rental

There are many things to take into consideration when renting a car. Our friends at Trading Standards Scotland offer some useful advice to keep in mind.